Estimated read time: 3-4 minutes
This archived news story is available only for your personal, non-commercial use. Information in the story may be outdated or superseded by additional information. Reading or replaying the story in its archived form does not constitute a republication of the story.
La decoración del árbol de Navidad es una de las tradiciones que indican la proximidad de la Navidad. Este árbol es uno de los centros de atención para todo aquel que llega a nuestros hogares.
Si bien los adornos navideños son cada vez más accesibles para el bolsillo de la mayoría, no hay nada que se compare a los adornos caseros, esos adornos que traen recuerdos, esos adornos que cuentan historias en silencio.
La Navidad es una de las fiestas preferidas por los niños, y aunque los regalos son una gran parte de la misma, el reforzar los lazos familiares es probablemente el poder mágico de la navidad. Y una forma de fortalecer esos lazos es compartiendo tiempo juntos. Por ello, queremos compartir estas 5 ideas geniales de cómo realizar adornos caseros con la ayuda de la familia.
1. Pájaro hecho de cartón y semillas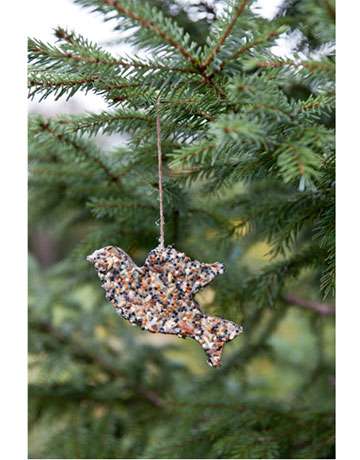 Consiga el dibujo de la silueta de un pájaro y calque la figura en un cartón. Recortelo con una tijera. Con la ayuda de los más pequeños, coloque pegamento primero en una superficie y luego en la otra. Aplique semillas de alimento para aves o algún grano pequeño que tenga disponible en la casa y repita el procedimiento del lado opuesto. Cuando este seco, con la ayuda de la punta de las tijeras perfore la parte superior para poder colocar una cinta o hilo en forma de gancho, y estará listo para colgar.
2. Rellenar pelotas de vidrio con diferentes materiales
Consiga pelotas de vidrio, generalmente están disponible por alrededor de $1 en las tiendas de manualidades. Están listas para rellenar con fotos, trocitos de madera, un pequeño árbol de navidad, algodón o cualquier cosa que tenga disponible y que tenga un significado para la familia. Es una gran idea para contar historias.
3. Conos dulce rellenos con más ¨dulces¨

Consiga los conos que se usan para colocar helado o nieve y rellénelos con chocolates o caramelos. Perfore la parte de arriba para poder colgarlos con la ayuda de una cinta o hilo. Como relleno puede utilizar también papeles de colores y algodón. Para lograr que el peso sea balanceado puede utilizar papel para rellenar la parte inferior.
4. Piñas pintadas

Si vive en un área donde hay pinos, puede organizar una caminata con la familia para recoger piñas o conos de pinos. Luego de seleccionar los que desea utilizar, colóquelos arriba de un plástico y píntelos con pintura en aerosol. Luego de que se sequen agregue una cinta o lazo para colgarlos.
5. Flores de tela

El incorporar flores de tela en los árboles es una idea simple y que ayuda a dar vida y color. Se ven muy bien y las puede utilizar para combinar con los colores del resto de la sala.
Otras ideas que son muy buenas es la de utilizar fotos de los miembros de la familia y con la ayuda de cartón y papeles de colores, puede crear un marco para las fotos.
×