Estimated read time: 3-4 minutes
This archived news story is available only for your personal, non-commercial use. Information in the story may be outdated or superseded by additional information. Reading or replaying the story in its archived form does not constitute a republication of the story.
SALT LAKE CITY — Every American military veteran deserves to be buried with dignity and respect.
That's what employees at the VA Salt Lake City Health Care System believe and practice. But, what happens when that veteran has no family in the final hours, and the burial request is quite unusual for Salt Lake City?
That was the case for Carlton Pickard, who served in the U.S. Navy in the late 1970's, after the Vietnam War.
"He had been estranged from his family for 20 years," said Connie Jo Pickard, a VA social worker assigned to his case.
She and VA decedent affairs coordinator, Teresa Catlin, were determined that his final wishes be carried out by his military family.
The 55-year-old veteran arrived at the Salt Lake VA from Spokane VA in the summer with heart trouble. He was on a ventilator and unable to talk to doctors about his own medical decisions or express his burial wishes.
"When he came down here, I felt like we were now going to pick up that family role," Campbell said.
When Pickard passed away, Campbell tracked down one his childhood friends, who gave her a better picture of the kind of man he was.
"He was a very quiet person, kind of to himself," she said.
Related:
The childhood friend described him as independent and determined. The friend also told Campbell, Pickard wished to be buried at sea — an unusual request in Salt Lake and something they had never arranged before.
"I said, 'We'll see what we can do, and we'll do everything we can to make that happen, if that's at all possible,'" Campbell said.
She contacted the Navy in San Diego and Catlin worked on all of the necessary paperwork to make his burial wish happen.
"He doesn't have family or a connection with anyone to take care of this for him," Catlin said. "In my heart, I wanted to take care of an individual the way he or she expresses their wishes."
The Navy feels the same way and took on the mission with honor.
"We passed it to them, and they carried on with their duties," Catlin said.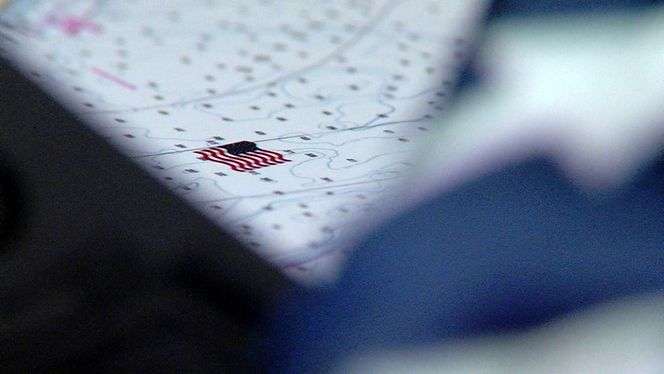 Oct. 17, at 10 a.m., the USS Gary was slowed in the waters off San Diego, colors displayed at half-mast. The participating officers and crew all assembled in dress uniform for the ceremony. The veteran's ashes were scattered in the sea, followed by a 21-gun salute.
" 'Both religious and military ceremonies were conducted with dignity and solemnity,' " Catlin read from a letter from the ship's commander that arrived in a box shortly after the ceremony.
"The biggest moment of excitement came when this box came," she said.
The box held the folded American flag from the ceremony and a cartridge from the rifle salute. There was also a chart showing the exact location of the ship when Pickard's ashes were interred in the sea and a detailed ship's log.
"I didn't realize we'd get something this detailed," Campbell said.
She expected only a letter or email confirming the burial at sea. Campbell and Catlin will send these keepsakes of Pickard's service to his childhood friend.
"It put everything all together, and said he's finally at rest," Catlin said.
×
Photos
Related stories
Most recent Utah stories