Estimated read time: 12-13 minutes
This archived news story is available only for your personal, non-commercial use. Information in the story may be outdated or superseded by additional information. Reading or replaying the story in its archived form does not constitute a republication of the story.
SALT LAKE CITY — "Is my bike ok"?
Yes, those really were the first words out of my mouth. Seconds before I had been riding my bike from Layton to Logan to join my family for the 4th of July fireworks at USU. Now I was lying in the middle of the road, having collided with a Jeep and been slammed off my bike.
The impact had completely knocked the breath out of me, but as I struggled to breathe in, the sharpest pain I'd ever felt wracked my right side. I wanted to take the biggest breath I could, but even small gasps were sending excruciating shards of pain throughout my body.
A man and woman were both immediately right there above me. They each had stopped their cars to block the traffic, and had come to my aid. The man knelt and slowly removed my helmet as the woman covered me with a jacket. I hadn't even noticed, but I was shaking uncontrollably. Shock. That's when one of them asked, "Are you ok?"
Then, just like many other serious, but stupid cyclists who've been in a collision, I uttered those memorable words above.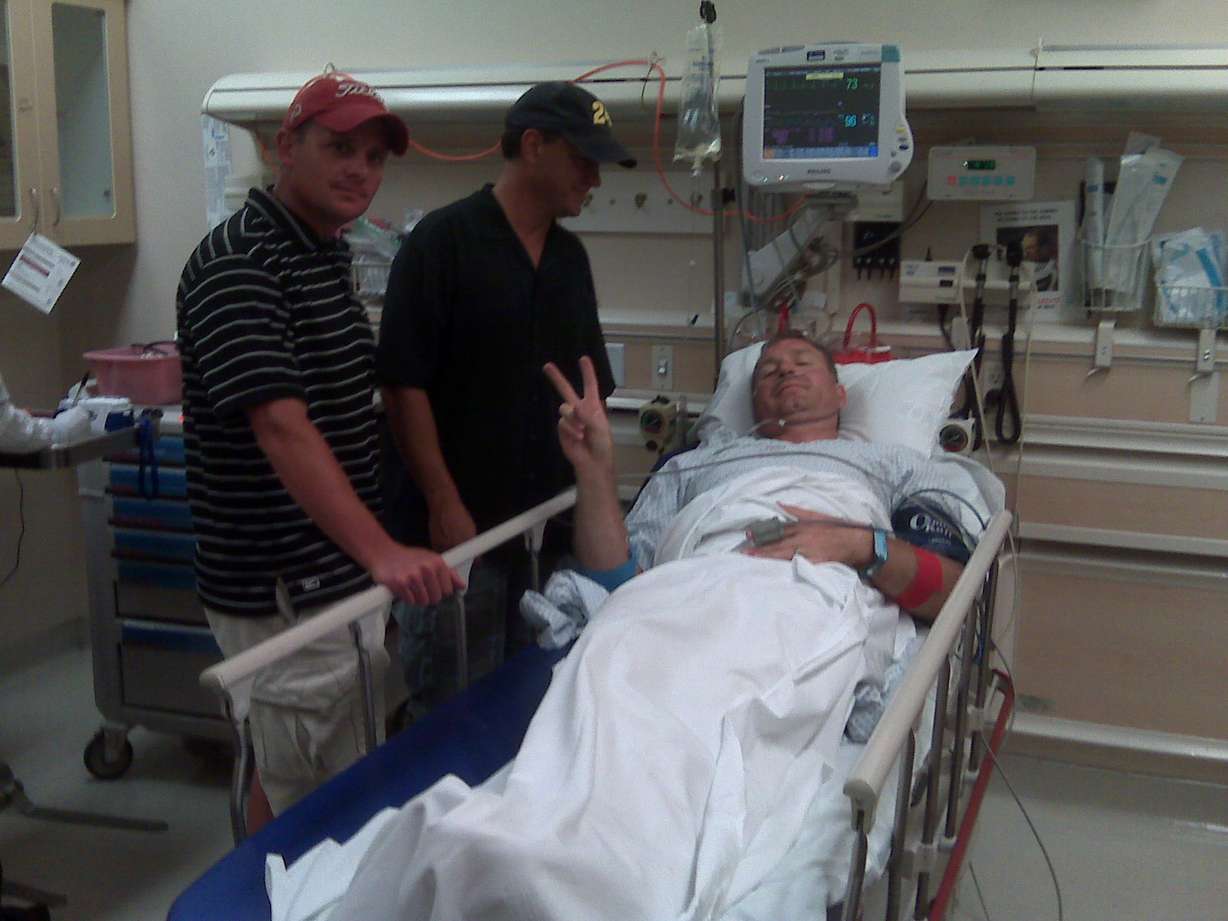 Never mind I'd just been hit harder than I'd ever hit the ground on a mountain bike wreck. Forget about any of those hits in high school football. This had plain rocked my world and dropped me on the ground. Pain all over, trying to catch my breath and traffic stopped both ways. Even with all that — how's my bike?
Yeah, I'm a cyclist.
When the EMTs had loaded me into the ambulance, I asked one of them to dial my wife Lisa on my mobile phone. He placed it to my head, and when my wife answered, the first thing she said was "I'm paying for some items at the store, can you wait just a minute?"
Ummm — no. I told her as quickly as I could what happened, knowing that those words "I was hit by a car" would certainly cause a big scare. I told her I was alright, just in a lot of pain, and that they were taking me to McKay Dee Hospital in Ogden.
Related:
I was wheeled into the ER, and Lisa arrived soon after. While she waited for her Dad to arrive, two of my dearest friends and cycling buddies arrived — Lisa had called them both. They raced to the ER to see me, and were with me while we waited to hear more from the doctor and for Lisa's Dad to arrive. That began a steady string of visitors as they admitted me and I ended up staying for three days.
The ER doc on call, Dr. Robert Moesinger, a surgeon. He explained to me that most likely I had several broken ribs, but that the bigger concern was a collapsed lung, and that he needed to do a CT scan so as to know for sure.
That evening my wife and daughters, as well as many friends and family members, came to visit and wish me well.
They all knew of my passion for cycling, but all had to warn me and joke with me about the dangers of cycling and putting in all the miles I do each year while training. I reminded all of them that cyclists live by several creeds, one of which is "It's not IF I go down but WHEN."
We all know the potential dangers, but we work hard to minimize them, just as I had done that day.
I hugged and kissed Lisa and my daughters goodbye at the end of the day and settled in for what I suspected would be a long and uncomfortable night.
As I lay in the bed saying my regular end of day prayer, and thanking the Lord for protecting and extending my life, an interesting thought came into my mind, "What if it turns out we're here for another reason. What if there's more going on here?"
I didn't think much about it, finished my prayer and went to sleep.
The next morning Dr. Moesinger came to check in on me. He had received the results of the CT scan from radiology, and indicated that the radiologist (whose name I later learned was Dr. Mark Keeton) had adamantly argued that there was more going on here than met the eye.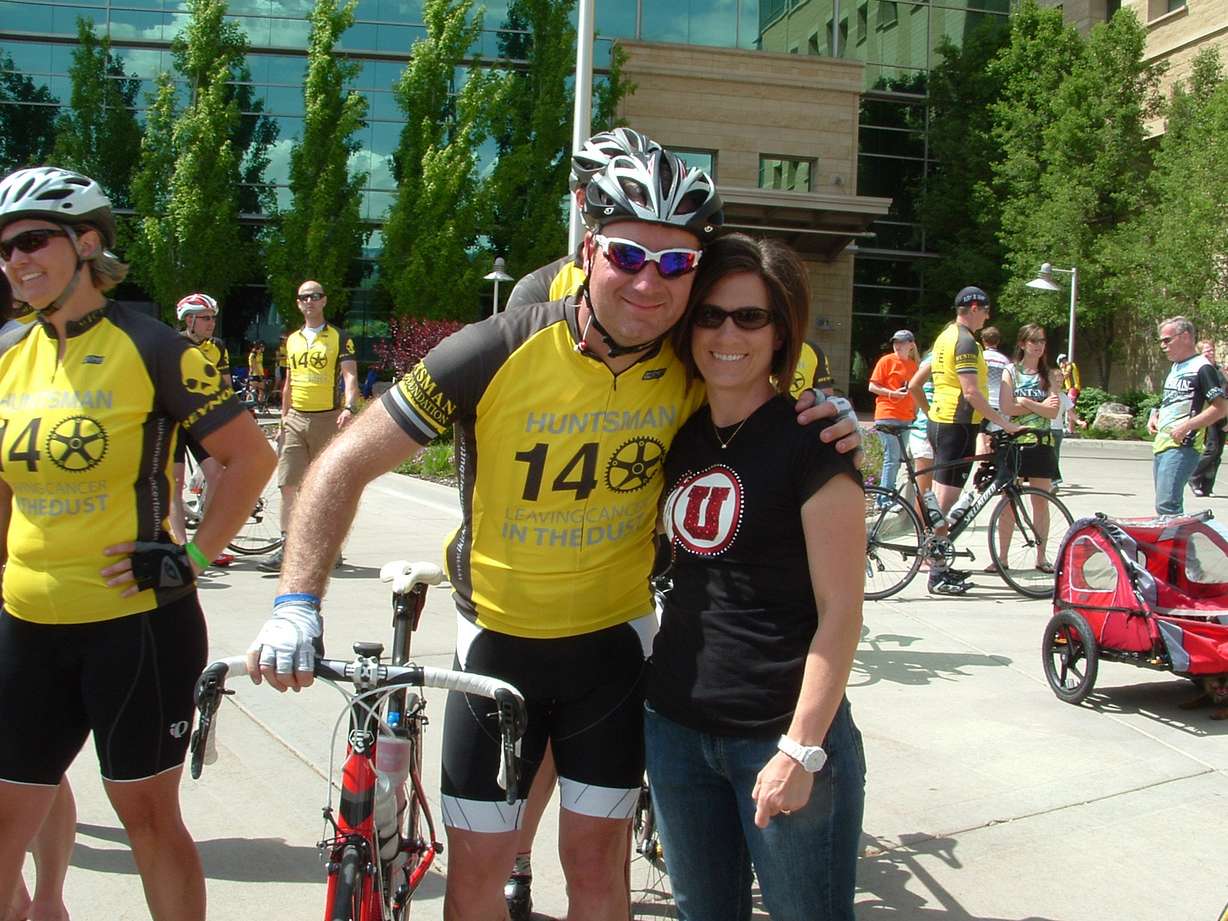 "He says you have some lymph nodes that are just a little large, a little out of tolerance."
He indicated that Dr. Keeton had persisted that we needed to check closer into what was going on. I asked what the potential diagnosis might be, and Dr. Moesinger said, "One of three things. Infection, testicular cancer, or lymphoma."
As the word "lymphoma" came out of his mouth, it rang in my ears and the thought came to me "That's what it is."
When Lisa arrived he explained the situation to her and the two of us discussed the possibilities. I told Lisa about the thought I had had the night before during my prayer, that perhaps we were here for something more, and she told me she had had the same thought at what appeared to be about the same time that prior night.
Before I was discharged, Dr. Moseinger and I had another discussion about the lymph nodes, and he indicated that he would schedule me for a follow-up CT scan in six weeks. He said if it's infection, by then the nodes should have gone back to normal size.
So, off I went to recuperate from a punctured lung and five broken ribs (if you've ever had broken ribs, you know how difficult it is to sleep in any way or fashion — those were some long nights.)
Six weeks later we went to Ogden Regional Medical center to have the follow-up CT scan.
Dr. Moesinger gave us the results and told us that not only had the lymph nodes not decreased in size, but that they had actually grown a bit. He indicated that what we needed to do was a biopsy, and that the nodes that needed to be tested were "retroperitoneal", or towards the back of the body.
He would make a six inch incision in my abdomen, reach around to the back and harvest some nodes to be biopsied.
I told him I was training for my fifth Logan to Jackson (LOTOJA) race, and that five was the magic number to receive LOTOJA's 1000 mile award. A cyclist himself, Dr. Moesinger was familiar with the race, and so I asked him "Is this life or death right this minute, or can we wait until after LOTOJA (another six weeks or so) to do the biopsy?"
He said we had the time, and would book the biopsy for right after LOTOJA in September of that year.
Racing LOTOJA about 11 weeks after having been hit by a car was difficult, and certainly I didn't post my best race time, but I finished and felt good about the result.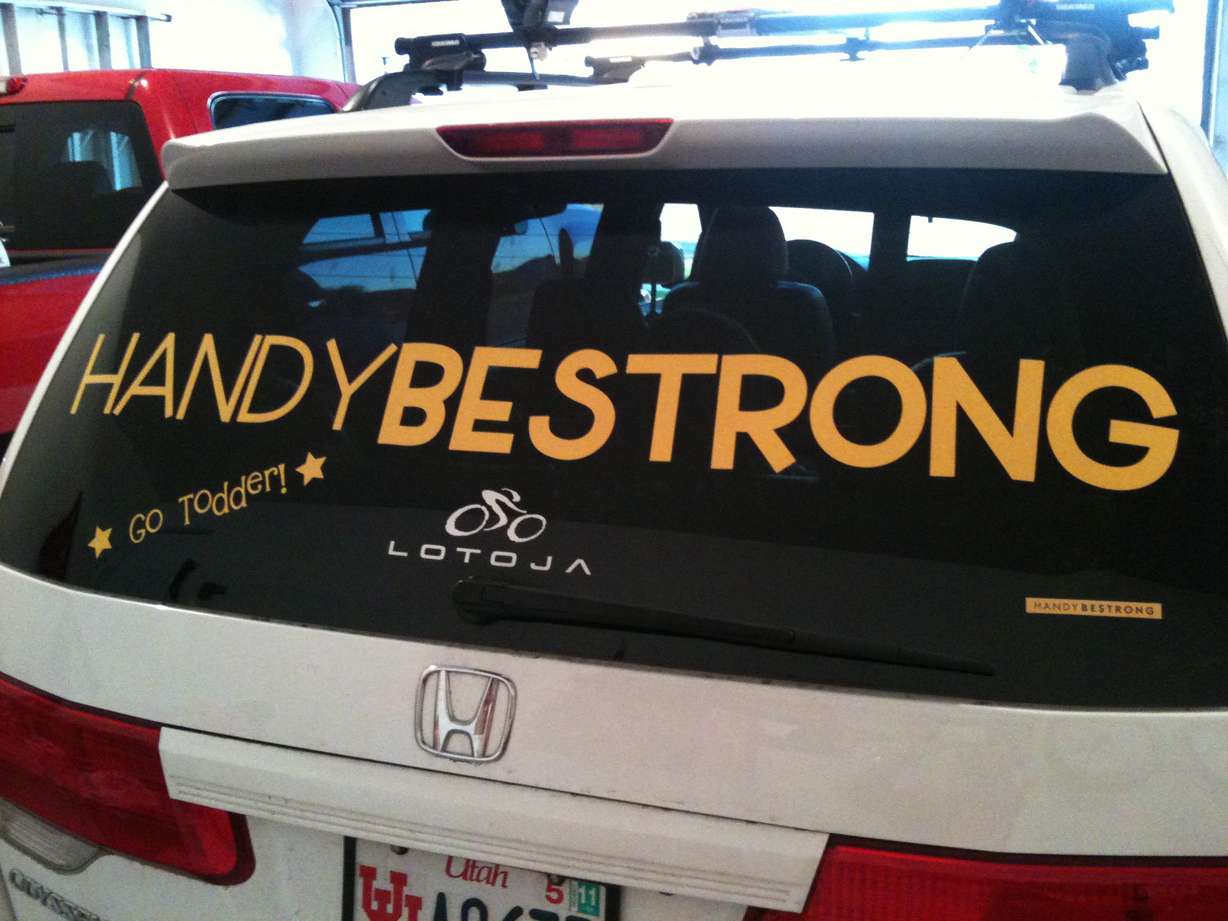 The following Wednesday I had the biopsy. A week later we met with Dr. Moesinger again, and he gave us the results of the biopsy, confirming what Lisa and I had both felt — lymphoma.
As a surgeon and not an oncologist, Dr. Moesinger did the best he could to educate us on my diagnosed lymphoma- B cell follicular non-hodgkin lymphoma. I immediately knew I wanted to be treated at Huntsman Cancer Hospital in Salt Lake City. So, we booked an appointment and waited for the day to come.
On October 1, 2009 I met with Dr. Martha Glenn at HCH, where she confirmed the diagnosis of B cell follicular NHL.
She educated us about that particular NHL, and gave me the "good news/bad news" scenario.
The good news was that the cancer wasn't aggressive. The bad news was that it was "indolent," the medical term for slow growing, and that it was incurable.
That was like a sucker punch to the gut. As a very Type A personality, I wanted to have this treated, get it out of my body, and go on with life. Dr. Glenn indicated that wasn't how it would go. I would most likely need to live with this like a chronic disease, such as someone with MS or diabetes.
There was a potential of a low dosage radiation treatment, targeted very specifically to the two areas where I had the lymph nodes. It wouldn't "CURE" the cancer, but could "cure" it (meaning it would never be gone for good, but it could be gone for a while).
So, in the month of November, 2009 I completed 17 straight days of radiation treatment, the final day being the day after Thanksgiving.
I had made a goal at that time to do a one-to-one ratio of workouts to radiation treatments, and didn't miss one. I was even able to go a 50 mile bike ride that day after Thanksgiving. All of this was done with the intent of keeping myself healthy. I was doing all I could do to supplement the radiation treatments and fight the disease.
When I was diagnosed, the first thought I had was of a talk given by a member of the leadership of my church, Quentin L. Cook. The title of the talk was "Live by Faith and Not by Fear", and that impacted me deeply then, and still does.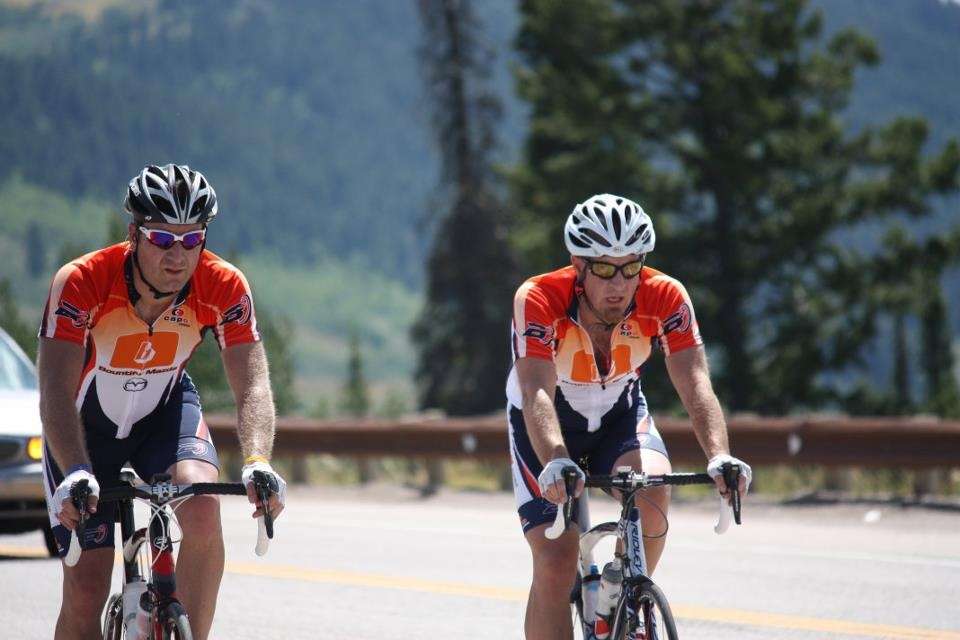 I could scream and yell. I could "kick the dog". I could curl up in a ball and wish the world away, but, when all that is done, we're back to square one — I have cancer and we need to deal with it.
I have a family and I need to earn a living for and support. I have church and other responsibilities and I need to live up to them. So, we chose at that point to live by faith, and not by fear.
My commitment to work out and keep myself healthy was as much a part of living by faith as any other way we have or will deal with this situation.
In January of 2010 we met with Dr. Glenn again to see if any sign of the cancer was still there, which it turned out it wasn't. Dr. Glenn simply indicated there were no signs of cancer in my body, and that I should "go home and live my life".
She told me that the tendency would be to worry about any new lump or bump, but that I couldn't live my life that way. She put me on a six month check-up schedule, and sent me home.
That night as we pulled up to the house, I saw black and yellow balloons all around and leading up to the home, and when we went inside, there were more balloons with "HandyBESTRONG" spelled out — a play on LiveSTRONG my friend Dave Bell had coined for us.
Several family members and friends were there to celebrate this victory with us, and it was an incredible feeling.
We went dutifully every six months for regular checkups, each time rejoicing with the news "there's nothing there."
That was, until November of 2011, when we learned that there were new affected lymph nodes in my neck.
Lisa and I drove home in a fog that afternoon, the cancer was back. But then, just as when I was diagnosed, we returned to our faith and decided, once again, we will live by faith and not by fear. I won't let this beat me. I can't afford to. I have a beautiful wife and three beautiful daughters.
I want to be here to see my girls finish college, get married, have children and live great lives. I want to grow old with Lisa. I want to do all the things I've planned my whole life, and experience all there is to experience. But, I also know that sometimes those things don't happen, and the plan doesn't go according to our plan.
The Lord is in charge. He knows what's best. I can live my life waiting for the other shoe to drop, waiting for bad news or to hear what else is wrong. Or, I can live by faith, t waiting for anything to happen, but instead making things happen.
I have learned, though, that when one is faced with a cancer diagnosis, one looks differently at life from then on. I take a lot less for granted. I enjoy family time even more. I don't make my job the end-all be-all. There is more to life, and it's centered on my family, my faith, and being the best man I can be.
Cancer didn't teach me any of that, it just reminded me of it.
To this day I still have B cell follicular non-hodgkin lymphoma. I actually recently found nodes in a new area on my body, and in a few days I'll see Dr. Glenn again for a regular check-up. We'll talk about it. She'll consider the options and give me direction.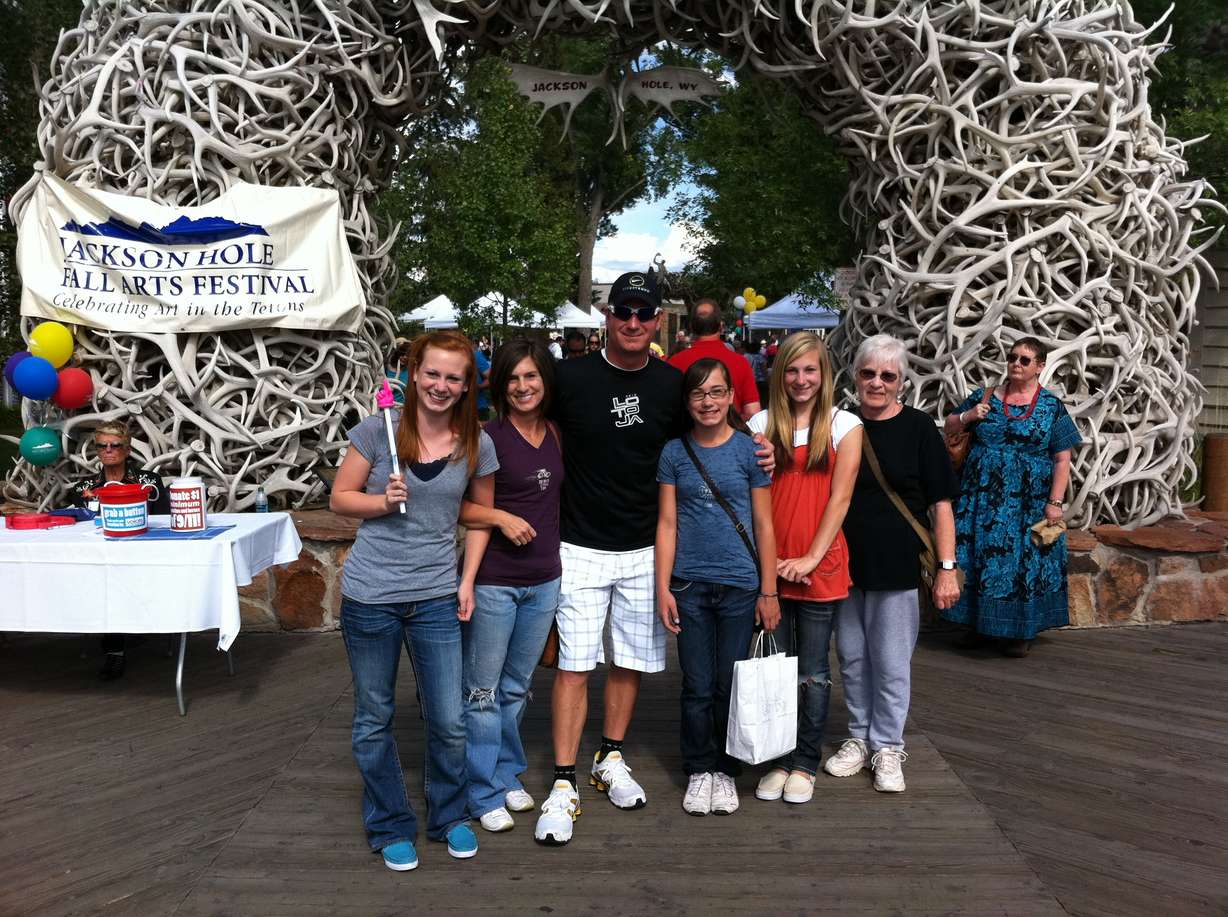 I have explicit faith in her and what she tells us is best for now and the long-term. But, I'm going to keep working, keep fighting, keep riding and keep the faith. I will live by faith and not by fear, and every time I ride, every time I run, every time I push my body to the limits and make it hurt, I'll realize that I'm in charge. I have a say and I am a big part of what happens to me. As I saw once quoted, "I have cancer, but it doesn't have me."
Live by faith, not by fear.
This story isn't about me. It may seem that way, but the purpose is to highlight that living with cancer is not only possible, but also living with hope and without fear. It's not a death sentence. It's a wake-up call.
For whatever time you have or have left, live life and don't let it get you down. I would be remiss, however, in ending this without also highlighting something that should be obvious for men, but isn't always, because we're men. It doesn't take getting hit by a two-ton piece of metal and laid up in the hospital with broken bones. It's as simple as getting regular checkups.
That doesn't make you weak or take away from your manliness. What it does is enable early detection, and with early detection, the outlook is almost always better.
So, it's your choice.
Looking back on it now this accident was a blessing in disguise. Most men don't find out that way. Don't trust your health to an accident. Take charge.
Get checked.
×
Related links
Related stories
Most recent Utah stories