Estimated read time: 5-6 minutes
This archived news story is available only for your personal, non-commercial use. Information in the story may be outdated or superseded by additional information. Reading or replaying the story in its archived form does not constitute a republication of the story.
PROVO — BYU's regular season finale should be extra special to its most talented defensive player, Kyle Van Noy. The Cougars will be taking on the Nevada Wolf Pack in Van Noy's hometown of Reno, Nevada.
While BYU's season has probably not played out as Van Noy imagined it would, he could not have scripted a better opponent and location to play in his last career regular season game as a Cougar.
With much of the focus being directed towards the hometown kid returning home this week, I thought I would make a bold declaration: Kyle Van Noy is the best defensive player to have ever played at the Y.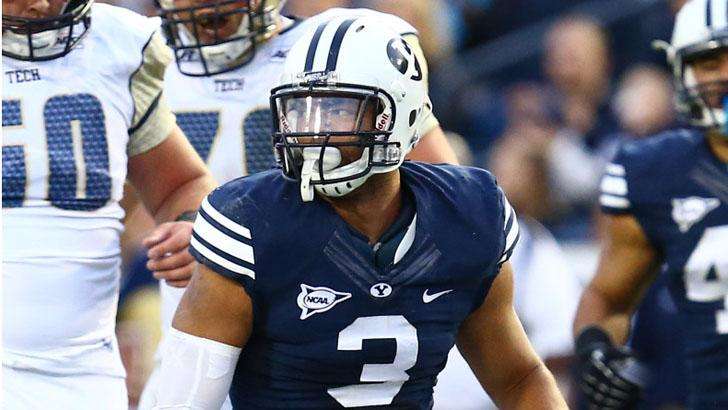 Here are some points to consider before you make up your mind one way or the other about this statement.
Van Noy is arguably the most disruptive pass rusher BYU has ever had
Van Noy has 26 career sacks, which places him as 4th best all-time for BYU defenders. In his outstanding junior season alone, he had 13 sacks — good for the 6th best individual season by a Cougar.
#poll
These numbers put him in the discussion for being the most disruptive pass rusher that the Y has ever produced. What statistics do not do as well measuring, however, is how many times KVN has affected the other team's quarterback and passing game.
There is technically a stat that tries to calculate this, called "quarterback hurries" (in which Van Noy also has put up solid numbers), but what constitutes a "hurry" is very subjective and completely up to the scorekeeper.
It is also hard to equate how many double teams Van Noy has taken on (thus freeing other teammates to get to the QB) and how many times the opposing QB has had to step out of the pocket or up in it due to his rush.
If you go back and watch the film, there are very few times where the quarterback does not rush his delivery when Van Noy is blitzing.
Van Noy is the biggest game changing defender BYU has ever had
Kyle Van Noy has scored more touchdowns in his career than many of his offensive teammates. While the offense has been disappointing in his four years, that is still impressive.
Van Noy has five career touchdowns and at least one score in every season. He seems to have a special knack for dialing up big plays when BYU has needed them.
Whether it is by scoring touchdowns himself, blocking kicks, forcing turnovers or getting momentum swinging sacks, no other Cougar defender has come close to matching Van Noy's propensity for changing games with a single play.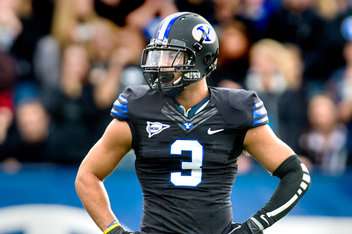 Kyle Van Noy can do a bit (or more) of everything
Other BYU greats have had more sacks, tackles and interceptions than KVN. But, not one of them has been as good of an all-around defender as Van Noy.
For his career, Van Noy has 26 sacks, seven interceptions (including two returned for touchdowns), 17 pass break ups, 11 forced fumbles, five recovered fumbles (including three more that he returned for touchdowns), three blocked kicks and a staggering 59.5 tackles for loss.
He is the only NCAA defender in the last two seasons to register a statistic in every single defensive category. He has been a beast in BYU's pass defense, rush defense and special teams. His versatility has not been seen in Provo, before, and likely will never be seen, again.
Kyle Van Noy had the most dominant individual game for a defender in BYU history, and perhaps in NCAA history
Against San Diego State in the 2012 Poinsettia Bowl, Van Noy played absolutely out of his mind. He had eight total tackles, one-and-a-half sacks, three-and-a-half tackles for a loss, a blocked kick and two defensive touchdowns (one off an interception and another off a fumble that he also caused).
In the game, he scored more points than both BYU's and San Diego State's offenses. His performance was so impressive that the ESPN commentator continued to unashamedly say that Van Noy should skip his senior year.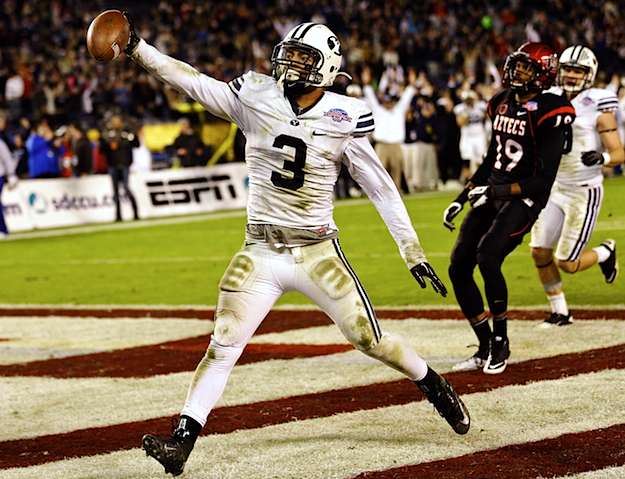 Perhaps no single game has helped propel a player's draft stock as much as that game did for Van Noy and had he chosen to forego his senior year, there is a good chance that he would have been a first round pick. Which leads me to my final point.
Kyle Van Noy came back for his senior year
Kyle Van Noy decided to put off the NFL and come back for his senior year despite the fact that many draft projectors stated that finishing his eligibility might hurt his draft stock.
While 2013 has not turned out to be a dream season for the Cougars, his loyalty and love for the university and the football program should not be overlooked by BYU faithful.
Not only did he come back for one more go, he has given it all he has this season. He has again put up impressive numbers while being the focal point of the opposing offense's game plans. He has put himself in harm's way rather than playing at half speed to avoid injury.
Contrasting this to another highly touted defensive player, Jadeveon Clowney of South Carolina, makes KVN even more impressive.
While 2010-2013 has not been BYU football's most fruitful four-year stretch in terms of wins and losses, it did produce the greatest defensive player in the school's history.
×
Related stories
Most recent Utah stories