Estimated read time: 2-3 minutes
This archived news story is available only for your personal, non-commercial use. Information in the story may be outdated or superseded by additional information. Reading or replaying the story in its archived form does not constitute a republication of the story.
CRAIGSVILLE, West Va. — All work and no play makes Sophie one exhausted 6-year-old.
Finding herself completely overwhelmed with the demands of first grade — reading, math and writing are not for the faint of heart — the little girl from West Virginia penned a very serious (and equally adorable) letter singing her woes to her state senator.
"All we do is work, work, work," she wrote. "I need a break. Can you help?"
Sensing the urgency of Sophie's distress call, Sen. Joe Manchin quickly came to her aid. The senator set up a conference call for Wednesday to discuss the severity of the situation, and filmed their conversation.
"You're working all the time, aren't you?" Manchin asked Sophie, who took the call at her school. "I wanted you to take a little time off since you work so hard."
While the letter produced stellar results, it actually began as a family joke, Sophie's mother Sarah Mullins told TODAY Moms. Her daughter was having a difficult time with the transition from Kindergarten to first grade and made sure her parents knew it.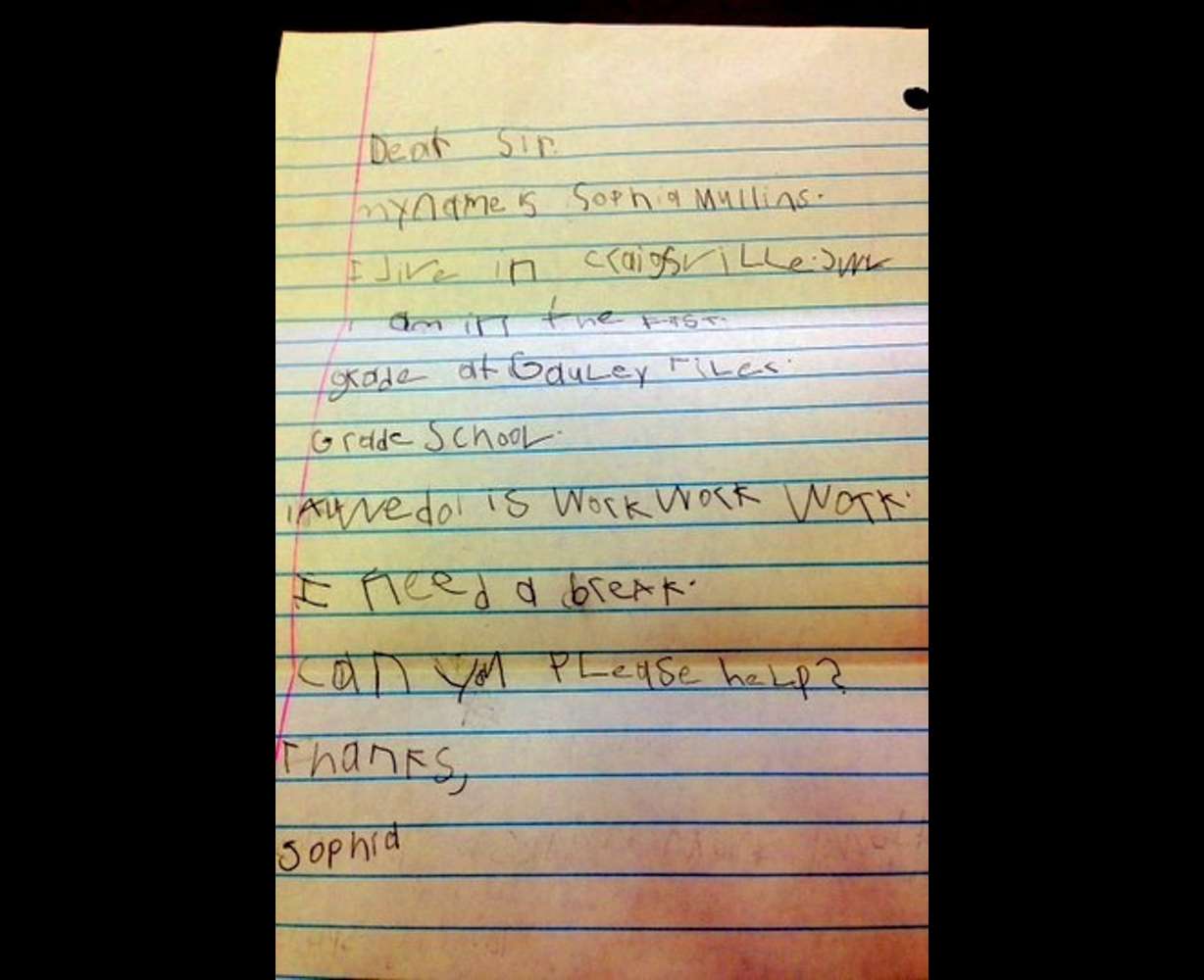 "She missed spending as much time at home as she used to with us and sometimes when you start something new it seems hard," Mullins said. "A lot of it was the newness of everything and this is harder than kindergarten."
But whenever the family has a complaint, the typical response is to "write your congressman," Mullins said. So when Sophie complained about math homework being "kind of too hard," her parents told her to write away.
"We just kept saying that and it grew and grew," she said.
Sophie's principal, Christina Bailey, worked with Sen. Manchin to facilitate the call. She told TODAY Sophie is a good student who has a valid concern.
"First grade is hard and kids do need a break," Bailey said. "There are high expectations for students across the nation."
In addition to throwing Sophie a much-needed bone, Manchin also took the time to encourage her to keep at it, even when the school workload gets tough.
"If you work hard, it's going to pay off and you're going to be smarter, aren't you?" he said.
Sophie agreed, albeit a bit reluctantly.
At the end of the phone call, Manchin invited Sophie to come visit him in Washington, promising an exciting tour if she makes the trip. Sophie said she'd have to check with her dad first.
The video of the world's cutest conference call has generated more than 23,000 views on YouTube.
×
Related links
Most recent Family stories