Estimated read time: 5-6 minutes
This archived news story is available only for your personal, non-commercial use. Information in the story may be outdated or superseded by additional information. Reading or replaying the story in its archived form does not constitute a republication of the story.
POCATELLO, Idaho — Bo Burrup's decision to serve a mission was simple. But carrying it out while moving toward his dream of playing collegiate baseball was not as simple.
Bo, 18, a left-handed pitcher and first-baseman, has worked hard for the last year after a series of events propelled forward his plans. Last summer, he was at a baseball tournament at Northwestern University when BYU scouts approached him. In October, The Church of Jesus Christ of Latter-day Saints lowered the minimum missionary age from 19 to 18 for men. During Christmas break, he went to BYU's winter camp and on the way home, he knew that's where he wanted to be. Since then, Bo has worked to graduate two trimesters early so he can go on a mission, come home and play baseball. He will only miss one season of baseball.
"The way things fell in line, that I could go on a mission and play baseball, that worked out perfectly," Bo said.
To accomplish his goal in such a short time, the first trimester of the 2013-2014 school year brought on 12 classes for Bo. During the week, he would start school at 7:15 a.m., stay until 3 p.m., then head home for three hours of online classes.
Baseball and football practice, as well as his church service kept him busy through November. Thursday, he made a major step toward his goal when he signed with BYU for the 2015 baseball season.
Friday, Bo will travel to Moscow, Idaho to compete in a football state championship with Highland High School. Bo's schedule doesn't open up afterward, as he will travel overnight home to Pocatello to be set apart as a missionary, then enter the Missionary Training Center in Provo Saturday afternoon at 3 p.m. He will serve in the Baltimore, Md. mission, speaking Spanish.
"It's been a whirlwind for sure," said Jim Burrup, Bo's father. "He always wanted to serve a mission, and of course if he did, I wanted him to as well. His second goal has always been that he wants to have an opportunity to play professional baseball."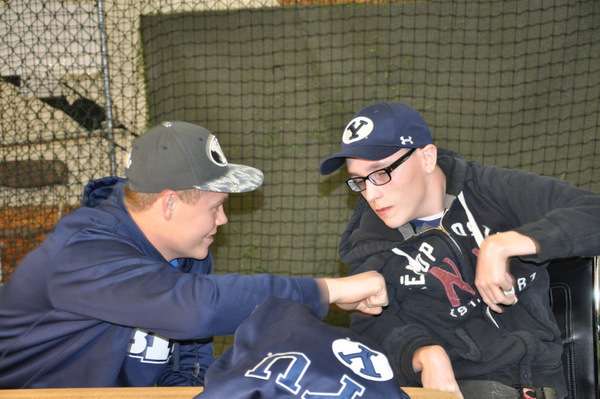 He said his parents have supported him in the last year in the same way they always have.
"They have done so much for me, just pushing me through it because sometimes it gets tough and you don't want to do it," Bo said. "They're just always pushing me forward and helping me out with things I need. Always encouraging."
Jim said it has been exciting to watch his son grow and expand his skills and knowledge.
"I couldn't be more proud," he said. "For one, just to see him set a goal that wasn't easy and work really hard to do it, it's been amazing to watch him do it. To go ahead and go on a mission and take an opportunity to give up something he loves for an opportunity to go out and serve for two years, makes me proud. It would be easy to make excuses and stick around."
Jim said that his son didn't just juggle all his commitments, but excelled at them. Besides signing with BYU and his football team being undefeated this season, he has improved his grades, graduating with a 3.65 grade point average.
Watching his son play is one of Jim's favorite things to do, he said. Since Bo was a little boy playing T-ball, the two have played together.
---
As the scriptures read, you can do all things, nothing is impossible, stuff like that has really helped me get through that time.
–Bo Burrup
---
"It's my favorite thing in the world. It really is," Jim said. "As a kid I loved playing sports and thought that was my most favorite thing in the world. But, as I got older, I found it wasn't; my favorite thing in the world, really and truly, is watching my kids. ...All those years, we've just had time together. I always told him, 'You decide how hard you want to go and I'll push you as hard as you want.' He never wanted to stop."
Jim coached his son since the boy was 8 years old in little league baseball, up to high school. He has attended games and camps, cheering on his son. And, nearly every night after school, the two practice for a couple hours together in the backyard.
"Ever since I could walk, my dad started pitching to me and I've loved it ever since," Bo said.
Sports may be important to Bo, but his faith is what has helped him accomplish his goals, he said. He's drawn strength from the standard works of the LDS Church, particularly scriptures about overcoming challenges. Additionally, service in his ward and with the missionaries has helped him prepare for his missionary service.
"As the scriptures read, you can do all things, nothing is impossible, stuff like that has really helped me get through that time," Bo said. "I spent a lot of time with the missionaries lately. I've went out once a week with them and we had amazing experiences."
Three or four years ago, Jim said, Bo became determined to serve a mission and share his truth with others.
"He's got a work ethic and drive to be the best at whatever he's done," Jim said. "He always had a tender heart for people."
Jim said he is also proud of Bo for choosing to serve a mission before he plays for BYU. Many people have asked him why he is going when he has a great opportunity. He has even received several letters from the Major League Baseball, but he has responded to each one saying he is serving a mission. For Bo, going on a mission has always been something he has wanted to do — a simple choice.
"I'm just excited to go on a mission, I've waited for it my whole life," Bo said.
×
Photos
Related links
Related stories
Most recent Utah stories