This archived news story is available only for your personal, non-commercial use. Information in the story may be outdated or superseded by additional information. Reading or replaying the story in its archived form does not constitute a republication of the story.
SALT LAKE CITY — Getting around may become a bit easier for some Wasatch Front commuters.
Salt Lake City, Enterprise Rent-A-Car and the Utah Transit Authority on Monday announced a new car-sharing program in partnership with the University of Utah and Utah Valley University.
Initially, the program will include about 30 vehicles that will be parked at locations along the Wasatch Front to complement other commuter services.
Speaking at a news conference at the University of Utah, Salt Lake City Mayor Ralph Becker said this newest phase of the community-based carpooling program, UTA Rideshare, is an expansion of the effort in recent years to promote alternative commuting methods.
"Our expectation is that this (program) will continue to grow," Becker said.
Originally started in 2011 with 13 vehicles located mostly in and around the downtown area, U-Haul Car Share was considered a success, he said. However, upon expiration of the initial contract, the city decided to look for a new corporate partner to sponsor and grow the program, the mayor said.
By putting vehicles near where people live and work, and by making them available around the clock for hourly, daily and overnight rentals, the program is a cost-effective supplement to public transit, explained Neil Hafer, Enterprise vice president and general manager for Utah.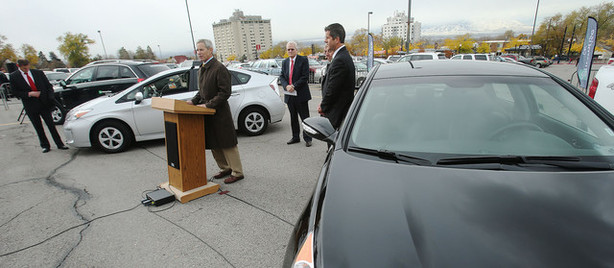 Salt Lake City is the seventh major retail market to offer Enterprise CarShare in the past two years, Hafer said. The company is partnering on such programs in more than 35 U.S. states, Canada and the United Kingdom on more than 75 university campuses and 40 government and business campuses.
"Car sharing is a simple, in-demand solution for urban transportation needs," Hafer said. "(We have) the experience and local resources to make car sharing a success in Salt Lake City by pairing our signature customer service with clean, well-maintained, up-to-date vehicles, including hybrids and easy-to-use mobile technology."
Among the vehicles available to consumers include midsize sedans, pickup trucks, SUVs and hybrids. Commuters will need to register as members of the program via the Enterprise CarShare website. Enrollment is free until January 2014.
Members must have a valid credit card and driver's license. For the general public, members must be at least 21 years old. However, college students with a valid school email account can register at 18 years of age, said Jim Crowder, Enterprise director of sales
Once registered, members can access vehicles by logging in with their member ID on their smartphone, tablet, desktop or laptop computer. Once logged in, there will be a reservation page with available hours and locations. Consumers then select the car of their choice and the number of hours of the rental.
If a customer needs the car longer, they can extend the reservation if the car is available with a phone call, Hafer said.
Rental rates range from about $8 per hour for smaller vehicles up to $14 per hour for larger vehicles. Fuel is included in the rates, and each rental includes 200 free miles of driving.
UTA, Salt Lake City, the U. and UVU are all partners with Enterprise to provide affordable car-sharing services to Salt Lake City and Wasatch Front residents and local businesses, said UTA General Manager Michael Allegra.
Sign up
Commuters can sign up for the new Salt Lake City program at www.EnterpriseCarShare.com/slc.

Also, for a limited time, Enterprise will waive the $25 application fee and the $25 one-year membership charge for any Salt Lake City member and offer discounted hourly rates for trips made before Jan. 31.
The Utah Department of Transportation's TravelWise program also supports the car-sharing initiative, which incorporates a set of strategies that encourage individuals, businesses and organizations to use alternatives to driving alone and thereby reduce energy consumption, optimize mobility and improve air quality in Utah.
"UTA took the lead in establishing this program in the Salt Lake area, and Enterprise CarShare offered the most competitively priced option for bringing flexible, affordable car-sharing solutions to our community and has a strong track record of success in other urban markets," Allegra said. "They are already well-established across the Wasatch Front, so they have the ability to scale the local car-sharing model while meeting demand and maintaining fair prices."
×
Photos