BOUNTIFUL — Matt Asiata would trade every award he's received as a football player for the chance to talk to his father one more time.
Asiata said he was at dinner Monday when he got a call from his brother.
"I heard my mom in the background screaming," said the former University of Utah star who now plays for the NFL's Minnesota Vikings. "I knew something was going on."
Asiata's father, Pita, was driving a group of more than 50 people back to Salt Lake City from Wendover, Nev., Monday afternoon when the bus ran into the back of a construction vehicle that had slowed down in the far left lane prior to driving into the median to turn around.
An auger on the back of the maintenance truck crashed through the bus' windshield and into the driver's seat, impaling the Pita Asiata, 53, of Bountiful, who died at the scene.
Sega Asiata, Pita's daughter, described her father as "a loving, humble, kind man."
---
I heard my mom in the background screaming. I knew something was going on.
–Matt Asista, bus driver's son
---
The family says their faith is helping them get through this tough time, as well as knowing that their father died doing his best to support his family.
"There are so many stories and memories we have of him," Sega Asiata said, "but the most important is that he was a humble man, and he loved everyone."
Pita Asiata also loved watching his children play sports.
"Since we were 5, 7, whatever it was, he was there at every single game," Sega Asiata said.
"That's what he liked doing," added Matt Asiata. "Even if it was work, he'd probably go out of work and get in trouble just to come see us play."
Matt Asiata says he will miss the Vikings' game Sunday against the Dallas Cowboys to be in Utah with his family. A private viewing for his father also is planned for Sunday, with funeral services likely on Monday.
Multiple investigations into cause of crash
Three separate investigations were launched Tuesday into the fatal crash. The investigations are being conducted by the Utah Highway Patrol, the Federal Motor Carrier Safety Administration and Le Bus.
Three other people suffered critical injuries. Their conditions were unknown Tuesday.
"We were deeply saddened to learn of the passing of Pita Asiata, the father of Matt and Shawn Asiata. Our thoughts and prayers go out to Matt, Shawn and their entire family as they go through this extremely difficult time," U. head football coach Kyle Whittingham said a prepared statement Tuesday.
It was still daylight when the accident happened about 6 p.m. Monday. Meadow Valley Contractors had been hired to do work along the freeway, and the construction vehicle reportedly had its hazard lights on.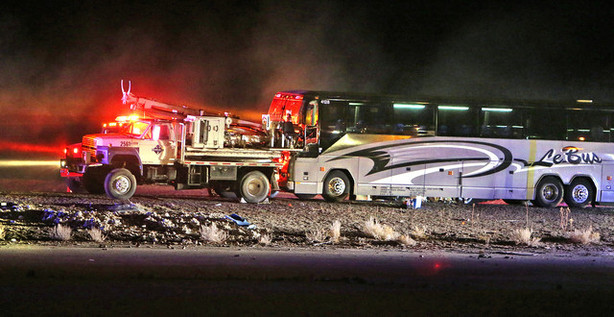 Brady Warnock, who witnessed the accident, said, "The bus swerved out of the right lane to pass a car. I guess they didn't notice the brake lights or anything, and smacked into the back of the drill truck."
Pita Asiata was driving for Le Bus out of Salt Lake City. He had been driving for the company since February 2009 and had only been in one minor accident prior to Monday, when he once hit a parked car, according to CBS News.
Le Bus also issued a statement on Tuesday.
"Obviously, our first concern is for the family of our bus driver, for all who were injured and their families, and for each of the other passengers on our bus. Our primary concern is always for the safety of our employees and passengers. Our thoughts and prayers are with each of them. We are in the process of conducting a thorough investigation into the accident and it would be premature for us to comment on the accident prior to completion of our investigation."
---
The bus swerved out of the right lane to pass a car. I guess they didn't notice the brake lights or anything, and smacked into the back of the drill truck.
–Brady Warnock, witness
---
A representative from the Federal Motor Carrier Safety Administration was at Le Bus Wednesday to begin conducting its investigation, according to the Utah Department of Transportation.
The state Motor Carrier Division conducted "compliance reviews" of Le Bus in 2006 and from 2008-2011, said UDOT spokesman John Gleason. Each time, the company received a ranking of "satisfactory," which is the top ranking. Gleason said while there may have been "minor violations from time to time," Le Bus had "pretty much a clean record."
The seven elements of those inspections include checks on driver fitness, unsafe driving records, hours of service, number of crashes, hazardous materials incidents, incidents involving drugs and alcohol and vehicle maintenance, Gleason said.
The inspections are conducted every couple of years. Because Le Bus had so many consecutive years with no problems, Gleason believes that's why the company hasn't had one since 2011.
In addition to the periodic inspections of the company, all courier vehicles also receive random inspections by the UHP or UDOT at ports of entry.
The state Motor Carrier Division receives monthly reports from those inspections that include red flags raised about certain companies, Gleason said. UDOT may conduct additional inspections of a company based on those reports.
Only one complaint has been filed with the Better Business Bureau against Le Bus in the past three years, according to the bureau's website.
The complaint alleges that a Le Bus driver left a group stranded in Wendover in March after giving "erratic directions about what time to meet up." In its response, the company apologized for the passengers' inconvenience while noting about 500 riders that day made it back to Salt Lake City without any problems.
Video Contribution: Andrew Adams
×
Photos
Related Stories