Estimated read time: 2-3 minutes
This archived news story is available only for your personal, non-commercial use. Information in the story may be outdated or superseded by additional information. Reading or replaying the story in its archived form does not constitute a republication of the story.
SALT LAKE CITY — Zombies are storming Salt Lake City and they aren't happy, but it might not be for the reason you think: they're mad people keep drinking while driving.
The Utah Highway Patrol is teaming up with Zombies Against Drunk Driving to scare people into being smart about staying off the road while intoxicated. Officers will be hitting Salt Lake City locations like City Creek Center and nearby bars with their zombie counterparts to mingle with patrons and promote awareness.
They will be spreading fear on Oct. 25 at the City Creek South Temple entrance from 5 to 6 p.m. and then the Green Pig from 6:30 to 7:30 p.m. On Oct. 31 they will haunt the Gateway movie complex from 5 to 6 p.m., followed by Lumpys Bar and Grill from 6:30 to 7:30 p.m. on Oct. 31.
The Utah Highway Patrol first came up with Z.A.D.D., a spoof of Mothers Against Drunk Driving, when they partnered up with actors dressed as zombies at a haunted house. A series of YouTube videos features the undead working with officers.
"When we held this event two years ago it was just an overwhelming success that put a little humorous twist on a very important topic such as drunk driving," said Sgt. Ted Tingey of the Utah Highway Patrol. "We were able to pull a lot of people in, drinkers and non-drinkers, to help them realize the importance of this campaign and the safety programs that we do."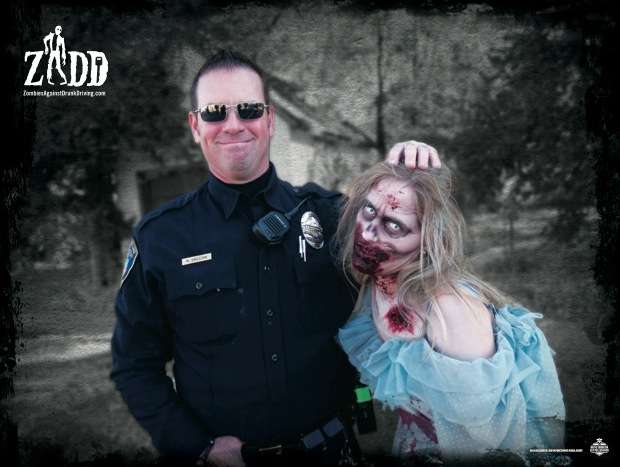 Tingey said Halloween is second only after the Fourth of July and Pioneer Day in Utah for being one of the deadliest times for impaired deaths.
"For us as law enforcement, we want to especially make sure trick or treaters are all safe out on the street going about their candy routine and everything else," he said. "We just want to make sure adults realize that 'Hey, you're not the only one out here on this night, that you need to be aware of your actions and what you're doing, especially if you've been drinking alcohol.' "
These types of campaigns have been paid off, Tingey said. Of 217 driving related deaths statewide last year, only 20 were the result of impaired driving. Utah continues to lead the nation with the lowest alcohol fatality rate, he said. He wanted to thank those who have chosen to use a designated driver or even stay at a friend's house because they realize they are intoxicated.
Law enforcement will be out the weekend before and after Halloween for DUI enforcement and DUI sobriety checkpoints. He said they have given out over 200 DUI overtime shifts for agencies statewide this year.
During Halloween 2012, there was one death in the state, and Tingey said their goal is to go without any fatalities this year. The zombies will be there to back them up.
Video Contributing: Jed Boal
×
Photos
Related Stories