This archived news story is available only for your personal, non-commercial use. Information in the story may be outdated or superseded by additional information. Reading or replaying the story in its archived form does not constitute a republication of the story.
SALT LAKE CITY — Sarah Mah never thought much about having a carbon monoxide detector in the house.
Now she has two.
"My boyfriend actually ordered a second one and we installed it by our new fire detector that we recently replaced. So we're super safe. We have a detector in the basement and one close to our kitchen," Mah said Tuesday.
What prompted the additional purchase was an incident at Mah's house a couple of weeks ago. She and her boyfriend were having their evening tea while watching a friend's three children, when the CO detector kept chirping.
Rather than ignore it, she called 911 and evacuated the house. When firefighters arrived, they found that Mah's new stove was not ventilating correctly and their evening tea had also doubled the parts per million in the home and raised the carbon monoxide to unsafe levels.
"My boyfriend bought (the CO detector) a couple of years ago, cause we're new at being homeowners. He got that and to be completely honest, I really never worried about it that much," she said. "We're really grateful we had that detector."
With the colder winter months approaching, the Salt Lake City Fire Department on Tuesday made its annual reminder about the importance of carbon monoxide detectors. As of 2008, it's the law in Utah for homeowners and landlords to install carbon monoxide detectors in all buildings containing bedrooms and sleeping facilities.
Carbon monoxide poisoning is the leading cause of accidental poisonings in the United States, according to Salt Lake fire inspector Cristal VanDongen.
The Centers for Disease Control and Prevention reported that more than 400 Americans die from unintentional CO poisoning each year, in addition to 4,000 people hospitalized and more than 20,000 taken to the emergency room.
The Utah Department of Health reported 611 CO poisoning cases from 1999 to June of 2004.
Free Detectors
The Salt Lake City Fire Department will be handing out 200 carbon monoxide detectors for free:
Wednesday, Oct. 23
Public Safety Building
475 S. 300 East
9 a.m. to noon while supplies last
In Salt Lake City last year, fire crews responded to 28 calls of possible carbon monoxide poisoning. Only seven of those cases turned out to be false alarms, VanDongen said.
"We don't have a lot of calls for carbon monoxide. They're fairly small compared to our number of calls. But they're just so important because it's just so hard to know you're even having a problem with carbon monoxide if you don't have a detector in your home," he said.
The leading sources of carbon monoxide poisoning are vehicles, particularly boats and other recreation vehicles, VanDongen said.
In June, 22-year-old Lucas Allyn died of carbon monoxide poisoning after a day of boating on Bear Lake.
In the winter, the cases of carbon monoxide poisoning in the home increase because residents try to make their homes air tight to keep the cold air out and more appliances, such as furnaces and space heaters, are used.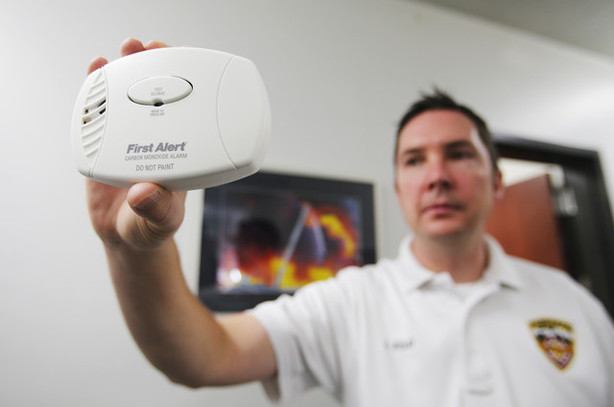 In June, two West Valley teens were treated for CO poisoning after the ventilation pipe on their water heater fell off, unbeknownst to the family. Their mother found one teen unconscious and the other close to unconscious before pulling them out of the residence.
The best way to prevent CO poisoning is to have a carbon monoxide detector, VanDongen said. The second is being able to recognize the flu-like symptoms that CO poisoning can cause, such as nausea, dizziness, fatigue, difficulty breathing and unconsciousness.
"There's no odor or color or taste associated with carbon monoxide, so without a detector you really have no way of knowing whether the levels are high. And one of the very dangerous things about carbon monoxide is once carbon monoxide has bonded with your hemoglobin, oxygen is then unable to bond. So you are actually unable to breathe even though you're in fresh clean air," said VanDongen, who noted that if someone is exposed long enough, the effects of carbon monoxide poisoning could be permanent.
"We can move you outside, and if it's a severe case we're not going to be able to supply you with oxygen, even in a clean environment. It's very difficult to reverse once you have a severe case," she said.
Young people and the elderly are typically the most susceptible to long-term effects. The CDC reported the highest fatality rate among Americans exposed to carbon monoxide poisoning is those who are 65 and older.
×
Photos
Related Stories