HOUSTON — The BYU Cougars traveled to Texas to take on the 5-0 Houston Cougars and BYU walked away with a 47-46 victory that caused coronaries throughout Cougar Nation.
As I watched Taysom Hill lead his team down the field and into the end zone with a minute left in the game and then see Alani Fua pick off Houston QB John O'Korn at the end of the game I kept thinking to myself, "What a difference a year makes."
This may not be a popular opinion with many Cougar fans, but I stand by it, I do not think BYU wins that game last year. This is not a knock on the 2013 team or the 2012 team, but rather a compliment to the progress they have made.
BYU made mistake after mistake Saturday and the pass-happy Houston Cougars took advantage of the inexperienced corners of BYU. Even though O'Korn had 363 yards and three TD's in the air, the secondary, including the corners, did what they needed to do to help their team win. That help came in the form of one interception, two sacks and three pass break ups from the secondary.
The defense wasn't the only side of the ball that made mistakes. Hill threw three picks, one a pick six, and the offensive line gave up 10 sacks and five QB hurries. But again, when the BYU offense was facing a rough day they did what they needed to to win.
This is a change of pace from 2012.
Looking at last year's schedule BYU could not close out close games against Utah, Boise and Notre Dame. On top of that they made mistakes and could not recover in a very winnable game against San Jose State.
BYU had a similar game against San Jose State last November when they lost to the Spartans 20-14. Riley Nelson had three fumbles, two of which he lost, and threw one interception. The offensive line gave up four sacks and SJSU QB David Fales threw for 305 yards and three TD's.
With their mistakes and breakdowns on both offense and defense, BYU had a chance to at least tie up the game, but they fell short.
Fast-forward to October 2013 and BYU found themselves in a similar situation on the road against a strong passing team and they dug deep and made the plays necessary to win.
Houston was no juggernaut and their 5-0 record wasn't quite as impressive considering the teams they beat to that point. However, the Cougars of Houston game planned well for the Cougars of BYU and they executed that plan.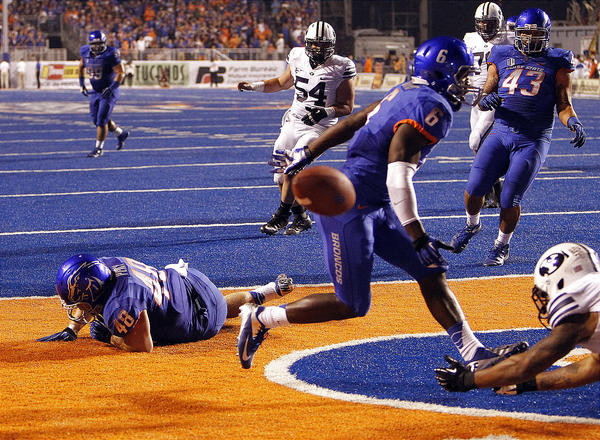 Give credit to Houston for playing a solid game and putting themselves in a position to win. Then, give credit to BYU for showing their maturity by not giving into their mistakes and gutting out a tough and well-deserved win in Houston Saturday night.
BYU has its work cut out for them as Boise heads to Provo Oct. 25. The Broncos are sitting at 5-2 along with BYU and they are improving week after week.
Last year BYU lost to Boise 7-6 when failing to convert a two-point conversion. Boise did not score an offensive touchdown and BYU didn't manage that until there was virtually no time left on the clock. Another game the Cougars could not close out.
Boise's starting QB Joe Southwick left the Broncos' game Saturday night in their win over Nevada with a broken ankle. It appears he will not play in Provo, but as any BYU fan knows, the Cougars historically struggle with a back-up QB.
However, this is 2013 and we could very well be saying, "What a difference a year makes."
×
Related Stories