HOUSTON — BYU beat Houston in a nail-biter that went all the way to the last minute. BYU played a sloppy game, but managed to win in the final minute 47-46.
BYU started the game off strong with a pick that the offense then turned into seven points.
"Spencer Hadley intercepts first pass of the game. BYU was hoping to confuse the freshmen with zone coverage switches. Worked," tweeted the Deseret News' Dick Harmon.
While the BYU Cougar got off to a solid start, the Houston Cougars bounced back strong.
"No offensive pass interference called and Houston gets another unexpected TD. Now the Coogs are bouncing around thinking they have swagger," tweeted @Cougar_Center.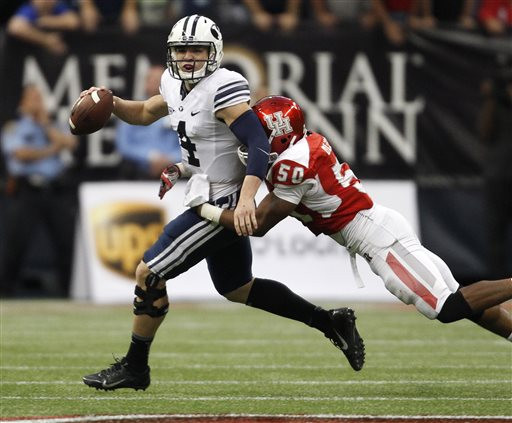 BYU and Houston traded TD's in the first half making for an explosive offensive show by both teams that went Houston's way by the half.
"How bout the Houston/BYU score?!?! 38-34 Houston. At the HALF!!!" tweeted ESPN Game Day's Kirk Herbstreit.
The third quarter didn't have quite the same fireworks, but Houston managed to take lead and it looked like their offense was moving with the momentum.
Houston led BYU 34-40 headed into the last 15 minutes. And that wasn't the end of the scoring for both teams. Houston would drive the field and then BYU would answer, only to give the lead back to Houston.
"Houston: Here, BYU, take this game. BYU: No, really; you take it. HOU: No, I insist; take it. BYU: Nah. It's OK," tweeted @RealDSean.
The fourth quarter saw three scores between the two teams and one of the most back and forth and exciting quarters in recent BYU football memory.
BYU took the lead with 12:57 left on a 25-yd pass from Taysom Hill to Cody Hoffman. That lead was taken away with 5:20 left when Houston capitalized on a deep ball and a couple of helpful BYU penalties.
BYU got the ball back and started moving the ball with just a couple of minutes left.
"Perfect back shoulder throw by Taysom Hill. That takes guts, instincts and perfect timing. That is now the best throw of Hill's career," tweeted KFAN's @GuntherKFAN.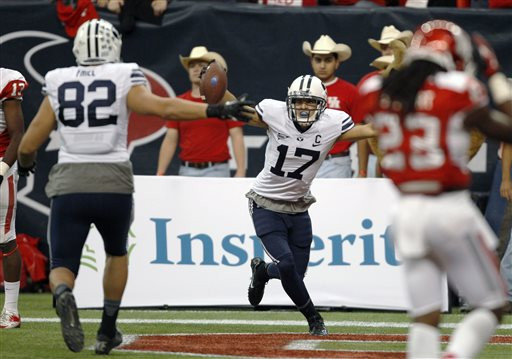 The throw Gunther is talking about was TD-pass to Skyler Ridley with just 1:08 left in the game.
Hill finished the game with 417 yards through the air and four TD's and three INT's. He also added 128 yards on the ground. Would have been more if he hadn't been sacked six times.
From there Houston got the ball back with 1:08 left, but true freshman quarterback John O'Korn didn't account for BYU linebacker Alani Fua.
"Amazing play by Alani Fua to track down that play and stop the TD," tweeted @PortlandUte.
That's right folks, that was a Utah fan. Not even he could deny that Fua made a great play at a critical moment. See, we can all get along.
Fua's pick sealed the one point win for BYU and puts the Cougars at 5-2 while the Cougars of Houston fall to 5-1.
Up next for BYU is Boise State in Provo on Friday, Oct. 25.
×
Related Stories