Estimated read time: 4-5 minutes
This archived news story is available only for your personal, non-commercial use. Information in the story may be outdated or superseded by additional information. Reading or replaying the story in its archived form does not constitute a republication of the story.
LOGAN — The first anonymous Twitter message Taylor Vail received Sunday night was bad enough.
The second message, on Monday, was even worse.
"I've never really had someone say something like that," said Vail. "I mean, when I was in sixth grade, I mean, it's middle school, you have problems with people, but they'd always say it to your face, so that made it better. But this is Twitter, it's an anonymous account, so I had a harder time."
Vail, a sophomore at Logan High School, wondered why someone she didn't even know was writing things about her that no 15-year old girl should ever read.
"I had a harder time with that second message. I really did," Vail said.
---
I said 'I don't care whether you know my daughter or not. That doesn't matter. What matters is what will happen because of what you tweet, and how this will increase her self-esteem, her self value, her worth, all of that.'
–Adam Vail
---
After the second message, she called her parents, who were eating at a restaurant.
"As a parent, your first reaction is anger," said Adam Vail, Taylor's father. "You want to do something about it. The claws come out. You want to step in and say, 'No, this isn't happening.' "
Her father was about to send a Twitter message back to the anonymous writer, but he stopped.
"I guess the thing that inspired me to want to do what I did was a story that was ran about Adrian Peterson, and he said God expects something great to come out of every experience in life," Adam said.
Peterson is the Minnesota Vikings' star football player whose son was killed last week.
"So, we went home, and she was crying on our couch. We took her back into our room," Adam said. "And I told her, 'This is what needs to happen. Regardless of what has happened, positivity and good things will come out of this if we allow it to.' "
Adam is a New Student Orientation Coordinator at Utah State University.
The next day, he sent an email to several of his coworkers, asking them to send his daughter positive messages on Twitter.
"I said 'I don't care whether you know my daughter or not. That doesn't matter,' " Adam said. "What matters is what will happen because of what you tweet, and how this will increase her self-esteem, her self value, her worth, all of that. This will be an experience she will remember forever. When she's a parent, and she has children, and bad things happen to them, she can relate to and reflect upon what happened in her life, and how instead of handing it in ways that it could be handled, positivity was used, and it had triumphed over what had been there."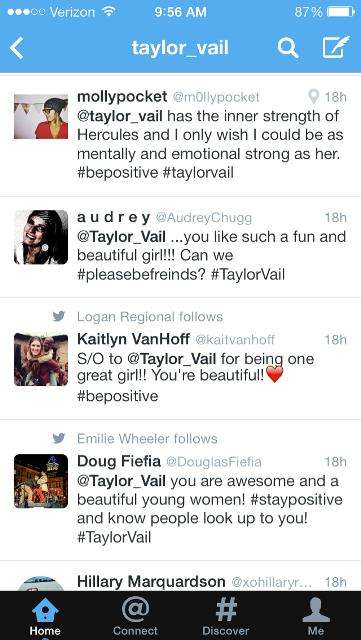 That was Tuesday afternoon.
By Tuesday night, Taylor had dozens of messages on her call phone, but she didn't see them until after her volleyball match.
There were messages telling her to stay positive, keep her head up, telling her how beautiful she was, and several others.
"It was amazing," said Taylor Vail. "The best part was, I was just coming off that volleyball high. I had just won, and then I come back and I see my phone, and I couldn't help myself. I started crying. It was awesome."
In one full day, Taylor received more than 100 messages.
Wednesday, they kept coming.
"I just got a tweet, like, five minutes ago," Taylor said. "I literally did. I've been getting them all day at school, and it's been amazing."
That's exactly what her father was hoping for.
"All of that, in that short amount of time, totally erased the negativity. And that was the goal," Adam said.
Now it seems the hashtag #taylorvail is taking off too.
Every time she checks her cell phone, she's seeing more messages sent to her @taylor_vail Twitter handle.
"I just want to thank all of them. It's so special to me, and it made me feel so good," Taylor said. "It just feels so good. And I really wish the person who said those things about me can feel that love too. I really just want them to feel it like I have."
Taylor thinks the anonymous person is a girl, but she says she doesn't know for sure.
She also doesn't want to know.
"I still don't know who it is, and I think, it's better if I don't know," she said. "I think if I don't know, I won't even be tempted not to like them. I can still love everyone and not know who it is."
×
Photos
Most recent Utah stories