MURRAY — Every day, Natalie Dartez rejoices in the little things.
One day it might be successfully maneuvering her wheelchair on and off a curb. Another day, she was glad to clean up clutter in her room. Friday, she navigated uneven sidewalks up and down hills. For Dartez, these small accomplishments move her closer to a state of normalcy and her end goal of walking again.
On Sunday, Sept. 22, Natalie, her husband Ben Dartez and some friends were at Little Sahara riding their sandrails. Just after midnight, Ben and one of their friends took a night drive on one of the machines. About an hour later, the friend returned on a four-wheeler with a stranger saying Ben had had some trouble with the sandrail. Jumper cables in hand, Natalie accompanied the friend back to find Ben. As they drove around the dark dunes, the sandrail went over a steep dune, crashing head-on into a mound of stone, she said.
Natalie was badly injured, suffering a fracture in her C1 vertebra, shattering her T4 and T5 vertebrae, breaking her left clavicle and cracking some teeth. An ambulance transported her to Nephi, from which a medical helicopter flew her to Utah Valley Regional Medical Center.
Natalie does not remember the crash, only waking up feeling extreme pain in her neck and back. The injuries left her paralyzed from the breast down.
Since the September crash, Natalie has been pushing herself toward a full recovery. Her surgeon told her there was a small chance she would be able to walk again with assistance, but she is determined to walk on her own one day.
"I have to figure it out as I go. This is a life-changing thing. I fully intend on walking again and having this as just part of my story that I tell," Natalie said. "As of right now, it's such a life-altering experience that it's hard to say how I feel because every day it's different. You just have to take it day by day. I can't have a pity party every day because it's not going to fix anything. For me, it's about keeping my eye on the prize. I feel like this is temporary and it's all part of recovery. "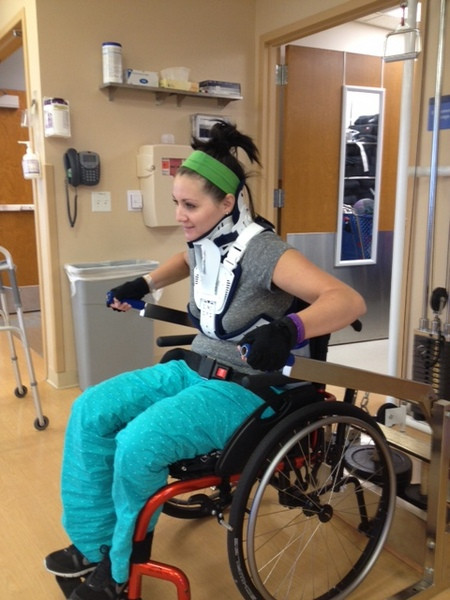 With her friends, family and most critically, she said, her husband, she has a support network that keeps her company and keeps her strong. Ben, she said, has been by her side almost every moment since her crash. For two weeks, he slept on the floor of her room at UVRMC and has stayed overnight with her since her transfer to the rehabilitation center at Intermountain Medical Center in Murray a week and a half ago.
"I don't know if I would have made it this far or stayed this calm or kept my head as straight as I have without him," she said.
Natalie's physical and occupational therapists have kept her active and worked with her to quicken her recovery. Every day — even Sunday, a day on which therapy is optional — Natalie has gotten up from her bed and pushed herself toward her goal. Her therapists have expressed their surprise at her progress.
"Every time I'm in therapy, it seems like they say, 'Wow, you're doing so much. I can't believe how much you've progressed even from yesterday. You're kicking butt.' It's good to hear stuff like that when I feel like I'm being so restricted," Natalie said. "It sounds like I'm making really good strides and moving forward quickly as far as recovering with the abilities I do have now. Things are moving along."
Though she has made progress, Natalie said the small things she could easily do before the crash still trouble her. Showering, getting dressed and changing her neck brace pads take up huge chunks of time. These challenges, she said, have given her some perspective and most importantly, compassion.
"It kinda changes your whole perspective on life in general. I've gained a lot more compassion, I think, for people," Natalie said. "I just feel like you look at people differently. Whether they're in a wheelchair or walking next to you or just passing by, you wonder what they've gone through. You see me and it's obvious I've been through something, but I'm same the person, I still have the same smile on my face. ... It makes you want to know more about people."
As she gets stronger, her body heals and she adjusts to a different lifestyle than she had before, she focuses on the lessons she can learn from the crash and hopes others see the positivity in her.
"I want this to be a positive thing," Natalie said. "This happened, but look I'm still going. I'm never going to give up. If I can go through something this crazy and have it be a positive thing, why can't somebody else? I want people to see that I'm surviving and it's OK."
Anyone interested in helping Natalie can purchase a bracelet online.
×
Photos
Related Links
Related Stories