Estimated read time: 3-4 minutes
This archived news story is available only for your personal, non-commercial use. Information in the story may be outdated or superseded by additional information. Reading or replaying the story in its archived form does not constitute a republication of the story.
John Hollenhorst reportingContractors say it's a fact of life in Southern Utah: children working on construction sites for companies with ties to Warren Jeffs. We have photos that raise the prospect of an illegal practice that seems commonplace, even though it's rarely prosecuted.
Rival contractors sometimes call it slave labor, kids of polygamists working far below the legal age. Under most circumstances, that's 16 for construction and 18 for dangerous tasks. Other contractors say they see kid workers all the time, and it drains dollars away from them to the FLDS Church.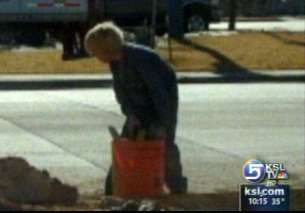 Driving past the Cedar City Walgreen's a couple of weeks ago, private eye Sam Brower saw something that made him grab his camera. "Some little kids out working on a construction site," he says.
He snapped two photos of a boy he'd seen working with concrete. He appeared exceptionally young. Brower said, "I'm gonna guess about 8, maybe."
He also photographed an older boy on the job site and at the wheel of a water truck belonging to R & W Excavating. The head of that company is Willie Jessop, who once testified he was a bodyguard for now-imprisoned polygamist Warren Jeffs.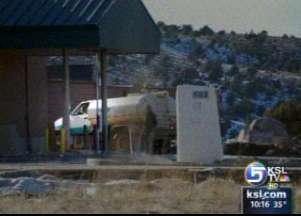 R & W sent us an e-mail denying what the photos seem to show. It said, "We are unaware of the incident to which you refer. We DO NOT employ or condone underage people on our job sites."
Brower has investigated the FLDS community for years and says Jeffs has been enriched by child laborers. "They usually stop school at about 8 years old, as soon as they can learn to read a tape measure, and then they're out on a construction job somewhere."
Contractor Curtis DeMille bid for the Walgreen's job and lost to R & W. He said, "If they're not paying the comparable wages that we have to pay, makes it very hard to compete."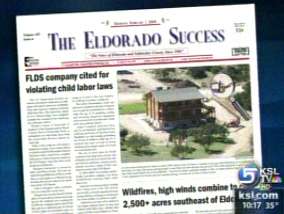 Another FLDS-linked company, Paragon, was hit with a permanent injunction a few weeks ago by a federal judge. It was for "repeatedly and willfully" violating child labor laws. We encountered a Paragon crew last week and saw no children. But the workers suddenly stopped and drove away as soon as they saw our camera.
The general contractor, Barry Zeller, with Westland Construction, said he told Paragon when he hired them he would not tolerate child labor. "We haven't seen any issues, we don't have any young kids running around on the job site," he said.
Iron County's building inspector wouldn't go on camera, but he told us he frequently encounters kids on polygamist construction sites, and they scatter when they see his truck coming. The problem seems to extend across state lines wherever there are FLDS strongholds.
Just two weeks ago the newspaper in Eldorado, Texas ran a front page photo of the FLDS compound there. It shows a child working 30 feet above the ground, on a tiny platform. He's apparently controlling the hydraulic lift himself.
One of Cedar City's most prominent citizens told us he saw nearly a dozen young kids working on a house last month. Other contractors say they see it routinely.
DeMille said, "And you see the little, tiny kids out cutting the boards to size and packing the lumber to the framers. It's pretty scary. I mean, there are a lot of dangers out there."
There is one big exception in the law. Kids are allowed on construction sites if their parent is 100 percent the owner of the company. Whether that's relevant in this case, we don't know.
We sent the photos to R & W and asked if they could identify the kids. They haven't responded, and they won't tell us if Willie Jessop is the sole owner.
×
Most recent Utah stories