SALT LAKE CITY — No matter if you live in a house, an apartment, a yurt or a teepee, chances are you have at least some level of anxiety when visitors stop by, whether unexpectedly or with months of warning.
It's hard to avoid some level of elevated heart rate when it comes to having company over. The reason is simple; for most of us, there's no way to keep a house in a state of constant alert. There will always be a mess somewhere.
I've come up with a system to categorize my level of anxiety based on who is coming to my house. It ranges from a five minute clutter-stash to a two-day deep clean. With kids in the house, this system help keeps things in perspective when it comes to how things should look versus what is actually practical. It just so works out that the frequency of the visits from each category coincides with the necessity of the level of cleaning.
Spouse clean
When mommy or daddy come home, the other spouse usually tries to have things in decent shape, that is to say, we try to make sure there are no bodily fluids or disgusting food remnants out and about. Around 5 p.m, if I'm home, I'll do a quick toy stash and clean up any diapers that might not have made it out to the garbage. That's about it.
Best friend clean
A close friend once said to me, "My theory is only associate with people with whom you feel comfortable seeing your house in a state of disarray". Obviously there are times when this philosophy isn't possible, but essentially if a good friend is coming over, the stress level shouldn't be through the roof.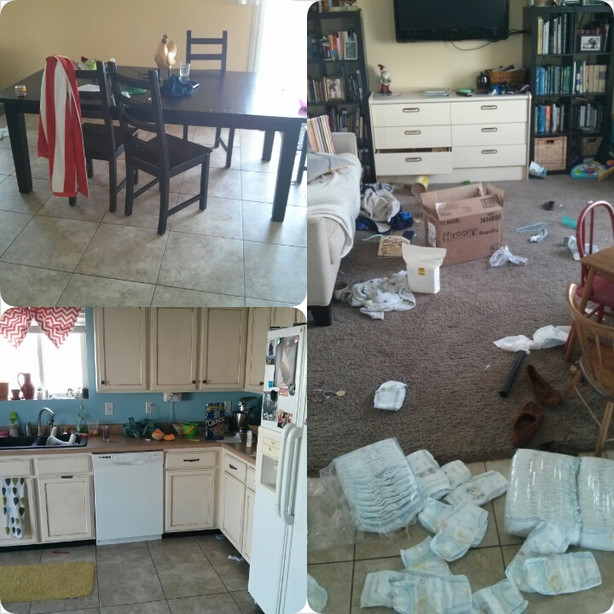 This is especially true if both of you have kids; moms seem to have a sort of unspoken sisterhood about housework. If your house isn't on fire when a fellow mom friend comes over, and there isn't a river of baby food, laundry, and toys flowing through the middle of it, or even if there is, you should be able to relax and enjoy the visit.
Leave the toys out, maybe try to clean up the dishes and stash the more mountainous piles of laundry, but don't stress out too much.
PTA member clean
Sometimes we get visitors who aren't necessarily close associates, but who are people we aim to please nonetheless. I call this one PTA member clean. If you don't host regular school board meetings, you might have church representatives who come by on a monthly basis or a book club gathering every so often at your home.
For these sorts of cleanings, I like to make sure all surface areas look good. This includes vacuuming, mopping, and dusting. I give the guest bathroom a once-over with a cleaning wipe and make sure the house smells nice. A great way to freshen up the odor of a home in a hurry is to simmer a few sprigs of fresh cut or dried herbs like rosemary or cloves in a pot on the stove. I like to add about a tablespoon of vanilla extract when I simmer herbs for a more homey aroma.
Work associates clean
From time to time we entertain work colleagues from either of our places of employment. When work colleagues are coming over, I try to put the best foot forward, house-speaking. I deep clean the bathrooms, make sure all the clutter and dust is out of the corners and clean up the yard and the front porch.
If you don't entertain work guests, you may have church or local government leaders over once in a while to visit. For situations where advanced warning isn't given when important guests are coming, I do a few quick things to make the house look clean in a pinch.
First, close all cupboards and doors. Minimize the amount of visible square footage in your house. Second, straighten all throw pillows and couch cushions. Lastly, I like to stand in my entryway and look into the front part of my house to see what might look immediately messy. I'll throw misplaced toys in drawers or straighten curtains so the first impression of my house is a good one.
Mother-in-law clean
This is all systems go, no holds barred clean. I have a great relationship with my mother-in-law, but when she comes in from out of town, I use it as a chance to force myself to turn my house upside down and shake it out. Since they come into town about twice a year, I know my house is getting a serious cleaning at least that often.
In the days leading up to the visit, I wash all bedding and pillows. I mop floors, scrub walls and baseboards, clean out kitchen cupboards, rearrange storage closets and wash the windows. I use it as a time to really motivate myself and my family to clean areas that don't get much attention throughout the year.
When deep cleaning, I find it best to keep things organized. I start with a master list, and tick off items as we get them done. I start with the closets and cupboards, as those are areas less likely to get messed up again in a few days, and end with floors and carpets.
Finding out that company is coming shouldn't be a cause for stress. Categorize the type of visitor you'll be receiving and plan accordingly. In the end, relax and just enjoy having friends and family over. If your house isn't in perfect shape, don't stress too much. Remember that the visitor in your house most likely has just as much anxiety when he or she has visitors over as well.
We're all in this housekeeping thing together.
×
Related Stories