Estimated read time: 4-5 minutes
This archived news story is available only for your personal, non-commercial use. Information in the story may be outdated or superseded by additional information. Reading or replaying the story in its archived form does not constitute a republication of the story.
ROOSEVELT — It's been an unusual week of practice for Union High School's football team.
They've pulled weeds. They've cleaned school hallways and washed windows. They've spent time visiting with residents at two long-term care facilities.
It might not be what one would typically expect from a team with a 3-2 record heading into its homecoming game Friday.
However, it's exactly what head coach Matt Labrum said he wants to see.
"We're still practicing, but we're practicing on some different skills," Labrum said.
Labrum knew that a few of his players were struggling with academic issues and attitude problems this season. Then, last week the coaches learned that a Cougar player or two might have used the social media website ask.fm to anonymously engage in cyber-bullying. The target was a Union student who is not on the team.
"It just felt like everything was going in a direction that we didn't want our young men going," Labrum said. "We felt like we needed to make a stand."
So after a tough home loss to Judge Memorial Catholic High School on Sept. 20, the coaches told all 80 varsity and junior varsity players to hand in their jerseys.
"We were looking at football as a right, rather than a privilege," Labrum said.
"We were pretty open with (our team) about what we'd heard," he said. "We don't want that represented in our program. … Whoever it is (bullying another student), we want to help get them back on the right path."
Related Story
The coaches' decision, which was not based on the team's performance against Judge, "got an emotional response from the boys," said Labrum, who is a Union High alumni.
"I think it really meant something to them, which was nice to see," he said.
Jenn Rook, mother of sophomore player Karter Rook, said the wait outside the locker room that night was a longer than usual.
"They came out, and there were tears," she said. "Those boys were wrecked. My son got in the car really upset and (told me), 'First of all, there is no football team. It's been disbanded.'"
Team captain Jordan Gurr was stunned as well.
"I thought, 'Oh, I've never been cut,'" the soft-spoken junior said. "I figured we'd just been cut. There were no more games. I was sad."
#poll
The entire team hadn't been cut, though. When they met again with the coaches early the following morning they learned they had a chance to play again, but under some very specific terms.
A vote would be held to elect new captains. Players would perform acts of service for their families and document what they'd done. They would also take part in two days of community service in lieu of regular practices, attend a mandatory character-education class, a study hall session and memorize and recite a paragraph-long quote about the value of having good character.
Finally, they had to pledge to be to all practices on time, to demonstrate respect for their teachers, fellow students and members of the community and to maintain their grades.
"I think it's going to bring our team closer," Labrum said. "It think we're going to be more accountable, not only for ourselves, but for our buddy next to us."
Bruce Guymon, director of student services for the Duchesne County School District, said he hasn't received a single parent complaint about the coaching staff's decision to suspend the entire team. Union High Principal Rick Nielsen and the school's athletic director, Mike Ross, both said the response from parents, in fact, has been wholly positive.
"It is not a punishment," Rook said. "I look at it as an opportunity to do some good in the community and it's a good way to learn a life lesson."
Ed Winn, whose son Landen is a senior on the team, said he agreed.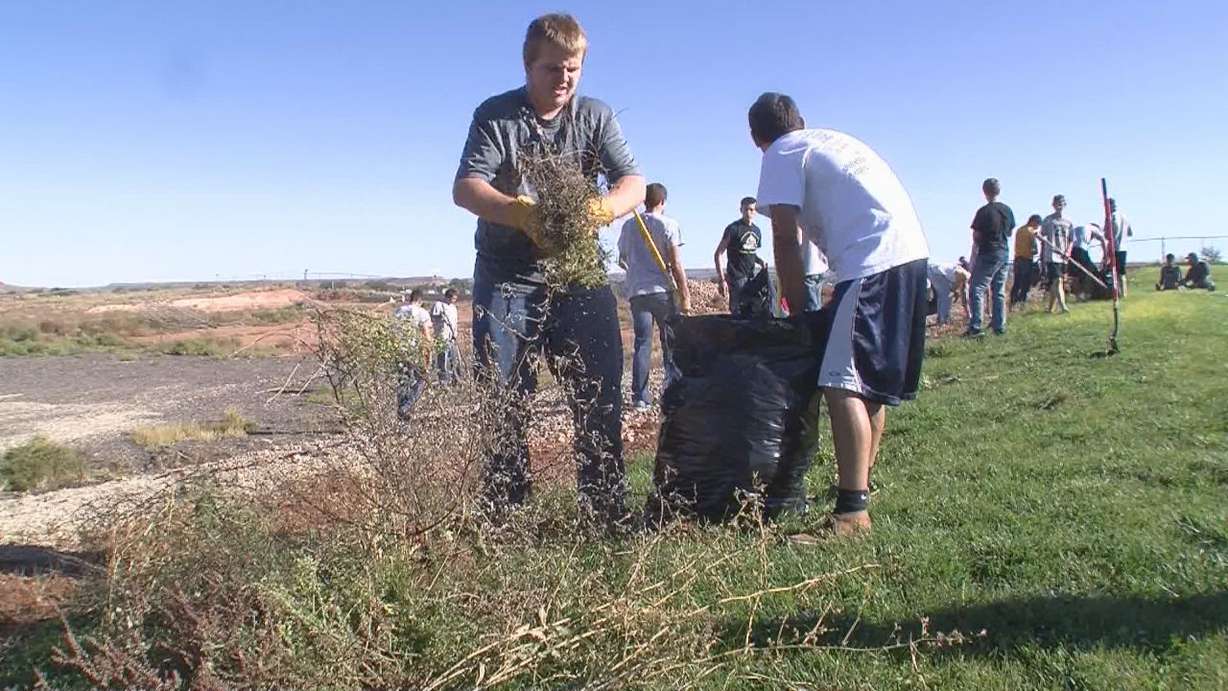 "The coach is just, number one, looking out for the team," Winn said. "We think building the team, building good character will make good men out of them."
Labrum said he met Monday with the student who had been bullied and offered an apology on behalf his team.
"I told him I hope he can forgive us some day," the coach said, noting that all of his players are making solid progress toward earning the privilege of wearing the black and gold again.
They're also working to learn the lessons their coaches hoped to instill over the past five days.
"It's not all about football," senior Gavin Nielsen acknowledged during a break from pulling weeds. "It's really good to get the wins and play the game, but football is just a stepping stone that helps us grow up."
The players will learn Wednesday night whether they'll get their jerseys back. Union's junior varsity plays Thursday night, and the varsity squad takes on the Emery Spartans in the homecoming game Friday.
×
Photos
Related links
Related stories
Most recent Utah stories