SALT LAKE CITY — A photo featuring a baby tumbling from the arms of a mother in a family portrait is bringing online fame to a couple and photographer originally from Utah. This is what happens when a whoopsie-daisy moment goes viral.
Liz Hansen was prepped and ready at her family reunion to get some experience in for her budding photography business. About 50 family members were gathered in San Clemente, Calif., to honor what would have been their grandmother's 100th birthday.
After completing the big group shots to commemorate the event, Hansen was taking pictures of her first cousin's family of four, headed by Steve and Elizabeth Cramer.
But, as many parents know, babies do not care if you want "just one nice picture while we're all dressed up."
"We were out on the beach, and the baby was fussy," Hansen said. "So I said, 'let's do some candid shots instead of posing.' "
Hansen asked the Cramers to hold hands with their 4-year-old son between them while Elizabeth held the 6-month-old baby. Then the little family began slowly walking toward Hansen as she took shots.
The Cramers soon began the familiar game of one-two-threeeee! with their oldest, lifting him off the ground and swinging him between them.
"Right on three, the baby just slipped off the sleeve of (Elizabeth's) blouse and right out of her hand," Hansen said. "I was startled and I quit shooting."
---
That's why we could laugh, because he wasn't hurt.
–Liz Hansen, photographer
---
But not before she got a slightly terrifying shot of the baby calmly flying through the air.
"I think the angle of the shot makes it look worse than it was. He probably fell 3½ to 4 feet," Hansen said.
The baby landed flat on his back and began crying.
Luckily his grandfather, who is also Hansen's uncle, and who also happens to be a pediatrician, was on the scene. He examined the baby right away and found no damage done. In fact, Hansen said that the baby stopped crying within just a few minutes.
"That's why we could laugh, because he wasn't hurt," Hansen said.
Steve Cramer decided to post his family photo to Reddit. Much to the surprise of all parties involved, the image received over 4 million hits and was quickly made into memes by the Reddit community.
But not everyone enjoyed the funny aspect of what could have been a more serious event. Hansen said that she and Cramer received "not exactly hate mail" about the image.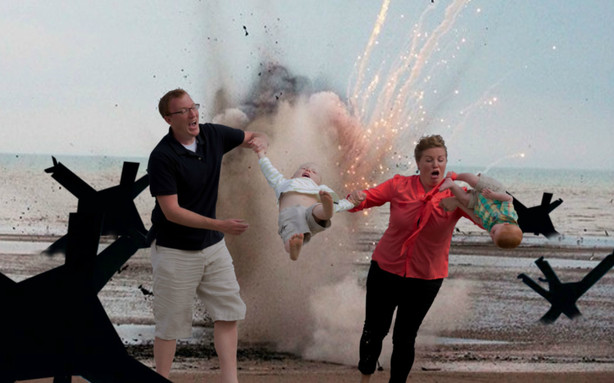 "Some people got offended, because some babies are injured in falls like this," she said. "I can understand how it could make you feel bad, but this has happened to probably every parent. It's a classic parenting moment."
The most unexpected criticism came from other photographers who admonished Hansen for not continuing to shoot in the aftermath of the fall.
"They said that I missed the best moments," Hansen said with a chuckle. "I suppose if I were a Pulitzer Prize winner then I would have kept shooting."
Hansen feels bad that the photo offended some, but she doesn't exactly regret the image.
"We got a laugh out of this because we knew the baby was OK. Some people thought I was taking advantage of the family, but no one is upset who was directly involved," Hansen said.
But most of all, Hansen is surprised that more than 4 million people have seen it.
"My cousin posted it for fun, then it went beyond anyone's imagination."
×
Photos
Related Stories