SALT LAKE CITY — Bored with your everyday exercise routine? (Or, if we're being honest, it's more like a once-a-week exercise routine.) Once a workout becomes mundane, it's hard to muster up the motivation to roll out of bed and hit the gym. Three miles on the treadmill again? Boring. Stationary bike for 30 minutes? Big yawn.
But if you think you've seen all that Utah has to offer in the fitness class department, think again. Between surfing, trapeze flying, and ballet, we've got a class that will work your body and keep you coming back for more.
1. Acrobatic Yoga at AcroAmazing
Acrobatic yoga or "AcroYoga", is a fitness class that blends yoga, massage and acrobatics. Don't be scared of the class based on the description, says AcroAmazing owner Amy Olson.
"You can start our AcroYoga classes at a very basic fitness level," Olson said. "You don't need to have taken a yoga class or an acrobatics class."
AcroYoga includes basic yoga poses, partner acrobatic moves, and Thai massage. It can be done with a friend but you can also show up to class solo. AcroAmazing offers free classes in the park once a month. The next one is Saturday, Sept. 14 from 4-6 p.m. at Sugarhouse Park.
Try it if: You're a dedicated yogi and want to add a challenge to your routine, you think regular yoga is boring
AcroAmazing is located at 1301 E. Miller Ave Suite #10 in Salt Lake City.
2. Surfboard fitness at Surfset Utah
Have you always envied the long and lean body of a surfer? Utah may be a day's drive from the waves, but now you can practice your surfing skills here at home. Surfset Fitness is a fun and challenging class that combines yoga and strength training, all done on a surfboard-shaped balance board.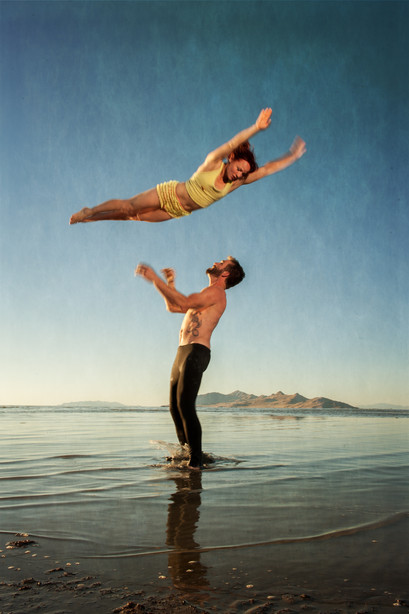 This class is designed to improve your balance, flexibility and strength.
Try it if: You want to have better balance, you want to get washboard abs, you want to pretend you live by the beach
Surfset Fitness is located in Provo (Surfset Utah) at 2701 North University Ave. and Salt Lake City (Surf in the City Fitness) at 2145 South Highland Dr. Both locations offer your first class for free.
If you love ballet and dance but never had the chance to take classes, be bitter no more. You can now exercise using ballet moves and work your way to a dancer's body.
You might be wondering why a ballet class is included on this list. Barre ballet is not just sitting and stretching — it combines dance and Pilates to help you become lean and limber, no dancing experience required. While it might seem like you won't get a hard workout, one class will leave you sweating and sore like you've just run a 10k.
Try it if: You want to increase your flexibility, you love to dance
Xtend Barre is located at 481 N University Ave. in Provo and at 450 East 900 South in Salt Lake City. Each location offers a free first class.
For those that have never heard of it before, Parkour is basically urban gymnastics, where you hop between walls, slide down stair rails and fly feet first into open windows. Parkour has been around since the 1980s but it recently became trendy and popular again.
Parkour challenges your body and increases your balance and flexibility and gives a full-body workout. Free classes are available in American Fork if you would like to learn the basics.
Try it if: You used to be a gymnast, you want to impress your teenage son, you secretly want to be a stuntman
Free Parkour Utah classes are located Wednesdays at the Alpine Tabernacle and Thursdays at the American Fork Ampitheater from 4:30- 6:30 p.m. Kids classes are offered at the Jump Up Gym in Lehi at 400 S. Millpond Drive.
5. Onyx Pole and Aerial Fitness Studio
Touting itself as "accidental fitness" because you won't realize you're working out, Onyx offers beginning to advanced aerial fitness classes. You suspend yourself in the air using fabric, hoops and trapeze to improve strength and flexibility.
"We have so much fun at the studio that you do not realize you are working so hard until the next day when you cannot get out of bed our raise your arms above your head!" said instructor Shae Myers.
It's never the same workout twice — once you learn the basics, you can use your creativity to design your own workouts.
And while flying through the air on a trapeze might seem near impossible to you, remember that this class is for all fitness levels.
"This is something that you have to stay with. At first there is a learning curve. You are getting to know your apparatus, how it works and how to manipulate your body," Myers said. "But stay with it and you'll gain so much strength lifting your body that it does not necessarily get easy, you just get stronger."
Try it if: You're fearless, you wish you were in Cirque du Soleil, you're flexible, you're creative
Onyx Pole and Aerial Fitness is located at 8385 South Allen St. in Sandy.
×
Photos
Related Links
Related Stories