Estimated read time: 2-3 minutes
This archived news story is available only for your personal, non-commercial use. Information in the story may be outdated or superseded by additional information. Reading or replaying the story in its archived form does not constitute a republication of the story.
TAMPA — Nature apparently has it out for some people. For instance, Erik Norrie, a man who, in his 40 years on Earth, has had run ins with monkeys, sharks, rattlesnakes and the hammer of Thor himself.
Norrie is currently recovering from his latest attack, in which a shark bit off a chunk of his leg during a spear fishing trip in the Bahamas.
"I felt this shark grab my leg, and the ripping sound, and when I turned around the water was filled with blood. It looked like a Jaws movie," Norrie told WTSP News.
He used part of his spear fishing equipment to make a tourniquet after making his way to a sandbar. His daughter called for help over a radio and he is now in a Tampa hospital awaiting surgery.
"That was a tough ride," Norrie told FOX News in Tampa. "I really did think I was going to die."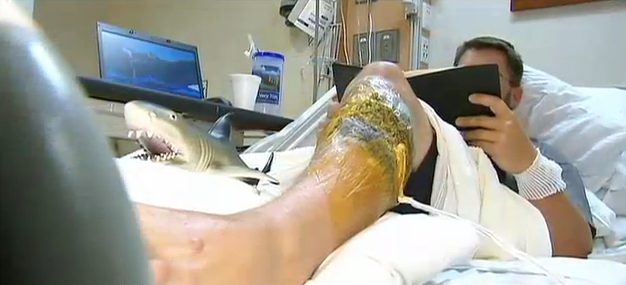 Norrie's encounters with the dangers of Nature goes all the way back to his childhood, according to the New York Daily News. When he was 10 years old, a tree under which he stood was struck by lightning. He was blown over by the strike, but was unhurt.
Years later, he was bitten by a rattlesnake while walking at a country club and nearly lost his leg. He spent two weeks in intensive care.
The New York Daily News also reports that he was attacked by monkeys twice, once because he wandered too close to a simian while in the Amazon. The second time was the result of a joke, of sorts, played by his wife.
She locked Norrie in a cage with a small monkey, which then proceeded to bite, hit and pelt him with his own keys. His wife, Spryng, wasn't worried, though.
"She took photos and giggled," he said.
×
Related links
Most recent Features stories