Estimated read time: 2-3 minutes
This archived news story is available only for your personal, non-commercial use. Information in the story may be outdated or superseded by additional information. Reading or replaying the story in its archived form does not constitute a republication of the story.
DRAPER — The Draper TRAX line will open in mid-August, completing a five year system-wide expansion two years ahead of schedule. KSL was able to take an early ride on the new line before it opens for passengers August 17th.
The new train looked clean and ready for passengers. UTA wrapped up certification for operations last week and the 3.8 mile extension starts in Sandy and ends at Draper Town Center.
TRAX and FrontRunner currently carry 60,000 passengers a day. UTA said that number is considered good traffic for a 14-year-old system.
The new stops will be Crescent View at 361 E. 11400 South, Kimballs Lane at 11796 S. 700 East, and the Draper Town Center located at 1131 E. Pioneer Road (12400 South).
The Draper extension of the Blue Line is expected to carry 2,200 passengers a day.
Steve Meyer, the UTA Chief Capital Development Officer was onsite for the preview ride.
"We started with the first 16 miles in 1999 and now we're up to close to 140 miles total," Meyer said.
The Draper extension of the blue line is expected to add 2,200 passengers a day with three new stops. UTA spent $149.1 million of the $193.6 million budget coming in 23 percent under budget.
Meyer said the new line will open up transit options for Salt Lake valley residents. This extension is the last of UTA's Frontlines 2015 projects that added 70 miles of rail in five years: FrontRunner South, the mid-Jordan line, the West Valley and Airport Lines and now the Draper Line.
UTA spent $2.51 Billion of the $2.85 Billion budget on Frontlines, coming in 12% under budget.
"The taxpayers are enjoying riding these lines two years earlier," Meyer said.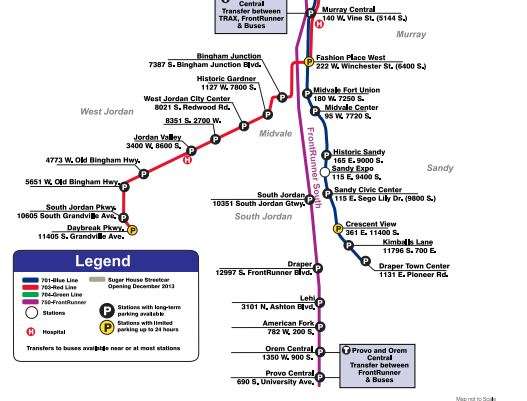 The Frontlines projects doubled the mileage of tracks in the UTA system with FrontRunner and TRAX combined. Meyers said this is a particularly notable accomplishment given the state of the economy over the last few years.
"Cash flow was obviously an issue," he said. "We were losing $50 to $60 million a year in revenue to what we had projected before the recession."
On the plus side, Meyer said that workers were available and construction costs were down.
×
Photos
Related stories
Most recent Utah stories