CEDAR CITY — Pounding rain wreaked havoc in Iron County, flooding streets, filling basements, knocking out power and caving in the roof of a large business Saturday.
A total of 2.25 inches of water fell at the Cedar City airport in less than three hours, breaking the all-time daily record of 2.1 inches set back in September 1967, according to the National Weather Service.
That water rushed down streets and into homes. All available officers with the Cedar City Police Department and Iron County Sheriff's Office were on hand helping to clean up the mess.
"Pretty much the whole city was affected by it," Cedar City Police Sgt. Jerry Womack said. The storm left stop lights dark and rushing water forced some temporary road closures.
Womack confirmed a collapsed roof at MetalCraft Technologies, 400 N. 1400 West, was likely brought on by the heavy rains. The company manufactures aerospace components, according to an online profile.
No one was inside the building at the time, and the collapse was discovered by a responding maintenance worker, Womack reported.
Womack was unsure how many homes took on water in Cedar City, or in Enoch where he lives.
Related:
"I think Enoch got hit a little harder," Womack said, grateful his home was spared this time around. "We took steps last year in August to make sure it didn't happen again."
The combined rain, wind and lightning knocked out power to two substations just after 6 p.m., leaving 5,700 residents in Cedar City and Enoch in the dark. All power was restored to the area by 8:30 p.m., a Rocky Mountain Power spokesman reported.
Flash flood warnings were in place until 10:30 p.m. Saturday in east-central Washington County, particularly in Spry Canyon, Lodge Canyon, Pine Creek, Clear Creek and The Narrows in Zion.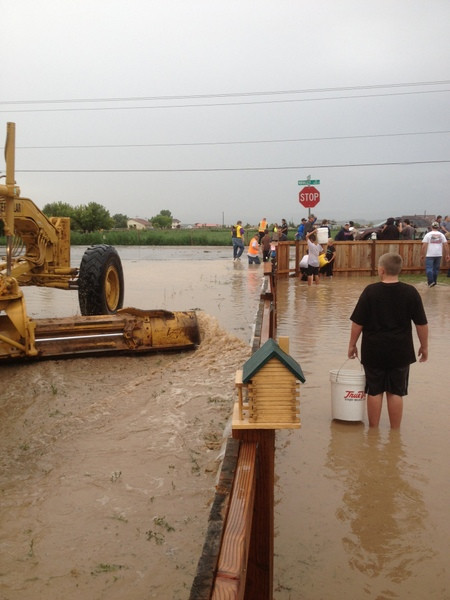 Every time the rain has come, it has hit the Coral Canyon subdivision, where law enforcement, fire crews and volunteers spent the evening lining the streets with sandbags.
"Seems like this year has been our year to get hit with floods," said Washington City Fire Chief Brent Hafen.
The Hurricane City Police Department also assisted in shutting down several roadways due to the large amount of water flowing in the streets including 2050 South Angel Heights, 1850 South Angel Heights and 1150 West.
Houses in the neighborhood took in as much as 6 inches of water, Hafen said. None of the residents were displaced Friday night, and emergency cleanup crews were on hand pulling up carpet and setting up fans to dry out the homes.
Homes in a nearby trailer park also suffered exterior damage from rushing waters, though none were flooded, Hafen said.
Paul Moss couldn't believe the water rushing into his neighbor Russ Henderson's house after he called Friday night, asking Moss to come over as fast as he could.
"I was like, 'I don't even know what I can do here.' It was just crazy," Moss said.
Henderson said many of the items he had in his shed and basement are ruined from the mud, including tools, carpet and furniture.
Henderson blames an irrigation ditch in his front yard, and Washington Mayor Ken Neilson said the flooding was more likely the result of an unusual amount of heavy rain that came through the area than the old ditch.
Neilson noted that the ditch is an older, less frequently used one, and that while the city tries to keep it clear of debris, they are not perfect.
Heavy rains pounded on the east side of Washington City, while nearby St. George got only a sprinkle, Hafen said. Crews from the St. George Fire Department came up to help their neighbors with sandbags.
"It's such muddy, crappy water," Hafen said, grateful for the assistance.
Once the situation was under control, Hafen said he was keeping his eyes on the "black, heavy clouds" to the east as the final minutes of the National Weather Service's flash flood warning expired.
"At this point right now we've pretty much got everything cleaned up from the first round and hope we don't get another one," Hafen said.
Contributing: Faith Heaton Jolley
×
Photos