SALT LAKE CITY — Investigators are still looking for a masked man who has robbed three Salt Lake City banks three times over a three-week period.
Officials have gathered a several surveillance pictures of the man who has reportedly robbed the bank around the same day and time of day during each incident — Thursday mornings. During each of the robberies, the gunman has worn a green beanie, long sleeves, gloves and a Halloween mask. The pattern is alarming to investigators.
"This is very scary," said retired FBI special agent Lou Bertram. "This is not normal."
Bertram investigated bank robberies in Los Angeles during his time working with the FBI.
"A little bit terrifying with the gun," Bertram said of the alleged "serial robber" in Salt Lake City. "This individual is reaching a desperation point."
Bertram said that most bank robbers don't use guns because tellers are instructed to turn over the money. The gun also enhances prison time.
"With the gun, it takes it to the next level," he said. "There is something in this fellow's demeanor in this third bank robbery that is very worrisome."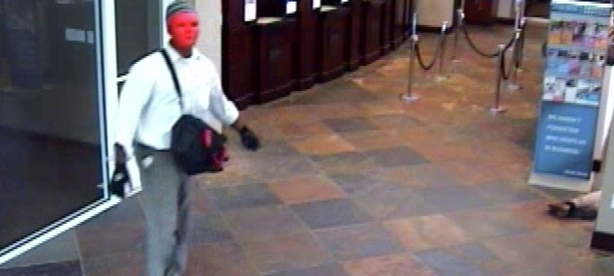 On Thursday July 11th, the robber hit the Zions Bank at 900 West 2100 South at 10:45 a.m. Then on Thursday July 18th, he hit the U.S. Bank at 300 West 2700 South at 10:50 a.m. Then on Thursday the 25th, he robbed the Zions Bank at 3900 South 700 East at 10:40.
"He's got a job or he's at a halfway house," Bertram said. "He is out for a period of time. He is good, but of course, he is going to slip up."
Despite the recent consistent pattern of robberies, the FBI crime statistics show a decrease in bank robberies. In 2011, 5,000 banks were robbed of $38 million nationwide, with 26 robberies in Utah. Those numbers decreased from 2006 when 7,000 banks were robbed nationwide and a total of $70 million was stolen.
Bertram is pretty confident investigators will catch this guy. He said officials have a lot of clues, and a viewer somewhere could recognize the gunman and report him to authorities.
×
Photos
Related Stories