SOUTH SALT LAKE — Police are investigating the possibility that a man who robbed a South Salt Lake bank Thursday is also responsible for a robbery in Salt Lake City last week.
"We're working with the FBI and with Salt Lake City on the other robbery to compare notes on that," South Salt Lake police spokesman Gary Keller said. "The guy was wearing a mask and there were a lot of similarities. It's a possibility, but it hasn't come forth."
The robbery in South Salt Lake occurred about 10:50 a.m. Thursday at a US Bank near 2700 South and 300 West. The suspect pointed a black handgun at bank employees, obtained an undisclosed amount of cash and fled on foot, Keller said.
No customers were in the bank at the time and no one was injured in the incident.
The suspect was described as a black male, around 6-feet-2, 180 pounds with a thin beard. He was wearing a transparent Halloween mask and a knitted beanie with black gloves; light-colored, striped shirt; gray khaki pants; and white shoes.
Surveillance photos from a robbery at Zions Bank on 910 W. 2100 South on July 11 show a man with similar clothing — dress pants, white shirt, black gloves — a red mask and a knit beanie that looks almost identical to the one worn by the suspect in the South Salt Lake robbery.
In that incident, Salt Lake Police said the suspect, described as a black male, entered the bank around 10:45 a.m., brandished a weapon and demanded money. That suspect also fled on foot after receiving the cash.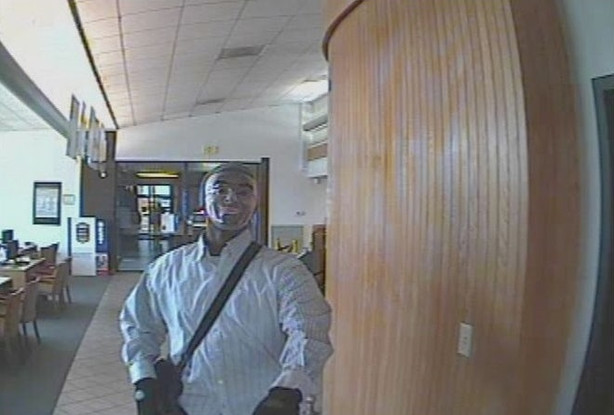 "I can see some similarities and that is under investigation," Salt Lake City police detective Veronica Montoya said. "We're definitely asking for the public's help."
Both police agencies are asking that anyone with information in either case contact police. Salt Lake City police, can be reached at 801-799-3000, while South Salt Lake police are at 801-840-4000.
Keller said the South Salt Lake robbery is also still under investigation while police explore all options.
"We haven't ruled anything out," Keller said.
×
Photos
Related Stories