Estimated read time: 7-8 minutes
This archived news story is available only for your personal, non-commercial use. Information in the story may be outdated or superseded by additional information. Reading or replaying the story in its archived form does not constitute a republication of the story.
BADWATER, Death Valley National Park — If you're fed up with the hot weather, maybe you'll have some sympathy for a Utah man who tested himself against even more extreme heat in what is probably the toughest, most brutal footrace on the planet. He showed that inspiration can be found in defeat as well as victory.
As Jarom Thurston of Payson prepared to run the 135 mile Badwater Ultramarathon in what is officially "the hottest place on Earth," he said he was doing it to show the way for a group of recovering drug addicts.
"They've overcome, to me, something that's a lot harder than what I'm about to do," Jarom said, standing in the blistering heat of California's Death Valley National Park.
The race begins in Death Valley every July at the lowest place on the continent, Badwater, 281 feet below sea level. At 6 a.m. when Thurston began his run, it was already 100 degrees — in the shade. In the course of the day, it got much, much hotter. At 6:56 a.m., Thurston ran out of the morning shade into bright, withering sunlight, he knew it was the last shade nature would provide all day.
"The sun," Thurston said, gesturing as it hit him. "Fifty six minutes (of shade). It's all I got."
"I don't know what I'm trying to prove, being out here for my third time," Thurston said. "Because I've already done it."
---
Medics discovered he'd lost 14 pounds in just seven hours of running and walking.
---
Thurston successfully finished the Badwater Ultramarathon twice before. Each time, he vowed he would never run it again.
"Only the craziest runners in the world" even attempt the run, Thurston said.
At 135 miles, the Badwater Ultramarathon is the equivalent of 5.2 marathons back-to-back. As runners rise from below sea level in Death Valley, they endure three extremely long, steep climbs, ending above the 8,000-foot level on Mount Whitney.
"Some people I think deal with the heat a little bit better than others," Thurston said. "But everyone, eventually their bodies will break down."
Thurston said he decided to run it one more time to set an example for the support crew that traveled in vehicles alongside Thurston as he ran. They are recovering addicts who have given up drugs and alcohol in a Utah County program called "Addict II Athlete."
Thurston has been mentoring the ex-addicts and often runs with them in Provo to inspire them to use athletics as a way to help shirk their addictions.
Speaking to the group at a recent meeting, addiction counselor Blu Robinson said, "We're all committed to one thing more than anything else. And that's sobriety, right? Our championship, our trophy, that we'll hoist above your head, is recovery."
Robinson led the support crew as they tended to Thurston's needs in the fearsome heat of Death Valley.
"And you know what?" Robinson told the Addict II Athlete group, "winning's not what it's all about." Just finishing the Badwater Ultramarathon is one of the greatest challenges in sports. Officially, the high temperature on the first day of the race was 120 degrees. But readings taken by KSL showed that the air-temperature climbed into the high 120's, hitting 130 at mid-afternoon. Other support crews said they had air-temperature readings as high as 140.
The hottest part of "the hottest place on Earth" is the highway that serves as the race course. Using an infra-red spot thermometer, KSL found that the asphalt pavement was generally in the 170 to 180 degree range, with the white stripe on the side of the road typically about 12 degrees cooler. Many runners seemed to be trying to land their feet on the white stripe as much as possible.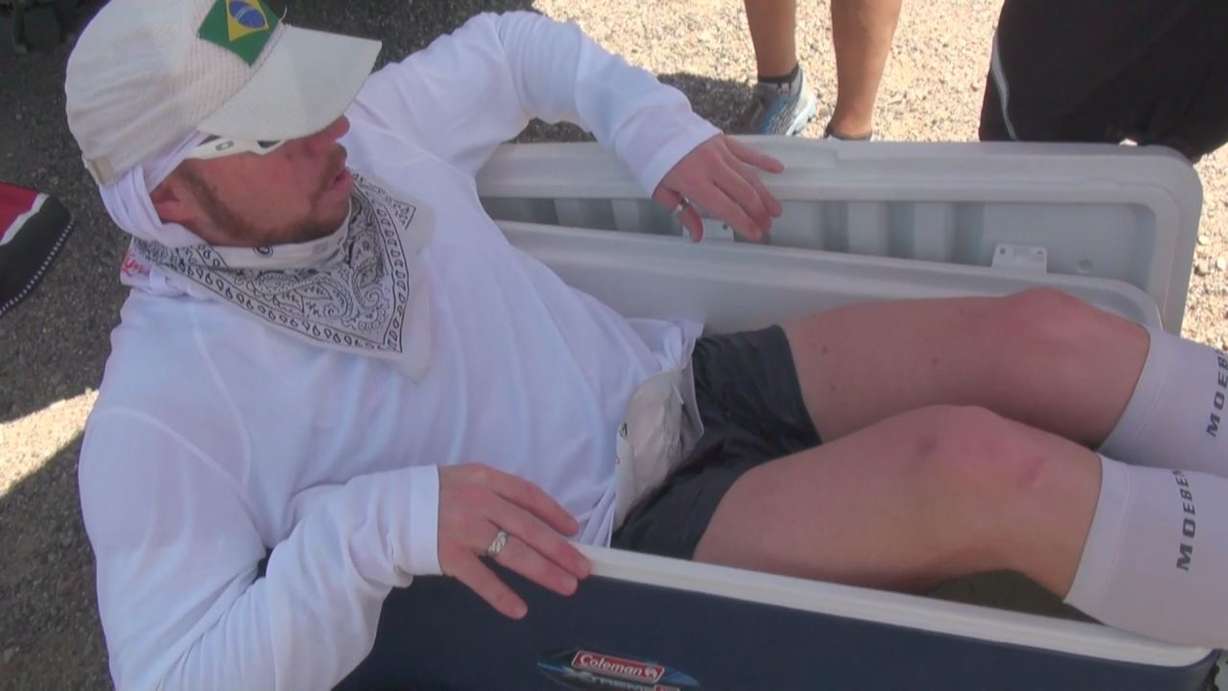 Runners took occasional breaks, assisted by their support crews, and often changed shoes and socks. Thurston's crew regularly supplied him with high-protein food, salt and enormous amounts of water during his run. Crew members also jogged along with him and sprayed him him regularly with water to cool his skin.
Nevertheless, by noon, Thurston's support crew started noticing he was showing symptoms of heat stroke, or heat exhaustion. He started throwing up from the effects of severe overheating and dehydration. Feeling dizzy, Thurston literally climbed into an ice chest as crew members poured water over him and covered his torso with ice.
"It doesn't scare me because I know I just need to let it pass," Thurston said during the break. "But if I were out and I didn't have a crew to help me out, I mean I wouldn't make it another mile or two. I mean literally you could pass out that fast."
"This right here, from about 1 (p.m.) to about 4 (p.m.), is the most intense," Robinson said. "This is where it makes or breaks racers. So you got to keep them cool."
Thurston got back into the race, trying hard to get back on top. His crew members said they were drawing inspiration from him for their own battles with addiction.
Related:
"You have to rely on yourself," said crew member Keith Carter. "So, really, setting goals and working hard and achieving them, I think that's made all the difference in the world for me."
As Thurston ran, a fierce wind began picking up. Death Valley became a blast furnace, adding more misery for the runners. By drying his skin even faster, the wind also contributed to Thurston's dangerous physical condition as the race went on. He began walking as much as he was running.
"I think I'm really dehydrated," Thurston said while taking a break in the shade, lying inside one of his two support vehicles. "I threw up a whole bunch, back there, a lot of the water. I can't keep it in me. I'm not going to recover walking."
Realizing he needed medical attention, his crew drove a stake into the ground alongside the road to mark his position about 30 miles into the race. They drove him to a medical facility set up for runners at Stovepipe Wells on the west side of Death Valley.
Thurston still hoped to resuming the race after what he expected would be a one or two-hour break. "Never say 'can't,' " Thurston said, lying in the bed at the clinic.
---
I don't know what I'm trying to prove, being out here for my third time. Because I've already done it.
–Jarom Thurston
---
But medics discovered he'd lost 14 pounds in just seven hours of running and walking. He had dropped to 195 pounds from his pre-race weigh-in of 209 pounds. "It hurts right now to see our brother, in there, laying down in a bed," said crew member Jedediah Jensen. "He's wanting to get back up. He's wanting to get back out there."
As he lay in bed, Thurston rejected the idea of taking emergency water and nutrition through an intravenous tube. "If I get an IV, I'm disqualified," Thurston said. "So we'll do everything we can to rehydrate without getting intravenous. And then I need real food."
His crew members hoped Thurston would resume his run after a break. "From what we've heard in the past," Jensen said, "when Jarom gets a little bit of a break, he gets out and he goes like no other."
Early in the evening, the crew drove Thurston back to the point where he stopped his run.
"Time to catch up to the others," Thurston said as he pulled his marker-stake and began running again. But by that time, the two hour break had stretched into six hours and the sun was setting. Thurston kept running into the night with the temperature still far above 100 degrees.
During the evening, though, Thurston ran just 12 more miles. He realized he could not continue and dropped out of the race having run just 42 miles, far short of the 135 mile goal.
"I lost 4 more pounds on that last stretch," Thurston said. "And the last few miles to get there were difficult. I realized very quickly that I hadn't recovered enough and I was only making it worse by continuing on."
With two crew members, Thurston drove the remaining 93 miles to Mount Whitney to greet winners as they crossed the finish line. The best runners finished in around 25 hours, which means they ran roughly 11-minute miles continuously for 135 miles.
The winner was Carlos Alberto Gomes De Sa of Portugal. His time was 24 hours and 38 minutes. Harvey Lewis of Cincinnatti took 4th place running the 135 mile course in 25 hours and 49 minutes.
"You just have to keep on believing in anything you do," Lewis told KSL just after he finished. That's the message Thurston's crew took home with them: You don't have to win, you don't even have to finish. You just have to give it your all. And Thurston did that, in the eyes of his crew members.
"It still shows he has a huge commitment," said Shalise Morgan. "I mean he went out there and just fought with his heart. It makes me emotional, you know, to see him try so hard."
Thurston hasn't ruled out another try, another year, still hoping to inspire recovering addicts who are forced to fight their battles year after year.
×
Related Links
Related Stories