Estimated read time: 4-5 minutes
This archived news story is available only for your personal, non-commercial use. Information in the story may be outdated or superseded by additional information. Reading or replaying the story in its archived form does not constitute a republication of the story.
SALT LAKE CITY — Last summer, Utah athletic director Chris Hill gathered the media together for an informal talk about the program. During that conversation he revealed that Utah would be playing BYU in football in 2013, but then take two years off before battling the Cougars again in 2016.
In the official news release that the school released last July, Hill cited the great opportunities that were being presented to his program as the reason.
"When we joined the Pac-12 Conference, we knew there would be opportunities for Utah athletics that were never available before," said Hill. "A home-and-home series with Michigan is an example of something that we would not have envisioned even a few years ago and felt we could not pass up. It made our already tough schedule that much tougher and I did not think it was fair to our football program to schedule BYU on those years."
Now a year later, Hill's tone has changed. In a YouTube video he announced that after the hiatus the rivalry will be extended two more years with the 2017 game being played at BYU in the early part of September and the 2018 game at Utah scheduled as the last one of the year — just like the old days. Of course this is still pending Pac-12 approval, but obviously he is confident it will happen by putting the information on video for the world to see.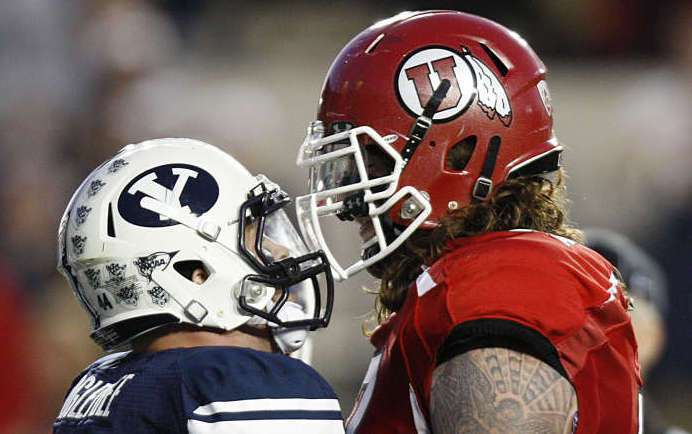 So what changed?
"It seems that wherever I go during the summer, our fans and the BYU fans are interested in when we're going to play BYU in the future and where it's going to unfold," Hill said on YouTube. "Again, we value the BYU-Utah rivalry. We know it is important to our student-athletes, to our universities, to our fans and to the media."
So again, what changed? It took for the rivalry to be scheduled to disappear for two years for Hill to finally realize how important the game is to the players, the schools, the fans and us lowly media?
Here's what changed:
The Utes got their tail ends handed to them last year in their second season in the Pac-12 and it humbled them a bit. They realized by just plopping the Pac-12 sticker on their field and uniforms didn't make them automatically better. And maybe they realized playing their rival again wasn't such a terrible idea to appease their fans.
BYU got worse. At that media roundtable last year, Hill explained going forward that they would schedule an A game (a top flight opponent), a B game (competitive team but winnable game) and a C game (a cream puff). He said at that time he considered BYU an A game. Well, after the Cougars went 8-5 a year ago, maybe they have dropped a bit in his mind.
The College Football Playoff formed where a selection committee will determine who makes the playoff and big bowl games with strength of schedule being a key component. While BYU had a down season by its standards a year ago, the expectation is always that the Cougars will be competitive.
The university's swim coach scandal where Hill was accused of not doing enough to protect the student athletes who were reportedly mentally and physically abused. He accepted responsibility. However he was able to keep his job despite some critics who felt he should have been fired. It's safe to say Hill needed some good PR and bringing the rivalry back definitely earns him that.
And finally one would hope that just some plain old common sense came into play. College football is about playing big games. When teams begin the season, most coaches set out some simple goals. Usually it's winning the conference title, a bowl game and yes, to beat one's rival.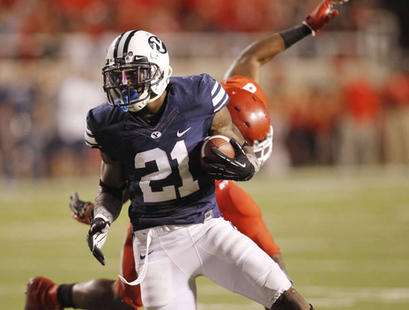 The fact one of the best and biggest rivalries in the entire country will be taking a two-year hiatus is still flat out ridiculous — particularly when the reasons for the departure make such little sense. And while some bitter fans contend the two schools don't need each other anymore, they truly do. They're forever linked at the hip no matter if one is in the Pac-12 and the other is an independent.
The game is everything that makes college football great. It's the hatred, the trash talking, the passion from the players and fans alike. It's a game that divides and brings an entire state together every year.
And it's about time Hill finally realized that. Kevin Graham co-hosts Gunther and Graham 3-7 p.m. on 1320 KFAN. He is also the founder and editor of www.SportsMashup.com. You can follow him on Twitter @KevinGrahamKFAN and like him on Facebook (SportsMashup).
×
Related Stories