LOGAN — Infiniti loaned us an FX37, what they call a luxury crossover. Click here for the YouTube video. Crossovers are somewhere between SUV and car, while being neither.
The FX has the basic shape of an SUV, but is less boxy. According to Infiniti, the taillights are supposed to create down force, and the side air vents bring air through the engine compartment.
Like many SUVs, it seats three in back, even if they're tall. And Infiniti claims four golf bags will fit in the rear cargo area, and you can close the back while you're holding one, thanks to the motorized cargo door.
But it's not an SUV. It's all-wheel drive, but is limited in its off-road capabilities.
For the luxury part, our tester had air conditioning with a filter. The FX50 (same vehicle: bigger engine, more features) has a grape-seed polyphenol filter option, and according to Infiniti, releases negative ions to give you a boost, like being in a thunderstorm or near a waterfall. The FX50 has other high-tech gadgets, mostly safety-oriented. For example, if it detects you are leaving the roadway, it will apply brakes to the road-side wheels to try to coax you back.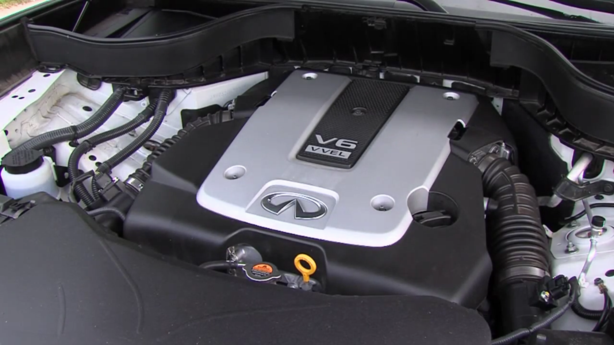 You can get weather reports as you drive. The traffic warning system isn't going to put KSL traffic reporter Andy Farnsworth out a job anytime soon; it missed a couple of big slowdowns.
You can control your iPod with the stereo, and it has memory steering wheel and seats, with heat.
The visibility issue is handled by four cameras that give you a view all around. Two are in the mirrors, the others at the ends. They work well, giving a 360-degree view.
Under the hood, the 3.7-liter engine replaces the 3.5, and makes 325 horsepower, which goes through a seven-speed transmission. This is 22 horses more than the old version.
Like a car, we got it to go 0-75 in about 10 seconds, and it sounds good getting there. It cruises nicely.
In Logan Canyon, it's nimbler than an SUV, but it's not a car. It weighs 4,321 pounds, about 500 more than a car has to move. And it gives up three miles per gallon to a G37: FX37 — 16 mpg city, 22 highway, 18 combined; G37 AWD — 18 mpg city, 25 mpg highway, 20 combined.
FX sales are a fraction of what they were when the vehicle was fresh in 2004. But if you don't want an SUV, and you don't want a car, it's a textbook crossover.

Brian Champagne has reported on cars for more than nine years. He holds a master's degree in communications from the University of the Pacific, and teaches at Utah State University.
×
Photos
Related Stories