SALT LAKE CITY — Fire crews ignited more drums of a dangerous chemical Monday night outside a warehouse that has kept them busy for more than 24 hours.
A second controlled fire was planned for 9 p.m. Monday. Before the burn began, some of the containers "became compromised" around 7:30 p.m. as firefighters moved them from the warehouse to a refrigerated trailer, Salt Lake City Fire spokesman Jasen Asay said.
Firefighters noticed that the trailer was blowing out warm air instead of cold air. They checked the containers and found that they had reached high enough temperatures that they knew there would be an incident if they removed the affected pallets or containers.
Seven additional pallets with 48 containers each are being stored in a refrigerated container at 20 degrees.
The third controlled burn involving 144 containers was planned for 11 p.m. Monday. Asay said he expected the fire to last for about 20 or 30 minutes and should have little impact to the environment.
The approximately 10 surrounding businesses that were evacuated should be able to return to work Tuesday, he said.
Monday morning, more than 40 barrels of Trigonox were safely removed from Quality Distribution Inc., 421 N. John Glenn Road (6070 West), put in a trench and ignited.
Hazardous materials crews hope the third burning of the chemical will mark the end of an operation that began Sunday.
About 9 a.m. Sunday, Salt Lake City fire crews discovered that the chemical was leaking from plastic containers inside Quality Distribution. The storage and shipping facility's air conditioning system reportedly failed, Asay said.
About Trigonox
Brand name
Specific compound involved is Trigonox 21S
A liquid that requires temperature control and should be kept in dry, well-ventilated places
So volatile that it should not come into contact with direct sunlight
Starts to become unstable at 68 degrees
At 77 degrees instability cannot be reversed
Source: polymerpds.akzonobel.com
Crews were originally alerted to a problem when they responded to a small fire inside the building. While investigating that fire, the leak in the drums was discovered.
Trigonox is an organic peroxide that can become unstable at 68 degrees. When the temperature reaches 77 degrees, the process cannot be reversed and the chemical cannot be stabilized.
Approximately 2,400 gallons of Trigonox were stored in the building in plastic 5-gallon drums. The explosive power of the chemical was reportedly the equivalent of a dry ice bomb, according to Asay.
Sunday night through Monday morning, Salt Lake City police helped dig a 3-foot-deep, 60-foot-wide trench outside the building. Hazmat crews used two forklifts to transfer each of the compromised drums. Forty-four drums were placed in the trench.
By 8 a.m., a plume of nontoxic black smoke could be seen billowing above Quality Distribution. The chemical burned itself out in about 10 minutes.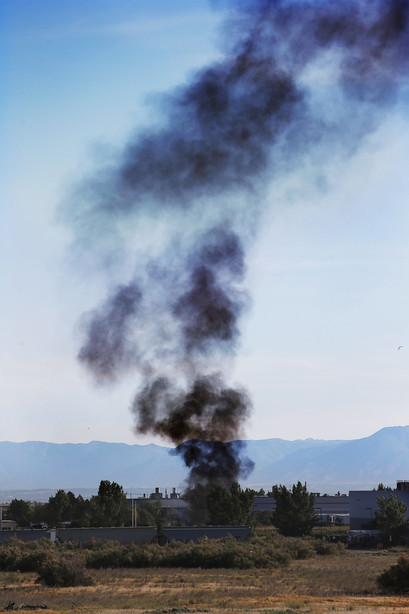 Firefighters using a thermal-imaging device determined the chemical was about 95 degrees when it was detonated. At that temperature, there was a fear of it igniting on its own, Asay said.
Firefighters were also racing against the sun, Asay said. Trigonox is sensitive to the sunlight, he said, and will heat more rapidly. Hazmat crews wanted to send a shock into the trench and detonate the chemical themselves rather than having the sun do it. That's why they were waiting until 9 p.m. Monday to detonate the second batch.
A 2,000-foot radius around the warehouse has been evacuated since Sunday.
There are three types of Trigonox, Asay explained. The chemical burned on Monday was 121. The other two types — 21s and 16 — are less volatile and were the chemicals transported to the manufacturer.
Representatives from Quality Distribution were at the scene Sunday night and Monday morning but declined to speak to the media. The company's website says it has been in business in Utah for 18 years.
Asay said this was the first problem the department has ever with Quality Distribution. He also noted that the indoor sprinkler system was mainly responsible for extinguishing the initial fire Sunday morning.
Firefighters and hazmat crews from Salt Lake City, Murray, West Valley City, Unified Fire Authority, South Salt Lake, the Utah Highway Patrol and the Utah National Guard were all called to the scene to help resolve the situation.
Contributing: Whitney Evans, Andrew Adams and Haley Smith
×
Photos
Related Stories