SALT LAKE CITY — "Oh picture day, oh picture day, oh how I dislike picture day." Sung to the tune of "Oh Christmas Tree," this is a song that I made up myself (yeah, really), and it is one that has run through my mind many, many times over the course of my lifetime.
When other girls were getting all dolled up and ready for the first-of-the-year pictures, I spent my morning arguing with my mom over what to wear. I did not like dresses and I preferred to do my own hair, thank you very much.
When it was my turn to get my photo taken, it was painful to say the least. I was told to say "cheese," "Merry Christmas" or goofy things like "purple lizards" in an effort to force a smile.
Related:
Believe me, they tried, I tried, but no matter what, my pictures always came out with a "smile" that looked like one that belonged on the bulletin board at the dentist's office; those ones that are accompanied with the caption that says, "Look Mom, no cavities!"
If it wasn't this face, it was one that told exactly what I was thinking: "Why am I here? Why am I saying this? I will smile when I want to and not when you want me to."
Then there were the times when the photographer actually said something funny that conjured up a smile. You'd think that these were the ones that would turn out, right? Wrong.
Case in point: kindergarten class pictures. In this picture that will forever go down in the history of "me," I am clearly smiling; the problem is it was not in the direction of the camera. There I am, front and center (which is always where they put us "shorties"), with a complete profile shot … not my best angle, I might add.
So you see, this inability to take a good photo started early in life … and I am here to attest that it hasn't gotten any better with age. I am still the one in the photo with the goofy smile (if you can even call it that).
With the ever-increasing "high-techness" of the camera, pictures are everywhere. Cameras are everywhere.
When you walk down the street, go out to lunch and even to the grocery store, it seems everyone is posing for a picture.
As much as I wish the opposite were true, I am no poser. If you ask me to be in a photo with you, I am warning you right here and now, it will not be good. You're better off with the "picture" you took of me in your mind when we were smiling and laughing 10 seconds before.
When you see a "bad" picture of me, pointing out this fact is no news to me.
All you non-posers out there, know that you have support, respect and love from me. Post your bad photos with pride and make no excuses. It's what happens off-camera that counts.
----
Main image: This is my kindergarten picture. I'll give you one guess which one is me. (Photo: Arianne Brown)
---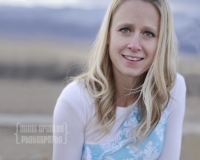 About the Author: Arianne Brown
Arianne Brown is a graduate from Southern Utah University, mother to five young kids and an avid runner. Contact her at ariannebrown1@gmail.com, go to he blog at runariran.wordpress.com or follow her on Twitter @arimom5.
×
Related Links
Related Stories