Estimated read time: 3-4 minutes
This archived news story is available only for your personal, non-commercial use. Information in the story may be outdated or superseded by additional information. Reading or replaying the story in its archived form does not constitute a republication of the story.
SALT LAKE CITY — Utah's first Comic Con will be held in Salt Lake City Sept. 5–7 at the Salt Palace Convention Center. Here are five reasons you should go.
There will be swag
What's a convention without free stuff?
The Salt Lake Comic Con hasn't announced its final sponsorship package, but Comic Cons traditionally have decent swag, including action figures and posters in addition to the usual pens and keychains you'll find at any convention.
The Salt Lake Comic Con swag bags are included in the price of the ticket.
You can meet famous people
This year's convention features actors and actresses from shows ranging from "Star Trek" to "Grimm":
Tyler Kirkham ("The Gift," "Tomb Raider," "Amazing Spiderman")
Jonathan Frakes ("Star Trek: The Next Generation")
Kevin Sorbo ("Andromeda," "Kill the Conqueror," "Hercules: The Legendary Journeys")
Lou Ferrigno ("The Incredible Hulk")
Sofia Milos ("CSI: Miami")
Tia Carrere ("Wayne's World," "True Lies," "Lilo and Stitch")
Claire Coffee ("Grimm," "The West Wing," "General Hospital")
Brandon Mull, author of the Fablehaven series, will also be at the convention.
People will be dressed in crazy costumes
Comic Con is known for bringing in fans dressed as their favorite sci-fi or fantasy character. Dressing up isn't for everyone, but if you're looking for an opportunity to show off your Captain Kirk or Incredible Hulk costume, here's your chance.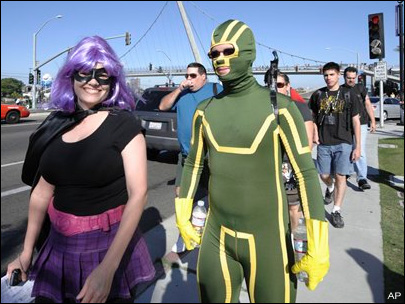 You'll get a taste of the largest comic book convention in the nation
Comic-Con International: San Diego is the largest Comic Con in the United States. The four-day event is held every summer in San Diego. The day before it begins, there is a preview for exhibitors, professionals and some guests.
The convention originally centered around comic books and sci-fi or fantasy television and movies, but has expanded to include a variety of pop culture elements, including anime, collectible card games and video games. More than 100,000 people attend every year, and the convention has a regional economic impact of $162.8 billion, on average.
#poll
The Salt Lake Comic Con will be on a smaller scale and will see fewer grand announcements and big celebrity names, but will follow the same format and give a taste of Comic Con to those who have never attended the event.
Kids get in free
Who doesn't love free entertainment?
Whether you buy a one-day, three-day or VIP pass, you can take your kids 10 and under to Comic Con for free.
One-day passes range from $20-$30 for adults and from $12-$15 for 11- to 16-year-olds. A three-day pass is $50 for adults and $30 for 11- to 16-year-olds. VIP passes are $150 and include early entry to panels, a T-shirt, a celebrity autograph or photo op, rights to the express line and a swag bag (with more cool stuff to be added, according to the Comic Con website).
Are you going to Salt Lake Comic Con? Have you ever attended one elsewhere? Let us know on the comment boards.
×
Related links
Related stories
Most recent Utah stories