Estimated read time: 5-6 minutes
This archived news story is available only for your personal, non-commercial use. Information in the story may be outdated or superseded by additional information. Reading or replaying the story in its archived form does not constitute a republication of the story.
SALT LAKE CITY — On March 28, 2012, Stefani Ellison of Cedar City traveled to China to bring home a sweet 6-year-old girl who had spent all of her life in an orphanage.
The Ellisons named their new daughter Meisyn, meaning "courage and hope of the soul, resilience, compassion and love." They wouldn't know until later what a fitting name it really was.
A special family
The experience of adoption was not a new one for the Ellisons, as they had already adopted 11 children — six from China, four born in the Marshall Islands and one from the local Paiute Indian Tribe. Not only has each of their adopted children come from other countries and/or backgrounds, they also all have special needs.
Most of the older Eillison children have had their disabilities medically repaired, but there are two children with osteogenesis imperfecta (brittle bone disease). One of which was adopted last year at the age of 12 and cannot walk or stand or straighten herself.
They also have a daughter who was born with tibial hemimelia and had her right foot amputated when she was 7 years old; she currently wears a prosthetic leg. And another child has severe epilepsy, which resulted in a brain injury. He is now 10 but has the cognitive level of a 3-year-old.
Even with all of these challenges, the Ellisons knew that there were still other children who needed to be "brought home."
Bringing Meisyn home
When Stefani Ellison made the trip to pick up Meisyn, she was aware that there were special needs, but the extent of her medical condition was unknown. Stefani said Meisyn's condition was thought to be an orthopedic issue including severe rickets with bilateral dislocated hips. However, upon picking her up, she knew something was "seriously and profoundly 'wrong.' "
What is spinal muscular atrophy?
Spinal muscular atrophy, or SMA, is an inherited condition that causes nerve cells in the lower part of the brain and spinal cord to break down and die. When this happens, the brain stops sending signals to the body's muscles. ...
Much research has been done to identify the genes that cause SMA, but currently, there's still no cure for the disease. Despite the limitations SMA causes, many kids who have it learn to live as independently as possible with the help of physical and occupational therapy and by getting treatment for the disease's most troubling symptoms.
Source: KidsHealth.org
On a blog set up for Meisyn, Stefani said, "After multiple MRI's, possible diagnoses and specialized tests, it is our understanding that Meisyn has a very rare and degenerative form of spinal muscular atrophy (SMA) which is part of the muscular dystrophy family. In her case, her nerves are degenerating. The nerves can no longer carry instructions from the brain to the muscles, thus the muscles atrophy."
Due to her condition, Meisyn has never been able to walk and even has a difficult time sitting up on her own. In recent weeks, it has been clear that her condition is worsening and that her nerves are dying. Meisyn is dying.
As painful as her condition is and as extremely difficult things are, Meisyn has risen above it all. Her kind and gentile nature and positive outlook on this life and the next has been an example to so many.
According to Stefani, Meisyn knows that her life here on earth may not be much longer.
Messages from Meisyn
It has been through notes and pictures — "messages" — that Meisyn has chosen to communicate with others. Just as any 7-year-old girl, she sees herself as a beautiful princess, which she has depicted in many of her drawings. And just like any other 7-year-old girl, she has dreams and wishes — many of which she probably will not have the chance to realize.
In a note titled, "Meisyn's Sand Bucket List," she wrote down several of the things she would like to do in this life. The list includes the following items: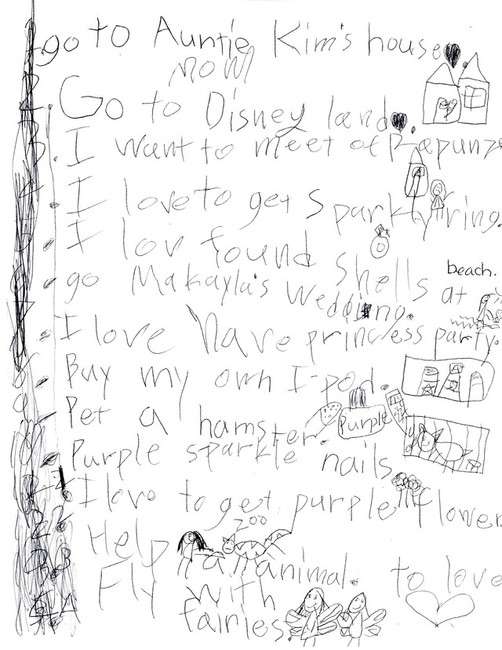 Go to Auntie Kim's house
Go to Disneyland
I want to meet of Rapunzel
I love to get sparkly ring
I love found shells at beach
I love have princess party (she drew a picture of beds, meaning a slumber party)
Buy my own iPod
Pet a hamster (I think she means have a hamster for a pet)
Purple sparkle nails
I love to get purple flowers (Operation Purple Blossom is underway in the Ellison garden)
Help zoo animals
Fly with fairies
To love
As simple as this list may sound, as mentioned before, there is a chance that Miesyn will not be able to see these things come to pass.
However, because of some wonderful, generous and caring people in her community, she has been able to check some of the items off of her list.
Just the other day, in fact, a good friend of the Ellison family, Ginger Healy, helped organize a surprise "Purple-isious Princess Party" for her and many of her friends.
Some friends at school have also held fundraisers in her honor so that she might be able to realize her dream of going to Disneyland. These same friends and many more will be wearing purple in her honor this Wednesday, May 29.
One of the most wonderful events that will take place will be a wedding on June 8. Meisyn's older sister, Makayla, is getting married and has asked to share the wedding with Meisyn, as this may be the only one she attends. Meisyn will be wearing a white dress, a tiara, and will receive a ring too. This will be an amazing moment and a memory to cherish, Stefani said.
The Ellison family is grateful for those who have generously donated to fundraisers in Meisyn's behalf. If you are interested in knowing more about Meisyn's story or how to help, there is a fund set up through Southwest Community Credit Union,* or you can go to her blog at messagesfrommeisyn.blogspot.com for more information.
---
*ksl.com has not verified the accuracy of the information provided with respect to the account nor does ksl.com assure that the monies deposited will be applied for the benefit of the persons named as beneficiaries. If you are considering a deposit or donation you should consult your own advisors and otherwise proceed at your own risk.
---
*
About the Author: Arianne Brown -------------------------------

Arianne Brown is a graduate from Southern Utah University, mother to five young kids and an avid runner. Contact her at ariannebrown1@gmail.com, go to he blog at runariran.wordpress.com or follow her on Twitter @arimom5.*

×
Photos
Related links
Related stories
Most recent Utah stories