This archived news story is available only for your personal, non-commercial use. Information in the story may be outdated or superseded by additional information. Reading or replaying the story in its archived form does not constitute a republication of the story.
MURRAY — The daughter of a soccer referee who died Saturday a week after being punched in the head by an angry player during a match said her whole family is hurting in the wake of his tragic death.
Ricardo Portillo, 46, died late Saturday night after being in a coma for several days. He was officiating a game on April 27 and issued a yellow card during the game, penalizing a 17-year-old player. The player punched Portillo in the head, police said.
Authorities say the teen punched Portillo after the youth was called for a foul and issued a yellow card, and the teen punched him in the face because of the call.
The suspect has been booked into juvenile detention on suspicion of aggravated assault. Hoyal said authorities will consider additional charges since the 46-year-old Salt Lake City man has died. The Salt Lake District Attorney's Office said they will review the case Monday.
Hoyal said an autopsy is planned. No cause of death was released.
Portillo suffered swelling in his brain and had been listed in critical condition, Dr. Shawn Smith said Thursday at the Intermountain Medical Center in the Salt Lake City suburb of Murray.
"I held his hand. He pressed my hand really hard and I was like, 'Daddy, we are going to be OK,' " his daughter Johana Portillo-Lopez, 26, said. "He saw me and he started crying and he said 'no' and then they pulled me out of the room because he started going into shock. That's the last time I saw him conscious."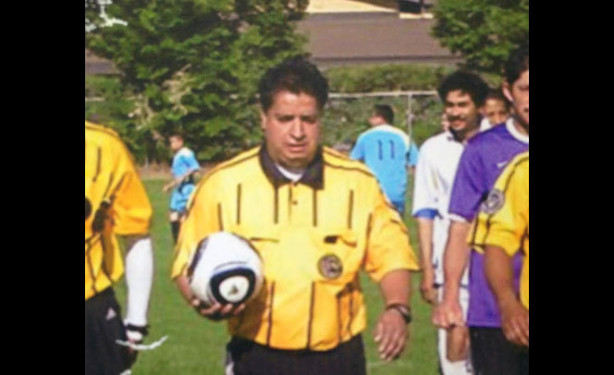 The family said they will eventually forgive, but not yet.
"I just want this person to know, when he did that, he took a part of me with him," Portillo-Lopez said. "He took my daddy away from me."
Portillo-Lopez said she felt sorry for the young man and she felt sympathy for the suspect's family, "But if he was old enough to do what he did, then he is responsible to pay for it."
When asked what punishment she would like to see for the teenage suspect, she said, "I really don't care what happens to him, because whatever punishment he gets, it won't bring my dad back."
Portillo-Lopez said she doesn't want him to "get out and do it to another family."
"I don't want another family to suffer what we're going though," she said.
The comments came as the family and friends held a candlelight vigil outside their Glendale home Sunday evening, supported my many community members. Family members were dressed in white holding signs that read, "In loving memory of Ricky."
She described her father as a "great person who was outgoing and very happy and never had bad feelings for anybody."
Portillo came to America from Guadalajara, Mexico 17 years ago, his daughter said. He had officiated soccer games for about eight years.
Related:
The unaffiliated soccer league, Liga Continental de Fútbol, updated its Facebook posting Sunday with a tribute to Portillo including a number of photographs of him refereeing and playing soccer. It also set up a bank account* to accept donations for his family. No plans have been announced for a funeral or memorial services.
Mario Vazquez, the league president who also was a friend and worked with Portillo, said Sunday everyone in the league had the greatest respect for him.
"We will miss him at the soccer fields. He loved the game and loved doing his job. Ricardo always had a great sense of humor and loved being in the service of others," Vazquez said.
"Our thoughts and prayers are with the Portillo family during this difficult time. Ricardo will always be with us," he said. Portillo-Lopez urged soccer leagues to increase their efforts to provide security for referees so that no more tragedies would occur.
"This has to be serious," she said. "They have to do something about it."
The league said they will be hiring security for their games from now on in hopes of preventing further situations like Portillo's.
The Utah State Soccer Referee Committee, not affiliated with the league for which Portillo refereed, said they have a zero tolerance policy for violence. They said good sportsmanship is critical to a safe game.
"Although no one is able to control the actions of any one individual as in this tragic incident, one element is constant," they wrote. "The ongoing example that everyone involved sets, whether it be one of good sportsmanship and respect, or lack of it, directly affects the overall tone of the games on the field."
Portillo-Lopez said last week that she wasn't at the April 27 game in the Salt Lake City suburb of Taylorsville, but she said she's been told by witnesses and detectives that the player hit her father in the side of the head.
---
We will miss him at the soccer fields. He loved the game and loved doing his job. Ricardo always had a great sense of humor and loved being in the service of others.
–Mario Vazquez, Liga Continental de Fútbol
---
She said the incident that eventually cost her father his life was the third incidence of violence he had experienced as a soccer referee during the past decade. Previously, he suffered broken ribs and a broken leg following incidents of violence from irate players while officiating games.
"It was his passion," she said. "We could not tell him no."
Accounts from a police report, Portillo's daughter and others offer further detail what occurred.
The teenager was playing goalie during a game at Eisenhower Junior High School in Taylorsville when Portillo issued him a yellow card for pushing an opposing forward trying to score. In soccer, a yellow card is given as a warning to a player for an egregious violation of the rules. Two yellow cards lead to a red card and expulsion from the game.
The teenager, quite a bit heavier than Portillo, began arguing with the referee, then punched him in the face. Portillo seemed fine at first, then asked to be held because he felt dizzy. He sat down and started vomiting blood, triggering his friend to call an ambulance.
When police arrived around noon, the teenager was gone and Portillo was laying on the ground in the fetal position. Through translators, Portillo told emergency workers that his face and back hurt and he felt nauseous. He had no visible injuries and remained conscious. He was considered to be in fair condition when they took him to the Intermountain Medical Center.
But when Portillo arrived to the hospital, he slipped into a coma with swelling in his brain. Portillo-Lopez called detectives to let them know his condition had worsened.
That's when detectives intensified their search for the goalie. By Saturday evening, the teenager's father agreed to bring him down to speak with police.
Video Contributing: Devon Dolan
---
*ksl.com has not verified the accuracy of the information provided with respect to the account nor does ksl.com assure that the monies deposited to the account will be applied for the benefit of the persons named as beneficiaries. If you are considering a deposit to the account you should consult your own advisors and otherwise proceed at your own risk.
×
Photos
Related Stories