This archived news story is available only for your personal, non-commercial use. Information in the story may be outdated or superseded by additional information. Reading or replaying the story in its archived form does not constitute a republication of the story.
SALT LAKE CITY — Every day when my kids are getting ready for school, we go through the usual routine that goes something like this: "Breakfast … check; hair fixed … check; teeth brushed and hands washed … check; homework … check; backpack … check; shoes on … ummm. Where are your shoes?"
Then we will spend the next 15 minutes — that thankfully, by now, I have learned to leave as a buffer — searching the house for shoes.
Why is this? I'll tell you why, it is because kids (at least the ones I come in contact with — which would surprise you how many, especially being a teacher) don't like shoes. They will take them off anywhere and everywhere. I have found shoes behind the playhouse, in the storage closet; one in the kitchen, the other in the downstairs bathroom, I have even found them in the yard of the home five houses down from us.
I can't say that I blame them, either. I have never really been a big fan of shoes and am known to walk around barefoot pretty much anywhere that will allow it. Really, if you think about it, there is nothing more comfortable than a good pair of … feet.
No one could agree more with the aforementioned statement than southern Utah resident and owner/creator of Unshoes Minimal Footwear, Terral Fox.
When asked what his thoughts were on wearing shoes, Fox's answer sounded just like the one that I get from my own children on a daily basis: "I've never really liked shoes very much."
---
Minimal-style footwear allows your feet and legs to function. The bottom of the foot is one of the most sensitive parts of the body. ... When you can feel the variations of the ground, your body can make micro-adjustments to keep your balance.
–Terral Fox, Unshoe creator
---
That sounds simple enough. If you don't like shoes, don't wear them, right? Not so simple. Shoes offer protection from rocks and other debris that could harm our feet.
So, when confronted with his dislike for shoes and the fact that he is an outdoor enthusiast who needed the protection that shoes offer, Fox was at a standstill. He knew that he preferred sandals over shoes, but couldn't quite find one that stood up to the wear and tear or that were the right fit.
Being the creative innovator that he is, Fox's standstill didn't last very long, and pretty soon he began designing his own line of minimal-style footwear he called "Unshoes," which are handmade in Cedar City.
Fox's design was inspired by Hurache-style sandals, which traditionally have a rubber sole that is cut to the shape of your feet and either have a simple shoelace or woven leather to hold them on. Although not a runner himself, Fox loved the idea of the custom-fit, lightweight sandal that was traditionally worn by the Tarahumara people. However, he didn't love how difficult they were to adjust.
Combining the idea of a sport sandal and the lightweight, custom-fit of the Huarache-style sandal, Fox came up with an "unshoe" that even he could run in.
And run he did. Since creating Unshoes, Fox has competed in many races and frequents the mountain trails of southern Utah. He has even become a sponsor of Utah's Red Mountain 50K and the Zion 100 Trail Run, something that he would never have imagined being a part of.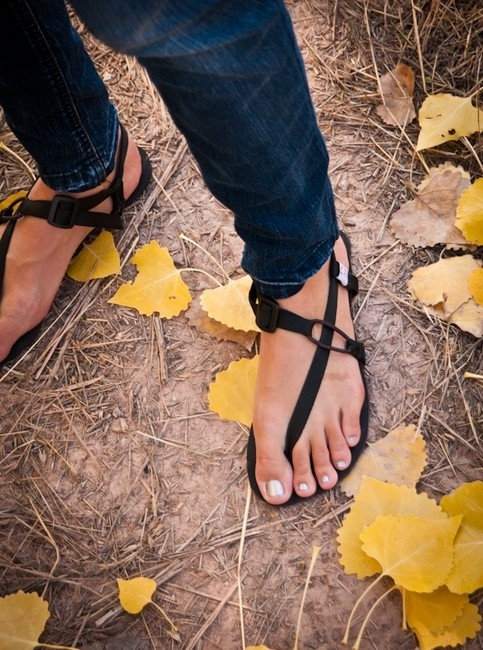 "The great thing about minimal footwear is that it doesn't get in the way," Fox said. "Minimal-style footwear allows your feet and legs to function. The bottom of the foot is one of the most sensitive parts of the body. I believe this is so because our body is designed to feel the ground. When you can feel the variations of the ground, your body can make micro-adjustments to keep your balance.
"Conventional running shoes have an elevated heel, which pitches your body forward. The body needs to correct this somehow or else you would tip over, and this usually happens in the hips. Minimal footwear allows you to run with proper alignment.
"The thing I like most about running in sandals is the ventilation. I can feel the air and my feet stay dry and cool through my entire run. Along with this, they are extremely lightweight, which improves running economy. Running in sandals simply feels good."
Fox added some advice to those who would like to try running in Unshoes or any other minimal-style footwear:
"It is important to transition very slowly. The fact is, your feet have been cushioned pretty much your entire life. Most shoes restrict movement, which is much the same as what a cast does. Transitioning to minimal footwear is like getting a cast off of an injured arm; you have to build muscle slowly.
"If you're looking for a magic bullet to heal all your running injuries, this isn't it. So many people are set on looking for some product that will solve all their injury problems. Switching to minimal footwear can help reduce injury if it is used properly, but they don't just make it go away. It is very important to listen to your body. I see motivational memes on Pinterest all the time that encourage you to keep running through the pain. Pain is your body's way of telling you that something isn't right. Stop and listen. In the end, that is what minimal footwear is all about: allowing the natural functions of your body to help you, rather than blocking them all out.
"Lastly, don't be afraid to walk. I know that walking seems like such a wimpy thing for runners to do, but it is a great place to test the waters if you're new to minimal footwear. Put in a lot of walking miles before you even think about running in them. Too many people buy minimal shoes for running but they still wear restrictive shoes all day. You can't just put on a different type of shoe for one single activity and expect miracles to happen."
If you find that traditional shoes are something that you never liked very much and are interested in trying minimal footwear, go to Fox's website, unshoesusa.com, for more information.
---
*
About the Author: Arianne Brown -------------------------------

Arianne Brown is a graduate from Southern Utah University, mother to five young kids and an avid runner. Contact her at ariannebrown1@gmail.com, go to he blog at runariran.wordpress.com or follow her on Twitter @arimom5.*

×
Photos
Related Links
Related Stories