Estimated read time: 2-3 minutes
This archived news story is available only for your personal, non-commercial use. Information in the story may be outdated or superseded by additional information. Reading or replaying the story in its archived form does not constitute a republication of the story.
EPSOM, N.H. — A New Hampshire man claims he is out his life savings after an ill-fated trip the carnival.
Henry Gribbohm, 30, said he went to a Manchester carnival intent on winning an Xbox Kinect at a game called Tubs of Fun, where contestants win prizes by tossing balls into a tub. He said it seemed easy when he practiced, but the balls kept popping out when he was playing for keeps.
"It's not possible that it wasn't rigged," Gribbohm told CBS Boston
Gribbohm said he spent $300 trying to win double or nothing at the game. He then went home to get another $2,300, which he soon lost.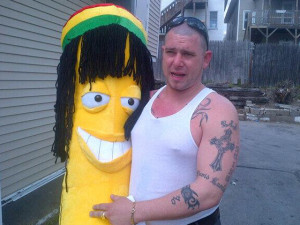 "They explained to me I was going to get all my money back, I was going to get an Xbox Kinect, and because I was keeping everybody's attention, they were still going to give me a banana. They lied to me," Gribbohm told WMUR.
When he returned the next day to ask for his money back, he was given $600 and a large stuffed banana with dreadlocks.
Police were unable to locate the carnival employee who had been working the game, but Fiesta Shows, the New Hampshire-based company that runs the carnival, claims Gribbohm spent far less than $2,300.
Gribbohm filed a police report with Manchester police, who said the investigation is ongoing.
"It will be assigned to the detective division, but where it goes from here is uncertain right now," Manchester police Lt. Mike Hurley told the Union Leader. "It may be difficult to track the people down, because I believe they may be from out of state, but the detectives will get started on it this week. We'll see how it plays out."
×
Related Links