Estimated read time: 5-6 minutes
This archived news story is available only for your personal, non-commercial use. Information in the story may be outdated or superseded by additional information. Reading or replaying the story in its archived form does not constitute a republication of the story.
PROVO — In Natalie Wright's 15-year lifetime, she has had three brain surgeries, two years of chemotherapy, 37 MRIs and more than 200 caretakers keeping her alive. Earlier this month, though, she had an optional surgery: one that will give her back her smile.
Natalie, the youngest of five children in her family, was diagnosed with a brain tumor on a her brain stem when she was 2-years-old. Soon after, she underwent a surgery to remove the tumor. Two years later, doctors operated again on the girl. That operation left her unable to swallow, with a trachea, and paralysis on the left side of her face. She only had half a smile.
Nearly every morning since she was a little girl, while brushing her teeth, Natalie has used her toothbrush to curve the left corner of her lips into a smile, her mother, Dana Wright said.
Smile surgery
Though her family loved "Natalie's crooked little smile," per her request, she underwent a fourth surgery last month, this time to restore her smile.
"We wanted what she wanted. To us, her smile is beautiful," Dana said. "We'd tell her that. We'd say, 'to us your smile is just beautiful. It is beautiful, because it's who you are. It's almost an outward reminder of what you've been through, so to us, it's incredibly beautiful.' "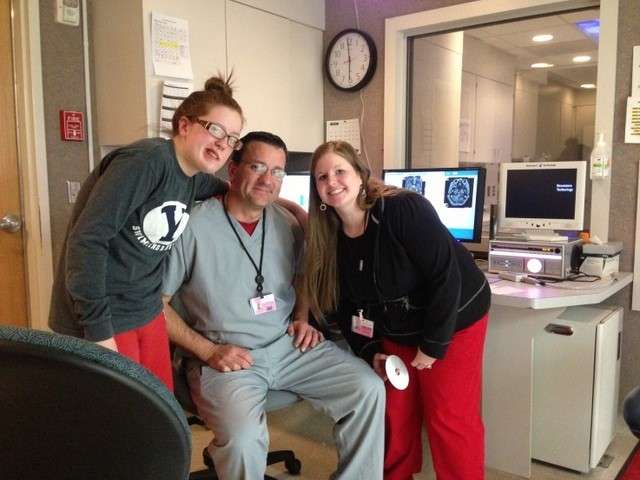 So, for the final portion of a two-part surgery, Natalie and her parents flew out to the University of Iowa hospital, where the Timpview High School student was the first person in Iowa to undergo pediatric facial reanimation surgery.
In the first part of the surgery, Natalie's surgeons removed an 11-inch nerve from her ankle, and attached it to her face last year. In April, they removed a 14-centimeter portion from her thigh and grafted it to the newly placed nerve and her cheek, which will give her about 4 centimeters of cheek muscle after shrinkage and additional cutting.
"The muscle will be in the 'smile' position until it starts working normal, which could be six months to a year," her father, John Wright wrote on the family's blog.
At home recovering
Natalie is recovering well from the surgery. Wednesday, she attended a half day of school. Though she can't lift the left side of her face with her muscles, and won't be able to for another six months to a year, her face has a more natural resting position because of the surgery, her mother said.
"We knew her cheek would be filled in a little bit, but we didn't know it had this little dimple. When she came out we just kind of got emotional because she already looked like she was smiling," Dana said.
Once the nerve and muscle have healed and properly grafted, the nerve attached to her left cheek from her right will react to the right side's smile.
A life of miracles
Related:
She may be the first person to undergo this surgery in Iowa, but Dana said Natalie's life has been filled with firsts and miracles.
When she lost the ability to swallow, Natalie's neurosurgeon told the family if she didn't regain the ability within a year, it would be permanently gone. For more than three years, a feeding tube nourished her body, and a trach tube assisted her breathing. When she was 8-years-old, Natalie started swallowing again.
"We just feel like this has been a 14-year journey and we feel like Natalie's life is about faith, and family, and friends. And all that is intertwined with miracles. We have seen so many little miracles that have gotten her through," Dana said.
After Natalie's neurosurgeon at Primary Children's Hospital told the family about the smile surgery, the Wright's neighbor invited them over in February last year for peanut brittle. As they were talking, they found out the woman's niece's husband, who attended Timpview High School and Brigham Young University, was one of the few doctors who performed the surgery.
When Natalie and Dr. Doug Henstrom met, Dana said, the two found out they shared some of the teachers at the high school.
"He's just great. I know I sound like a sappy mom, but we just think there's not very many coincidences. We just feel like this was another huge part of her little journey and it was the right doctor and the right time," Dana said. "We just feel like it was a huge blessing that fell in our laps."
---
We just feel like this has been a 14-year journey and we feel like Natalie's life is about faith, and family, and friends. And all that is intertwined with miracles.
–Dana Wright, mother
---
Though the Wrights have not solicited for outside help funding Natalie's healthcare costs, Flyer Smiles, a local company that helps charities and businesses reduce travel costs, paid to fly the Wrights home from Iowa after the surgery — another miracle, Dana said. They chose to help Natalie submitted an essay saying she wanted a smile for her 16th birthday.
After Natalie's second surgery, the 4-year-old required 24-hour care of her trach and feeding tubes. For six weeks, Dana and John switched off the constant duties.
"We had a couple neighbors come to us and say, 'You know, you're not going to make it and let us help you.' Our neighbors came in every two hours from about nine in the morning until about five at night just to play with Natalie in two-hour shifts so that I could do laundry or help my other kids," Dana said.
"It was just lovely to see the miracle of love and what it can do to heal hearts when people are struggling. They couldn't change our situation, they couldn't get rid of the tumor. A lot of times we can't change the situation but we can lift others so that they can handle their challenges, and that's what we've had. We feel immensely blessed." Though the Wrights remain positive, MRI scans show Natalie's brain tumor, which stopped growing for several years, has started growing slowly again. Dana said they expect she will undergo a fourth surgery on her brain to remove the tumor.
"She has incredible faith, and I believe that she recognizes — and one of the reasons why she's able to handle her challenges I think so well — that everyone has a plan, her plan is just a little different," Dana said. "She has a good knowledge in that."
×
Photos
Related links
Related stories
Most recent Utah stories