SANDY — When you are one of 10 siblings, you don't have to look very far for someone to lean on, especially when you need it.
Stefanie Pohlsander and her brother were rear ended in a five-car accident on I-15 Saturday, March 16 while driving to the grocery store.
Pohlsander had just picked up her brother Ethan Page, who has autism, from a group home for their weekly afternoon out about town. Sometimes they go to a movie, other times they pick up McDonald's, and sometimes they just run errands together.
As she neared 9000 South about 2:35 p.m., Pohlsander saw traffic was backed up. She slowed to a stop then breathed a sigh of relief she had stopped quickly enough.
"My next thought was 'oh, I hope nobody rear ends me now. I hope other people are able to stop,' " Pohlsander said.
She saw a car in another lane hit the car in front of it, but she doesn't remember the truck crashing into the white Kia Optima in which she and her brother sat. According to police, a pickup truck hauling a trailer carrying car parts swerved out of its lane to the right after the initial crash, hitting Pohlsander and her brother.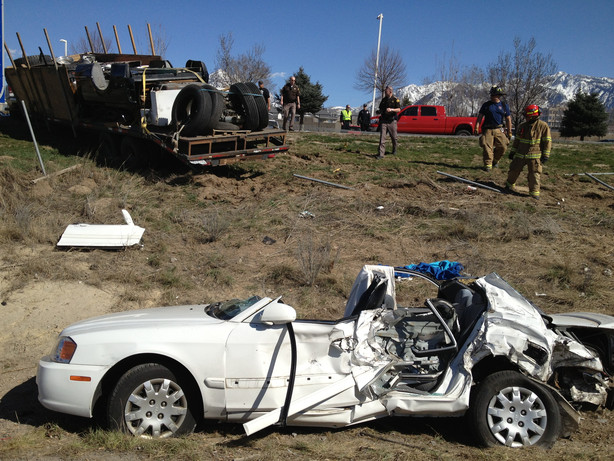 She awoke to an EMT telling her they would get her out of the car. Ethan was able to exit the vehicle on his own, but Pohlsander had to be extricated.
Her brother Matt and his wife Annabelle had driven past the wreck after Pohlsander had been transported to the hospital, she said.
"My sister-in-law Annabelle made the comment 'oh, whoever was in the white car for sure did not survive that wreck,' " Pohlsander said.
Pohlsander suffered a fractured lumbar, several broken ribs, a broken collarbone, and a gash in the back of her head. Her brother walked away with a cut in his head that required stitches.
Once at the hospital, nearly every one of her siblings visited. In the Intensive Care Unit, only two people could visit at a time, so two by two, her siblings checked on her.
"I really was amazed that Saturday night that there were so many of my family there that I was quite touched," Pohlsander said.
She was released Thursday afternoon from the hospital and is home recovering.
"It helps to know that I have the support of my family, that my kids were going to be taken care of in my absence and maybe even to know that if things were worse, if I had been paralyzed or something, it's certainly nice to know that my brothers and sisters definitely would be there to do what they could."
Her family knows how to come together and support one another, Pohlsander's oldest sibling, Jenifer Jones said.
"That's one of the things that's really cool about our family is that each of us have nine built-in best friends," Jones said.
---
What I realized was that for whatever reason, our family needed to be woken up to miracles happening all the time that we don't realize.
–Jenifer Jones
---
That friendship and support system was strengthened after Alison, the second oldest in the family, died after a 15-year struggle with brain cancer.
"When my sister passed away in December, that was something that none of us had any idea what was going to happen," Jones said. "Even though she had had cancer for 15 years, we were all able to put it in the back of our minds like, 'Ali has this brain tumor but she'll outlive the rest of us.' That was a really, really difficult time for our family, but that made us really close. It affected us on a deep level. We knew that no matter what we have each other's backs.
Pohlsander has a similar view.
"I do believe that Allison's passing away kind of brought us closer together, gives us the perspective of what really matters; that family is all you've got," Pohlsander said. "You're not taking anything with you."
Jones said the family's faith helped them through their sister's death, and she said last weekend's crash was a divine reminder to recognize miracles: like her brother and sister surviving a crash that looked unsurvivable.
"What I realized was that for whatever reason, our family needed to be woken up to miracles happening all the time that we don't realize," Jones said. "It made us realize, 'wow, we've really got miracles happening all over.' "
Though Pohlsander certainly has a long road of recovery ahead, Jones said her sister is one to rise above the challenge.
"Stefanie is the most kick-butt person I've ever met in my life — she's driven," Jones said. "She's always moving and always doing things. She's never been a lay-around-and-see-what-happens kind of girl."
×
Photos
Related Links
Related Stories