SALT LAKE CITY — It's not really news that American women are waiting until they're older to tie the knot, but what might surprise you is the average age at which they give birth to their first child isn't following the same trend, according to a new study.
Simply put: Single motherhood is on the rise — as is resulting concern across the country.
The study, >"Knot Yet: The Benefits and Costs of Delayed Marriage in America," revealed the average American woman is 27 when she gets hitched for the first time — a record high.
"Women doctors, teachers, medical technicians or waitresses are now all equally likely to postpone marriage to their late 20s," the report said.
But the average age a woman welcomes her first baby into the world is 26.
The report — sponsored by the National Campaign to Prevent Teen and Unplanned Pregnancy, the National Marriage Project and the Relate Institute — identified this trend as the "Great Crossover."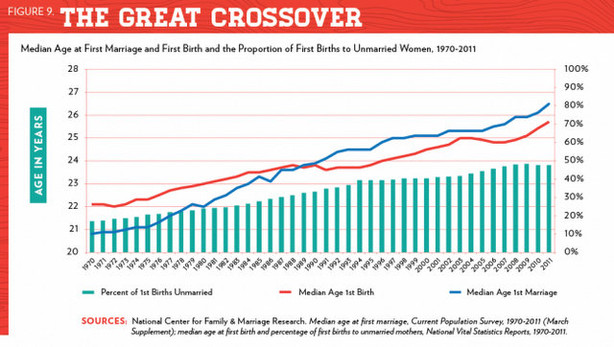 Two-thirds of women have had a baby by the time they turn 30, and a growing number are single when they do so. Overall, 48-percent of first babies are born to unwed moms, the study found.
It would appear the "first comes love, then comes marriage, then comes the baby in the baby carriage" adage isn't really cutting it anymore, something that has social scientists worried. That's because children born to unmarried parents — including those living together — are much more likely to experience family instability, poverty, drug use, school failure and emotional issues, according to the study.
"If post-adolescent mothers and fathers were simply marrying each other a year or two after the arrival of their bundle of joy and remaining together, these trends might not be so troubling. But that's not what's happening," study authors Kay Hymowitz, W. Bradford Wilcox and Kelleen Kaye wrote in a recent article for the Wall Street Journal.
"But about two-fifths of those couples break up before their child's fifth birthday; that's three times the rate for married couples of their age," the authors said.
In contrast, children born to married, stable parents are more likely to repeat that cycle — odds of graduating high school, going to college and starting their own stable families are much greater.
Teen pregnancies down
In the past, single motherhood has often been associated with teen pregnancy, something study authors said was a now-outdated synonym.
Currently, only 23 percent of all unmarried births are to teens. By comparison, women in their 20s account for a whopping 60 percent.
"Think of the Great Crossover this way: it marks the moment at which unmarried motherhood moved from the domain of our poorest populations to become the norm for America's large and already flailing middle class," study authors said.
The education factor
There is a major determining factor when it comes to women, marriage and childbirth: education. Women who receive a college degree typically avoid the Great Crossover as a whole, waiting until several years after they're married to have children.
Women who finished high school but didn't make it all the way through college — the study called this group "Middle America" — typically marry around the age of 26. But they become mothers for the first time around age 24; and 58 percent of first babies are born to unmarried moms in this category, according to the study.
That's in stark contrast to women who don't finish high school — historically the poorest demographic. As of 2010, the average marrying age for this group was 25, but most had their first child before their 21st birthday. The study found 83 percent of first babies for high-school dropouts are born to single moms.
The pros of marrying later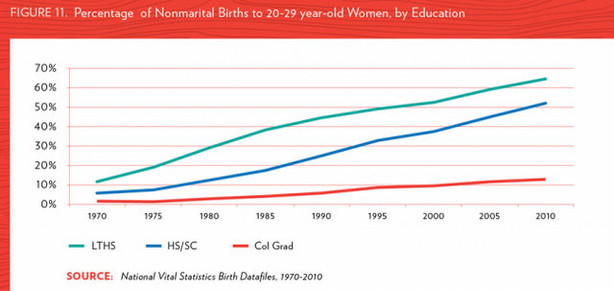 Back to the marriage issue, the report revealed saving marriage for later in life has some undeniable benefits.
For starters, college-educated women who postpone marriage tend to be wealthier. In fact, by the time they reach their mid-30s, there's a more than $18,000 difference in annual income between women who marry before they're 20 and those who wait to say "I do" until they've celebrated their 30th birthday or later.
"Indeed, for many women, the delay of their marriage has helped them adapt to the job and career uncertainties of today's economy," study authors said.
In addition, the rise of the average marriage age has actually helped to push down divorce rates in the country, according to the study. In the 1980s, about 50 percent of all marriages ended in divorce. That number has been declining ever since — now sitting at 40 percent.
But these benefits apply primarily to the college-educated. The study concluded that the Great Crossover is taking its toll on the middle class, both economically and socially.
"When one couple in their early 20s has a child well before they commit to raising him together over the long haul, the external effects are easily absorbed," study co-authors wrote. "But when millions of young couples make that same choice, the costs grow exponentially. The personal becomes societal."
Jason S. Carroll, an associate professor in Brigham Young University's School of Family Life, was one of the study's co-authors.
×
Related Links