PROVO — The Church of Jesus Christ of Latter-day Saints will lease a BYU-approved housing complex to relieve the burden on the current Missionary Training Center of an influx in church members choosing to serve missions.
The Raintree Commons apartments, at 1849 N. 200 West, and portions of the Brigham Young University-owned Wyview Park apartments, at 146 W. 1940 North, will be occupied by about 2,000 missionaries as early as May 2013, according to a release on the church's website.
Students who currently reside at Wyview Park will be allowed to remain, according to BYU spokeswoman Carri Jenkins. She said the university anticipates being able to meet the needs of all students leaving Raintree Commons.
"BYU has over 23,000 contracted spaces for off campus, with less than 16,000 BYU students living in those spaces," Jenkins said. "This past fall, we had a vacancy rate of 3.74 percent. From this data, we believe students should have no problem finding housing."
By the numbers:
Missionaries currently serving: 64,373
Average number of missionaries called per week: 1,400 per week since 1 January 2013
Percentage of sisters being called: 36 percent since Jan. 1
Percentage of elders being called: 57 percent since Jan. 1
Percentage of seniors being called: 7 percent since Jan. 1
Jenkins said in addition to off-campus vacancies, three new residence halls opening before the start of fall semester will allow the university to accommodate anyone who wishes to live in on-campus housing.
The church considers the arrangement "temporary" and is looking at options that would increase the size of the current Provo MTC.
"We are currently reviewing options with the city and neighbors that would approximately double the capacity of the Provo MTC," church spokesman Scott Trotter said. "These plans are not yet finalized."
About 1,400 missionaries report to the MTC per week, according to church officials. There are currently more than 64,300 missionaries currently serving, a 20 percent increase over the past year. Of those, 57 percent are elders, 36 percent are sisters and 7 percent are seniors.
The dramatic increase in missionary applications was caused by LDS Church Pres. Thomas S. Monson's announcement in October that the required age for missionary service would be lowered to 18 for men and 19 for women.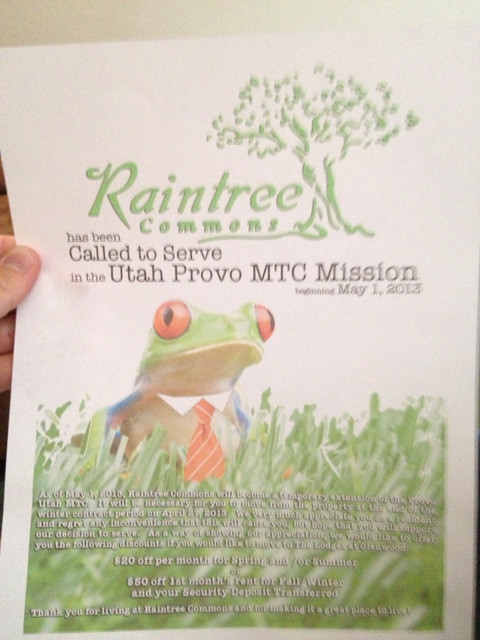 Men were previously required to be at least 19 years old for missionary service; women were required to be at least 21.
The increase in church members interested in serving missions has led the LDS church to announce 58 new missions, including one in Utah.
The increased demand on the church's 15 missionary training centers has already led to changes at the centers. Training time for same-language and foreign-language missionaries was reduced by 30 percent. Those not learning a language will stay at the MTC for two weeks instead of three, and those learning a language will decrease their stay by two weeks.
Church leaders said in January the experience at the MTC would not be "cheapened" by the changes. Elder David F. Evans, executive director of the Church's Missionary Department, reiterated that sentiment Wednesday.
"We are grateful for all those who have chosen missionary service," he said. "Regardless of where they are trained, missionaries will have a rich and inspiring experience that prepares them for their labors in their assigned missions."
Video contribution: Sam Penrod
---
×
Related Links
Related Stories