This archived news story is available only for your personal, non-commercial use. Information in the story may be outdated or superseded by additional information. Reading or replaying the story in its archived form does not constitute a republication of the story.
SALT LAKE CITY — On March 2, Cody Moat crossed the finish line of the 2013 USA 50 Mile Trail Championships in a record time of 6 hours, 26 minutes and 3 seconds, winning the race for the second time.
As amazing as this sounds, what if I told you that he is a high school teacher who also coaches multiple sports and does fire service as a summer job? Pretty impressive, no? Now, what if I told you that he is also married and has four young children? Seems downright unbelievable.
If you're thinking that this is a story of Super Man's long-lost son, you wouldn't be far off. However, if you were to congratulate Cody or ask him to talk about his accomplishments, he would most likely give you a smile and a very short answer. He's never been one to boast.
Having been on the same cross country and track team at Southern Utah University with him, I witnessed his "super-human abilities" firsthand.
I remember watching him win the 10,000 meters — on an injured foot, nonetheless. Afterword, he had gone for a short cool-down, only to return to the coach telling him that he was entered in the next race, which happened to be the 5,000 meters. Cody did not complain, but instead hopped on the starting line and ran the race, finishing at the top.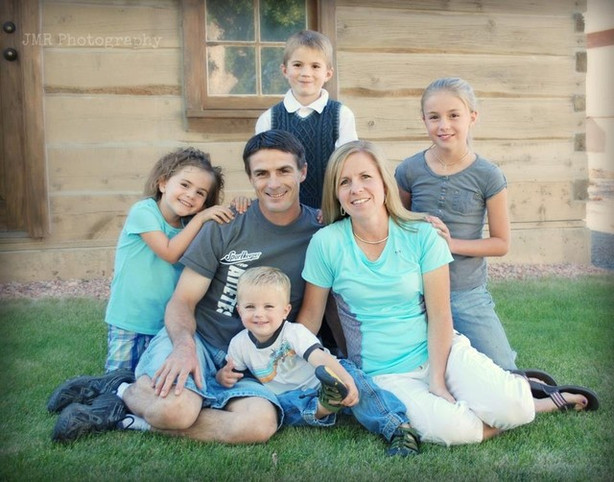 I remember not only being amazed at his ability to compete, but also that he was able to balance family life, school and work. I loved seeing his little daughter meet him at the track after practice with his wife, who was also one of our athletic trainers. Cody would then get ready for his job, which was to help maintain the grounds of the university.
Needless to say, when I heard of Cody's success — even with all of the other things he is involved in — I was not surprised. However, like most, I was asking this question: How does he do it?
So, I decided to ask both Cody and his wife, Leona, some questions to get more of an insight on how they make it all work.
How do you find the time to fit it all in?
Cody: "During the week, I run at 5:00 in the morning (in the mountains with occasional glowing cat eyes watching). On weekends I wait until the sun comes up, or go whenever there is time. I also do some training in the evening with my kids. I really don't have time for much TV, and that's fine. Sometimes I worry that I don't get it all done; I hope my family doesn't feel too abandoned."
How has family life been with all of Cody's success and all the training that comes along with it?
Leona: "We are a very 'normal' family. Cody's schedule has added more busyness to the routine, so we just do our best to support him. There are lots of races that we don't make it to, so we wish him the best. We love when we get to go watch him race in person; I think it makes us feel more a part of the success. This isn't going to last forever, and we might as well enjoy it while it lasts.
"It isn't always grand, of course. When Cody gets injured there are lots of emotions that create tension (I'm so glad I took a sports psych class in college). It does give me that opportunity to use my athletic training knowledge to help out. I actually used to want to be a certified athletic trainer (ATC) for a pro team, and he has helped me in that aspect because now I am an ATC for a pro athlete. I like to remind him that he is lucky to have his own personal ATC."
What do the kids think about all of dad's success and how do you involve them?
Cody: "The kids are pretty excited about me racing. When they are able to come to races, they are a huge support. Sometimes they make me good luck posters and stuff like that. In a couple weeks we are all going to Las Vegas, and the kids are going to run the Kids Fit race and Leona and I are running the Super race, so hopefully it will be a memorable experience. We try to take the family to any races that are close enough to drive so the kids can be involved as well."
Leona: "The kids are so proud of their dad. They have newspaper clippings of him on their walls. I think it is good for the kids to see him doing well. They don't see him train too often, so I wonder if they think he's great without working at it, but I think they're catching on.
"When we get to go watch him race as a family, we try to make it a fun family event. In January we watched him race in Southern California, so we went to the beach the night before. The kids just love staying in a motel, and so it is like a vacation for them."
If someone were to tell you that they just can't find the time to exercise, what wold you tell them?
Cody: "I would let them know there is always time to work out if you want it bad enough. There may be cuts that need to be made, such as TV time or sleeping in. It's amazing how much time an average person wastes doing things that matter very little. It comes down to setting a schedule and sticking with it. There are so many mornings that I just want to sleep in, but then I remember what I'm training for. The key is to have a goal."
For more on this amazing story, and for more of my interview with Cody, visit runarian.wordpress.com.
---
*
About the Author: Arianne Brown -------------------------------

Arianne Brown is a graduate from Southern Utah University, mother to five young kids and an avid runner. *

×
Photos
Related Links
Related Stories