This archived news story is available only for your personal, non-commercial use. Information in the story may be outdated or superseded by additional information. Reading or replaying the story in its archived form does not constitute a republication of the story.
SANDY — A five-car accident and multiple smaller crashes on I-15 Saturday afternoon snarled traffic for a time, but left only two injured.
The crashes occurred between 8900 South and 11400 South beginning at about 2:35 p.m., according to Joe Dougherty with the Department of Public Safety.
A five-car accident occurred at 9800 South. A car rear-ended another vehicle, which then hit a pickup truck that was hauling a trailer carrying car parts. The truck swerved to the right and hit another car, leaving two occupants injured.
The truck then went through a fence on the right side of the road and hit a car headed southbound on the frontage road.
The injured occupants of the first vehicle hit by the truck were transported via ambulance to a local hospital, one in serious and one in fair condition.
Two other accidents happened between 2:30 p.m. and 3:30 p.m. between 8900 South and 11400 South, one northbound and one southbound. There were no major injuries reported, according to Dougherty.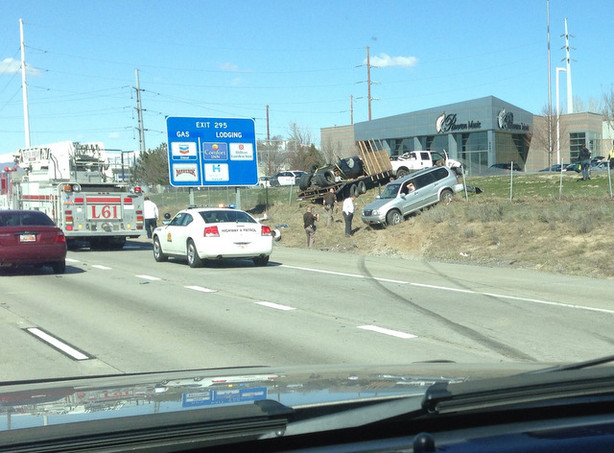 Dougherty said it is uncertain at this time whether the crashes were caused by slowing traffic related to other accidents, or whether they were unrelated. Photos submitted to ksl.com via iWitness show multiple vehicles with heavy damage.
A fourth accident was reported at about 4 p.m. and was DUI-related, according to Dougherty. And a second motorist was found to be driving under the influence shortly thereafter.
"It's things like that that remind us that we need to be safer on the roads," he said. "We need to plan ahead. we just need to be better and take care of our fellow motorists out there."
He said that is why the Utah Highway Patrol is doing a DUI blitz over St. Patrick's Day weekend.
"As long as people are responsible, everyone is going to come home OK," he said. "All those parties and things that go on, no one wants to stop anyone's fun, as long as they're just remembering they have a responsibility, too."
---
×
Photos
Related Stories