SALT LAKE CITY — In the musical Fiddler on the Roof, Tevye asks his wife of 25 years if she loves him. After calling him a fool and telling him to go lie down, she quietly admits that, yes she does.
Tevye nods and mutters that he loves her as well. They sigh. After 25 years, an arranged marriage, and many children, they conclude that "It's nice to know."
Women wondering how their spouse feels in their relationship is almost cliche. Just as cliched is the strong, silent — really silent — guy. These stereotypes are based on the perceptions of many. But, because a guy doesn't come right out to tell his wife how he feels is no reason for a woman to remain in the dark.
Your man may not open up with his feelings right away. Often, men learn to keep that side of themselves private until the coast is clear, until it looks like smooth sailing, until it's safe to open up.
Guys have codes. Fortunately, these tell-tale clues are not all that difficult to decipher. A clever woman can pick up on signs that will bare his soul faster than poetry or a prescription pain pill.
1 — Have a job that needs doing? He is so on it. Fixing the garage door, or re-balancing the washer so that it stops hitting the wall: the completion of these chores is very likely meant to show you he cares. He has likely tried to notice something that bothers you. Then he fixes it. "See how much I love you? I vacuumed the cat."
2 — He includes you in the same sentence as the rest of his family. He may even do so without asking. You may hear on the phone, "Yeah, we'll be over later." He may not come out and say, "I like to be with you" or "I am happier when you are with me." But grabbing you and throwing you in the van is a hint. "I love my family. You are my family."
Related:
3 — "Would you help me organize my drawers?" If he asks you this, he may be simply saying that his drawers are a mess. He may also be saying that he trusts your sense of fashion or organization, or that he is willing to let you see him and his imperfections. His asking you to step into his life may be literal. "You make me want to be a better man."
4 — He doesn't continue to woo you — show off for you — like he did during the courting stage. "How is this a good thing?" you ask. He is assuming that you two have become one, or that he is OK being one with you. It's not just that he considers you "in the bag." He may trust you enough to know that you will look past the thinning hair and the less than bulging arm muscles to put value on more than preening. He considers you a part of his life that is not solely based on being the alpha male. (Though a date night shouldn't be overlooked.) "Would you let my work pants out two inches?"
5 — He butts into your life and stays. "Can I bring lemon bars to your sister's baby shower?"
6 — He may open up to you, but be prepared that it may not look like anything you've ever seen. It probably won't be during a quiet moment on the sofa with lights low and glasses full. It may be when doing dishes, or on your way to your mother's house. You may not recognize it until it has sped by you like a bread truck. "That movie was just like what happened to my brother in the war."
7 — He tells you he loves you, and then he shows you. Even though men are as task oriented in this age of the sensitive man as they have ever been, a guy who won't say "I love you" is less and less the norm. Remember to believe it when he tells you. "I love you, so I will spend the rest of the day adjusting your carburetor."
8 — Compromising is the meat and potatoes of a relationship. He won't always let you have your own way, and you wouldn't want him to. Finding the middle ground will be important to make you happy. He loves you, so happiness it his job one. "Even though shark-fest is on, you go ahead and pick the channel, honey."
Don't count on gauging his love by his gift giving. His great gift ideas may have come from the first page of the giganto mart mailer, or a suggestion that came from Bob at church and not Oprah. He may have taken months to pick out just the right catcher's mitt for you. "And you can put your name right here!"
Allowing yourself to be open to his expressions, however foreign, will encourage him to express more.
And more, in expressions of love, is often better.
---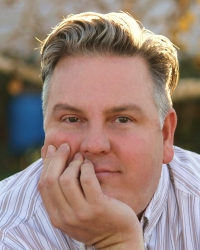 About the Author: Davison Cheney
Davison Cheney writes "The Prodigal Dad" series every week on ksl.com. Check out his other writings at davisoncheneymegadad.blogspot.com
×
Photos
Related Links
Related Stories