SALT LAKE CITY — For the last few weeks, my daughter has been working on her first big research paper of her elementary school career. The day it was assigned, she came home with a packet full of instructions, expectations and deadlines. It was to include note-taking, an outline, pictures and a bibliography.
There was excitement in the beginning. Kaitlynne is an excellent writer and has written notebooks full of stories in her spare time for no one's enjoyment but her own. She thrives on challenges. She felt like a big girl tackling a big girl project. She loves being given responsibility, but as we dove deeper into the steps she would have to complete, she became overwhelmed. Not realizing the work this paper entailed, she became discouraged.
I know that feeling well.
When I signed up for my first marathon, I, too, was filled with excitement. I had run all of 10 miles and felt invincible. I had every intention of signing up for a half marathon, but when the time came to click the mouse on my distance of choice, I couldn't help myself. I also thrive on challenges.
Once I printed out the training plan, my excitement dissipated. Even after finishing a tough long run, my satisfaction lasted only a moment until dread set in as I looked ahead to the next big run.
Big undertakings are, well, big. They can be daunting, intimidating and downright scary. Looking at the big picture, a lot of people give up before they even start. "I'm not strong enough." "I'm not good enough." "I'm not experienced enough."
---
Rather than dwelling on the next long run, the next big race, the next milestone workout, I need to focus more on running this moment — this mile.
---
As a high school English teacher in my past life, I know that the only way to tackle a research paper is one step at a time. I never assigned a big paper and gave my students one day to finish it. I broke down the paper into steps. Each step had its own set of instructions and due dates. I encouraged my students to focus, not on the end result, but on the step we were on at that moment.
I could take some of my own advice.
Rather than dwelling on the next long run, the next big race, the next milestone workout, I need to focus more on running this moment — this mile.
Too often I find myself wishing the miles away, especially in a hard race. I fantasize about the marathon finish line when I'm only at mile 15. I wonder what I missed along the way.
A couple years ago, my husband and I ran the Ogden Half Marathon. It was the first time either of us had run the race. We are very different runners, so it's not surprising we had very different experiences. When we finally met up at the finish line, we compared notes. He kept mentioning this beautiful waterfall. "What waterfall? There was a waterfall?" I was focused on the finish. He was focused on the moment.
Kaitlynne turned her report in last week. It was not the insurmountable climb she feared it would be. She took it bit by bit, step by step. When she printed out the final draft, she let out a deafening "Hallelujah!" Her well-earned pride was irrepressible. By focusing on the moment, she made it to the end happy, satisfied and confident.
I don't really have any specific goals for the upcoming race season. My next race will be the Boston Marathon in April. It will be my fourth running and probably my last for quite some time. My only goal will be to treat each mile as its own experience. To not dream of the finish when I should be taking in the sights around the Newton hills.
When I embark on my 20-mile run in the upcoming days, my goal won't be to get home as quickly as possible so I can "get on" with my day. I want to soak in the journey. I want to try to enjoy what my body is capable of doing at that particular moment. Then I, too, can return home and let out my own deafening "Hallelujah!"


---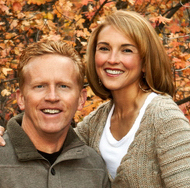 About the Author: Kim Cowart
Kim Cowart is a wife, mother, 24-Hour Fitness instructor and marathoner trying to savor every moment she's spending with her strawberry shortcake tonight.
×
Related Links
Related Stories