This archived news story is available only for your personal, non-commercial use. Information in the story may be outdated or superseded by additional information. Reading or replaying the story in its archived form does not constitute a republication of the story.
SALT LAKE CITY — A federal grand jury on Wednesday stacked dozens of new Internet fraud charges on a Utah businessman who just months ago rejected a plea bargain and complained he had paid a bribe to make the case go away.
Jeremy Johnson was hit with 85 fraud and money laundering counts in a new indictment that adds four business associates who weren't previously defendants in the case.
Prosecutors say Johnson's businesses used the Internet to fraudulently enroll millions of people in get-rich schemes by charging their credit cards without authorization. He was originally indicted nearly a year ago on three counts of fraud and money laundering.
Ryan Riddle, one of the business associates named in the indictment, said the charges simply show the U.S. Attorney's Office for the District of Utah has a vendetta against Johnson.
"(I'm) frustrated, distraught; to be honest with you, I've been mind-blown at how the government operates," Riddle said.
---
I never once saw anything out of Jeremy, or anyone at iWorks for that matter, ever do anything contrary to the law.
–Ryan Riddle, Johnson's business associate
---
He said the charges have nothing to do with him or former executives at the once-thriving St. George internet marketing company iWorks. Instead, Riddle claimed prosecutors are using them as leverage against Johnson.
"I never once saw anything out of Jeremy, or anyone at iWorks for that matter, ever do anything contrary to the law," Riddle said.
"Every single one of these counts — cases — should be dropped," he said.
Johnson has maintained his innocence. He rejected a plea deal in January with explosive allegations of misconduct against federal and state prosecutors.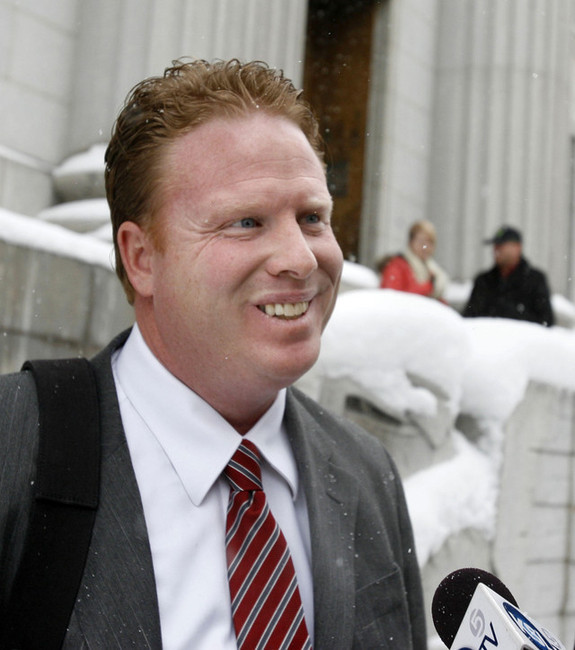 He accused newly elected Utah Attorney General John Swallow of being part of a high-level bribery scheme that Johnson complains failed to derail a federal investigation into his business practices.
Swallow was barely a week in office when Johnson made his complaints widely known. The U.S. attorney's office said it's investigating and asked a federal magistrate to put Johnson under a gag order.
Riddle said Wednesday's indictment is evidence that federal prosecutor Brent Ward has what he calls a "hit-list" of Johnson's friends and family.
"These guys want to produce pressure against Jeremy Johnson. They know what pressures him. They know what those points are, and that's why these indictments have been levied," Riddle said.
Ward, however, said no threats were made; and the U.S. attorney's office had no comment on the new indictment.
Johnson was present for Riddle's interview with KSL News Wednesday. He said he wanted to talk, but declined to do so after a judge warned him about speaking to the media.
Riddle said he and the others indicted have repeatedly requested to meet with the U.S. attorney for Utah but never received a response.
"He has no intention of understanding anything more than they want him to understand," Riddle said.
For now, Johnson has been ordered to appear in federal court in Salt Lake City on April 10.
"We intend to defend it vigorously in the court and not in the media," Johnson's lawyer, Ronald Yengich, said in a statement Wednesday.
Yengich is new to the case. Johnson lost four other lawyers who quit the case last month for reasons they explained only to a magistrate in private chambers.
History of charges against Jeremy Johnson
The new indictment expands on the Internet fraud prosecutors say Johnson orchestrated for years.
His company, iWorks, set up websites offering what it called free money from the government. They claimed that people could win government grants and use the money to stop foreclosures, pay down debt, purchase real estate, launch businesses, cover medical expenses, and even pay grocery bills and Christmas presents.
---
We intend to defend it vigorously in the court and not in the media.
–Ronald Yengich, defense attorney
---
"Claim you money today," the websites advertised, according to the indictment. "Billions are given away every year - now you can get your share!"
IWorks sold "risk-free software" on a CD for a $2.29 shipping charge that claimed to show people how to claim money from the government.
Prosecutors say all the claims were without merit and the CD was useless, but buyers found their credit cards being charged monthly for "membership fees."
IWorks got in trouble with a number of banks over a high percentage of reverse charges ordered by angry customers. Johnson continued doing business by creating new business names and websites to re-establish credit-card processing accounts, prosecutors said.
When the Federal Trade Commission opened an investigation, Johnson sought advice from Swallow, who at the time was deputy chief of the Utah attorney general's office.
Swallow has said he referred Johnson to another businessman who could put Johnson in touch with lobbyists who could influence the FTC to drop its investigation.
Johnson said he paid $250,000 through an intermediary that was meant to bribe Senate Majority Leader Harry Reid to quash the federal investigation.
He later tried to enlist Swallow to recover his money, saying it bought him no protection.
Swallow and Reid have denied the complex allegations.
Johnson has also publicly accused Brent Ward, the federal prosecutor handling the case, of incompetence and misconduct. Ward signed the new indictment Wednesday against Johnson.
---
Paul Foy of The Associated Press contributed to the content of this article.
(Copyright 2013 The Associated Press. All rights reserved. This material may not be published, broadcast, rewritten or redistributed.)
×
Related Links
Related Stories