HIGHLAND — Students and football players at Lone Peak High School marched Monday in support of the school's former football coach.
Coach Tony McGeary resigned last week, but neither he nor school administrators are giving specifics as to why. However, an Alpine School District spokeswoman confirmed the issue is related to questions about finances.
Monday afternoon, about 50 students, mostly players on the football team, left Lone Peak High in Highland to march to the Alpine School District offices in American Fork. They carried signs showing their support for McGeary.
"We just want to do this because we want our coach back. That is the whole reason we have done all of this," said Parker Richards, a Lone Peak High student. "We have spent hours and hours, and so have the parents. I mean, last night my mom didn't come off the computer. She was sending emails, calling people."
Over the past five years as head coach, McGeary has earned a very good win-loss record, including getting his team to the 5A state semifinals this season. The team also won the state championship last year.
Related:
Last week, Alpine District spokeswoman Rhonda Bromley told the Desert News McGeary's resignation was related to a review he had with Lone Peak High's principal in December.
"They did review the program, including finances, and the decision was made not to renew coach McGeary's contract," Bromley said. "There are a lot of allegations, a lot of rumors going around. But this review is something that happens every year, between every principal and all of the coaches and club advisers."
McGeary's supporters insist questions about money in a summer football camp and a clothing sponsorship were honest mistakes.
"The misunderstandings can be cleared up very easily," said Tricia Goff, a parent of one of the Lone Peak High students.
"I feel like there needs to be a voice that Tony McGeary is a good man," she said. "He had no ill intentions, and I think he should be given a second chance."
Bromley wouldn't give specifics on McGeary's case, but said there are strict policies about how employees must handle school related funds.
"There are specific rules that need to be followed, and it is very important that coaches and employees do follow those rules," Bromley said.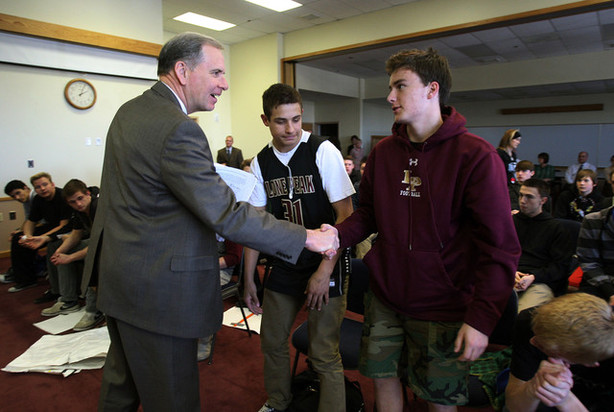 To further show their support, last week the students created a petition in an attempt to convince Alpine District officials to return McGeary to the sidelines. It now has hundreds of signatures.
"I brought it in to (Coach McGeary) with 100 or so signatures within 20 minutes. It was insanity. Everyone wanted to sign our petition; everyone wants Coach back," said Caden Humphrey, a Lone Peak High student. "He just said, 'Thank you so much.'"
"I admire Coach McGeary," said Adam Goff, another Lone Peak High student. "He loves the community as well as his athletes. I feel that he was forced out, to give up his job, and I don't feel that is right."
Alpine District Superintendent Vernon M. Henshaw accepted the petition and thanked the students for being respectful in delivering the signatures of support. But he didn't make any promises to the students, so it is unclear if their protest will change any minds.
Meanwhile, McGeary is still employed as a teacher at Lone Peak High.
Contributing: Jordan Ormond
×
Photos