SALT LAKE CITY — In the world of dieting, calories are currency — tracked with vigilance and rationed tightfistedly by some, but too often spent with heedless abandon by others.
Calorie counting has its proponents and detractors, but most experts agree that whether you aggressively count calories or not, the amount you consume matters — so much so, that even seemingly trivial amounts can make a big difference.
Consider this: Cutting just 100 calories from your daily diet will make you 10 pounds lighter one year from today. So say health fitness experts in a wide array of disciplines, who say that small changes in food choices add up to big results down the line.
Unfortunately, the reverse is also true: Overdo it by 100 calories a day and you'll end up 10 lbs. heavier in 12 months.
That's some food for thought (bad pun intended). Taking this advice at face value, we got to thinking: Looking at calories alone, does this really add up?
To answer this question and more, let's start at the beginning …
What does 100 calories look like?
In a 2,000-calorie-per-day diet, 100 calories are just 5 percent of the total daily budget. Depending on the type of food, 100 calories may seem like a little or a lot. Here is a sampling of what 100 calories will get you: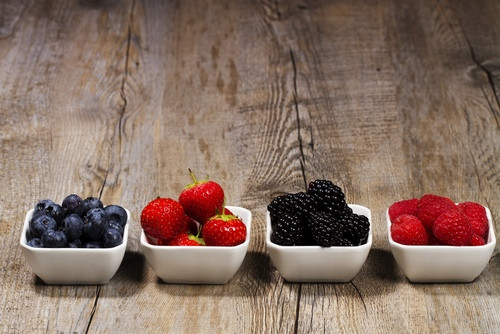 2 Twix Minis
¼ cup premium ice cream
2 regular Oreo cookies
10 Peanut M&Ms
¾ can of regular soda
2 slices American cheese
2 cups of strawberries
1 medium banana
7 cups of celery
½ avocado
1 cup of blueberries
13 dry roasted almonds
42 Goldfish crackers
28 red grapes
4 cups of cauliflower
What's in those 100 calories?
We all know that junk foods contain more calories than foods that come from nature. Side by side, those comparisons are pretty clear. The differences become even more pronounced when you look at just what's in those 100 calories.
While you may think you've hit the snacking jackpot with Mini Twix and Goldfish crackers, consider this: Combined, they contain 10 milligrams of cholesterol, 5 grams of fat and 201 milligrams of sodium.
Compare that to 2 cups of strawberries and 28 red grapes, which contain 0 milligrams of cholesterol, 1 gram of fat and 3 milligrams of sodium. But that's not the best part. Together they give you 4 percent of your daily dose of Vitamin A, 7 percent of calcium, 10 percent of iron and 316 percent of Vitamin C — and that's just the stuff found on a basic nutritional listing. Strawberries contain antioxidants known as phenols, which have powerful heart-protective, anti-cancer and anti-inflammatory properties, and red grapes contain nearly 20 different phytonutrients that benefit the cardiovascular, respiratory, immune, inflammatory and nervous systems
How can I cut 100 calories?
If junk food is a part of your daily diet, it's easy to see where to cut your calories: soda, processed snacks, fast food and desserts should be the first to go. Next, controlling your portions can cut hundreds more unnecessary calories each day. But if you're already eating a fairly balanced diet, reducing your caloric intake becomes more a matter of making substitutions rather than cutting foods:
Related
Swapping 1 tablespoon of butter for 1 tablespoon of olive oil will save you 60 calories.
Buying 95 percent lean ground beef instead of 75 percent lean will save you 84 calories per serving.
Having mustard only instead of mayo on a sandwich will save you 115 calories.
How can I burn 100 calories?
Sadly, it's much easier to consume 100 calories than it is to burn them — but your options aren't relegated to the gym. Simply doing certain chores around the house can burn quite a few calories, and believe it or not, torching calories can actually be fun:
Running stairs for six minutes or walking stairs for 11 minutes
Dancing around the room for 20 minutes
Playing catch for 35 minutes
Weeding the garden for 18 minutes
Playing with children for 23 minutes
Rearranging the furniture for 14 minutes
Whether you're burning, consuming or skipping calories, remember that moderation is key. Don't do anything too strenuous if you're used to a sedentary lifestyle, and don't cut out massive amounts of calories without speaking to a doctor or dietician. But if you're looking to make a few changes, remember that 100 calories can add up.


×
Photos
Related Links
Related Stories