Estimated read time: 3-4 minutes
This archived news story is available only for your personal, non-commercial use. Information in the story may be outdated or superseded by additional information. Reading or replaying the story in its archived form does not constitute a republication of the story.
SALT LAKE CITY — The fast-paced and fast-growing video game industry has exploded in Utah over the past decade, bringing with it hundreds of well-paying jobs for a growing pool of talent.
"If you make a game that people play for years, that could be a very profitable video game," said Roger Altizer, director of game design and production at the University of Utah's Entertainment, Arts and Engineering program.
In just a few short years, the EAE program has become one of the best in the country — third behind only the University of Southern California and the Massachusetts Institute of Technology.
"We're very interested in making great games that people want to play," Altizer said.
If students make hit games that sell, they keep the profits. It's happened at least three times already:
The game "Minions!" made the Xbox list of Top Indie Games of all time.
"Erie," a first-person horror game, has more than 2 million hits on YouTube.
Roughly 500,000 copies of "Robot Pinball Escape" were distributed in Germany.
Utahns have struck virtual gold before. Remember Atari? Former University of Utah student Nolan Bushnell invented it back in 1972.
By the numbers ...
Consumers spent $24.75 billion on video games, hardware and accessories in 2011.
Purchases of digital content accounted for 31 percent of game sales in 2011, generating $7.3 billion in revenue.
The average U.S. household owns at least one dedicated game console, PC or smartphone.
The average game player is 30 years old and has been playing games for 12 years.
The average age of the most frequent game purchaser is 35 years old.
Forty-seven percent of all game players are women. In fact, women over the age of 18 represent a significantly greater portion of the game-playing population (30 percent) than boys age 17 or younger (18 percent).
Sixty-two percent of gamers play games with others, either in-person or online.
Thirty-three percent of gamers play games on their smartphones, and 25 percent play games on their handheld device.
Seventy-three percent of all games sold in 2011 were rated "E" for Everyone, "T" for Teen, or "E10+" for Everyone 10+.
Parents are present when games are purchased or rented 90 percent of the time.
Since then, video games have become a $25 billion industry. According to the Economic Development Corporation of Utah, $400 million of that went to Utah digital media companies in 2011 — including 15 big game developers like Electronic Arts, ChAIR Entertainment and Disney.
The industry employs roughly 3,000 Utahns directly and indirectly. Typical salaries range from $40,000-$70,000 a year.
"Games, like any medium, appeal to a lot of different people over a lot of different ways," Altizer said.
If you're not into game development or design, you could always open a gaming café.
"Here, you get to sit next to your best friend or meet some new friends and actually play together," said Michael Winger, owner of The Gamerz Funk in Taylorsville.
People pay Winger by the hour to play video games on computers and consoles. He said his average customers are men in their mid-20's, and a growing number are young professionals.
"I call it the clientele list," Winger said. "I've got doctors, lawyers, pediatricians that are customers here. They come in at lunch, they come in after work if they've got free time, you know, and they'll game."
Winger said many gamers show up with a team. They sit for hours battling other teams around the globe, competing for prize money in online tournaments and possibly a shot at the big league.
"You're good guys are going to make six figures. I mean, they'll literally be paid salary to play for a team," Winger said.
"They're amazing. Everyone looks up to them," said K.T. Nguyen, an avid gamer. "There are moments where you just watch the stream, and they're kind of going back and forth, and it's like, 'I never knew that chain existed!'"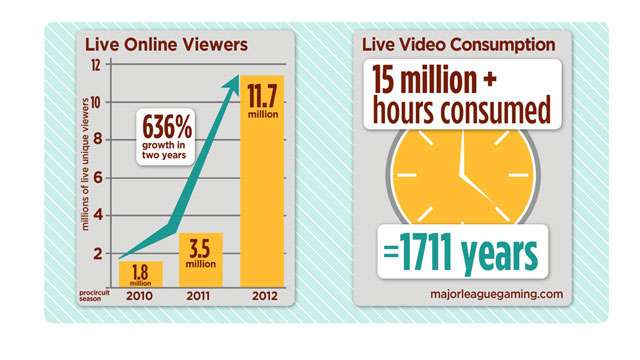 Professional gamers earn money through tournaments and endorsement deals. They have millions of devoted fans, and every day gamers watch them live online. Last year alone, Major League Gaming drew nearly 12 million viewers — a 636 percent increase from 2010.
"We'll actually put up a screen of one of our favorite teams, or one of our favorite players playing," Winger said. "You watch a professional and you pick up on the strategies and then you practice, you implement it."
While the odds of becoming a professional e-athlete are slim, the fact remains: more and more people are gaming. Most gamers are under the age of 35, according to the Entertainment Software Association. Each year the real and virtual worlds meld together even more.
"As games get more popular, and as persistent worlds get more popular, we're going to see these collisions bring up more and more interesting questions," Altizer said.
Email: liwilliams@ksl.com
Contributing: Mike Headrick
×
Photos
Related links
Related stories
Most recent Utah stories