SALT LAKE CITY — When Scott Campbell first unzipped the main compartment of the worn red camera bag he won at a police auction, he knew he held in his hands more than he had bargained for.
Campbell, Chief Solutions Officer at Electronic Recycling Solutions, contacted ksl.com after reading a story about a man who was searching for the owner of a cellphone he had found with baby photos on it. He said he had won a camera at a police auction and was hoping ksl.com could help him locate the original owners. "I think there's more to this camera than meets the eye," he said at the time.
Campbell told his story, and within hours the of the article being posted online, the mystery photographer was discovered, thanks to Ryan Hinman, a local wedding videographer. Hinman, who said he is friends on Facebook with many photographers, posted the story on his personal page after contacting Campbell to ask for photos with backgrounds that could help identify the location.
One of the photos was of a photographer holding a camera. "I'm not kidding," Hinman said. "Within 3–5 minutes, two photographers said, 'Oh, that's Justin Lyon.' I contacted Scott and said, 'We found him. Done deal.' "
Mystery solved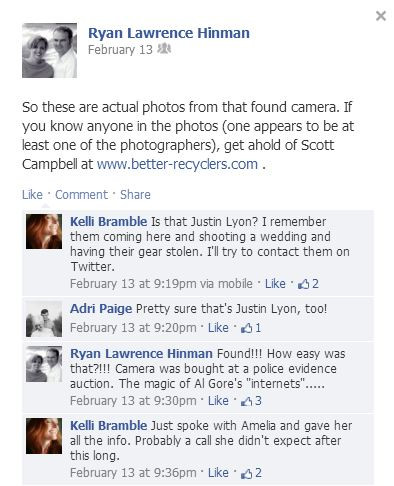 Campbell was taken aback by how quickly the mystery had been solved. He said he was skeptical at first — was this someone looking to fraudulently claim the camera? — but soon realized who Hinman was and how the photographer had been located.
"I'm definitely excited we found the photographer," he said. "I was just astonished. I don't know how you could find someone so fast. I think the key was the picture of the photographer."
He still hadn't spoken with the photographer, though — and the key photo suggested the photographer in question was actually Lyon's wife, Amelia Lyon.
The theft
The camera was the final piece of a nearly three-year-long puzzle that began in Sugarhouse. The Lyons had driven with their children from their home in Fullerton, Calif., to shoot the wedding of a friend at the Salt Lake Temple of The Church of Jesus Christ of Latter-day Saints. When they pulled up to a friend's house at 1 a.m. on May 6, 2010, their first priority was getting their children inside.
Lyons grabbed her purse and laptop bag, but left the equipment in the car. "It had been less than 10 minutes; my husband thought he had locked the car," she said. "He walked back out … opened the back door, and everything was gone. We were so caught off guard."
Lyon said she thought someone had seen their out-of-state license plate and a car full of equipment and followed the couple to their destination. Either that, or "someone was in the right place at exactly the right time."
The two reported the theft of equipment and Justin Lyon's laptop to the Salt Lake City Police Department, and knew their insurance covered the cost of replacing the camera gear. But at 1 a.m., with a wedding to shoot that day, they suddenly found themselves camera-less and far from home.
"It was weird, because at 1 o'clock in the morning, we just tweeted that we needed equipment, and a ton of photographers offered up their equipment, and we were able to get the equipment we needed on loan for the wedding. So that was a huge blessing."
---
(It was) a little more intense than what I thought it was going to be. I didn't think there would be guns involved.
–Jesse Ransom
---
Closure
A month later, Lyon got a call at midnight from an 801 number. She didn't answer it — "because it was midnight" — but it turned out to be a man who had bought camera equipment off KSL Classifieds.
The man, Jesse Ransom, told Lyon he had found her business cards in the bag and "felt fishy" about the purchase. The man who sold Ransom the camera equipment told him he had inherited it from his grandfather, but did not know what to do with it.
"He seemed like a nice guy, so I purchased the cameras," Ransom said. He said he went home and was going through the bag when he found three or four business cards, so he looked on lyon's blog and found out that her camera had been stolen. He spoke with her husband, who confirmed the theft.
"I went to the cops and gave all the stuff to the cops," he said. "I'm not going to keep stolen gear, especially if I was going to sell it — it was not something I was interested in being involved in. And it obviously seemed like her livelihood."
The man was found to have been selling stolen goods on KSL Classifieds, so Ransom offered to help the SLCPD with a sting operation. He offered to meet the man in a parking lot, where the man was arrested.
"They had me bring my hat, and said, 'If it's the same guy, put your hat on,' and the guy realized as soon as he saw the cops coming that something was going on, so he was trying to put his car in gear and get out of there, and they grabbed him and threw him on the ground and handcuffed him, and guns out … a little more intense than what I thought it was going to be. I didn't think there would be guns involved," he said.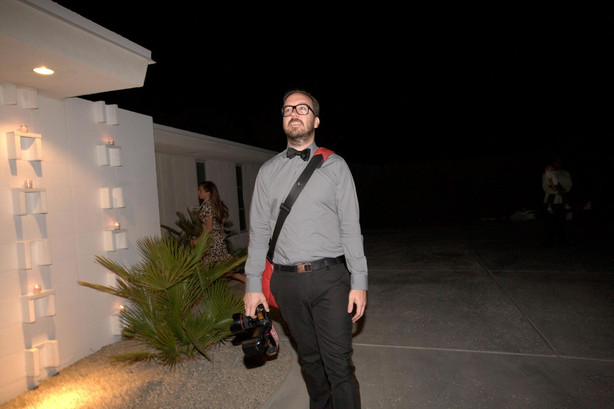 Ransom sent two photos of the man being arrested to Amelia Lyon. Lyon said it was those photos that brought her closure in the case.
"The only thing is, I wish I could just sit down with him and ask him how he did it," she said. "It was so fast. But it's super awesome how many people have our back. That's great that so many people contacted (ksl.com) and they recognized those images were ours. What a great community to be a part of."
Luckily, most of the images found on the camera had already been downloaded — Lyon lost only an engagement shoot when the camera was stolen. Her husband, a producer for the TV show Yo Gabba Gabba!, lost more: on his laptop were irreplaceable interviews and contacts, and until Amelia received those arrest pictures, he didn't think he would ever see it again.
"He actually just got it back literally two weeks ago," Lyon said. "He had to go pick it up in person, and we're in Southern California, so … but he was there for the Sundance Film Festival, so he went to get it. And that was seriously the worst thing."
She said she is grateful for the effort so many people went through to return the photos to her.
"The worst is when something gets stolen and you feel so lost, so to know justice is served and to know where the camera ended up, that's probably the best thing ever," she said.
×
Related Stories