Estimated read time: 4-5 minutes
This archived news story is available only for your personal, non-commercial use. Information in the story may be outdated or superseded by additional information. Reading or replaying the story in its archived form does not constitute a republication of the story.
SALT LAKE CITY -- Spring is in the air, and wedding plans are in full swing for couples tying the knot.
Gone are the days when wedding photos were stuck in albums, and VHS recordings of your vows gathered dust in the garage. The Internet is now an archive for those wanting to preserve their memories and share their special day.
Here are four of the most popular wedding pics and flicks from around the web.
A first kiss worthy of a fist-pump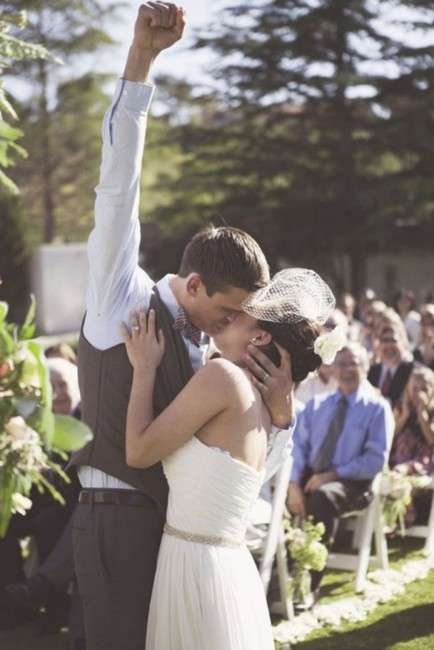 Just like Alfred Elsenstadet's image of a sailor kissing a nurse in Times Square, certain romantic images resonate with the public.
With the caption, "Every girl deserves a picture like this," this wedding photo caught fire on Pinterest as a popular "pin" on wedding boards. It made women swoon and wonder who this mystery couple was.
They are Andrew and Pamela Dunn, who met as students in a photography class at The University of California, Irvine, when Andrew jokingly pointed out a spider by Pamela's foot and suggested she eat it — an original, but effective, pick-up line.
Andrew's proposal was just as romantic as their popular picture. He presented Pamela with a hand-made, manual music box on her birthday, while sitting on an oceanside cliff. The music box played the song they had discussed dancing to at their wedding one day, and Andrew pulled out a ring. Pamela said yes, and their whimsical wedding followed shortly thereafter.
When asked about their picture, Pamela said, "I am totally surprised at how popular the picture has become. I had no idea he had even made a fist punch at the wedding until we got the pictures back."
And luckily, the groom has lived up to his romantic image. "I think the photograph is very indicative of the type of husband he is," Pamela continued. "He made me a lot of handmade gifts, wrote me love letters and took me on little adventures like tandem bike riding around the beach. I was afraid that those romantic gestures would come to a halt once we got married, but he continues to do them. I appreciate the little things he does for me. They really add up."
Pamela and Andrew currently live in Northern California where she works as a visual stylist at Bloomingdales, and he as a QA engineer for Fullpower Inc. Pamela is also pursuing a career in event design and coordination and has a strong following on her blog, goinglovely.com.
"My waffly wedded wife"
Most people are a bundle of nerves on their wedding day. It's even harder to keep your cool when a speech impediment makes it difficult to deliver your vows, and sends your soon-to-be wife into hysterics.
But if laughter is a key component to a successful marriage, this couple might have a fighting chance at true wuv.
A new twist on an old tradition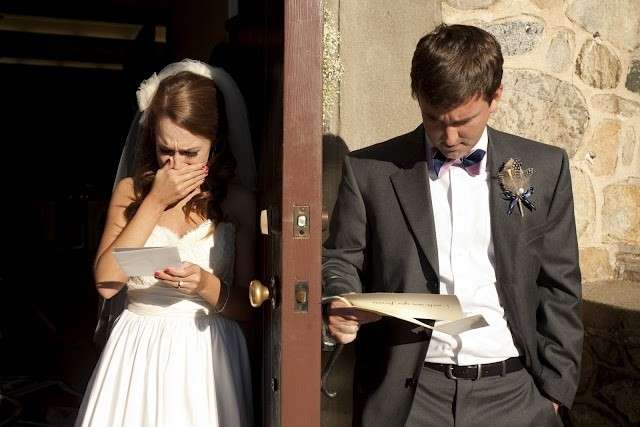 Some believe it's bad luck for the groom to see the bride before the wedding. This superstition actually sprung from a time when marriages were arranged and the groom had never actually seen the bride at all, for fear that he may not want to marry her once he did. A bride and groom would meet for the first time at the altar, when it was too late for either one of them to run for the hills.
Christina and Matthew Marcellino's picture is a popular one on the web, starting a trend that's breathing life into this old tradition. More and more couples are reading letters from each other, or praying together, without exactly breaking the rules.
If you're curious to know what the Marcellinos wrote to each other, Christina said, "Matt's letter to me was about all the memories we had made so far, and how he knew I was 'the one' after two dates. My letter to Matt was about how I had waited my entire life for him, how perfect we were made for each other, and how excited I was to live my life with him."
Christina and Matt currently live in North Carolina, where they enjoy being newlyweds. Christina is a popular blogger at northcarolin acharm.blogspot.com.
Making an entrance
Jill and Kevin Heinz ditched the typical wedding march for the song "Forever," by Chris Brown.
This celebratory entrance has more than 74 million views on YouTube, and even inspired a mock performance on "The Office." It was also named one of the top 50 You Tube videos ever by Time Magazine.
Nicole Pollard currently resides in Canyon Country, Calif.
×
Photos
Most recent Features stories