Estimated read time: 2-3 minutes
This archived news story is available only for your personal, non-commercial use. Information in the story may be outdated or superseded by additional information. Reading or replaying the story in its archived form does not constitute a republication of the story.
SALT LAKE COUNTY -- For years, residents on the west side of Salt Lake County haven't had an easy way to travel east. With the population continuing to grow in that part of the valley, east-west driving continues to get slower.
What is ... a Continuous Flow Intersection?
A Continuous Flow Intersection (CFI) is configured to allow motorists to turn left at the same time as right-turn and through traffic. This change provides more green-light time than a traditional intersection. Regular traffic signals and street markings in the CFI allow motorists to navigate the intersection safely and easily.
But two projects the Utah Department of Transportation is just beginning should make that traffic flow faster.
What's now just a pile of dirt off 6200 South and Redwood Road in Taylorsville will soon be just like 3500 South and Bangerter Highway in West Valley City. The 3500 South site also where Utah's first Continuous Flow Intersection, or CFI, was built in 2007.
"The main goal of CFI is to more efficiently move traffic through those intersections," said Tim Rose of UDOT.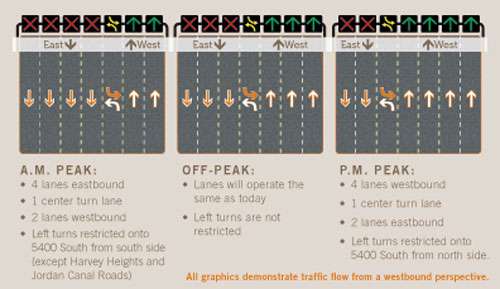 With a CFI, in order to make a right or left turn off the main road you have to first drive into a collector lane, then make the turn.
UDOT says it's been a big success.
"People were nervous, understandably," Rose said. "However, the drivers really caught on quickly."
He says UDOT has identified several other areas where east-west traffic flow could improve. Now, construction on more CFIs are taking place.
Those areas are 4700 South at Bangerter and Redwood Road, 5400 South at Bangerter and Redwood Road, and 6200 South and Bangerter.
What are ... flex lanes?

Flex Lanes provide a flexible way to meet peak traffic demands without widening the existing roadway, which isn't warranted for non-peak traffic needs.Flex Lanes may also be used to accommodate heavy traffic during special events.
Also, on 5400 South between Redwood and Bangerter, UDOT is constructing flex lanes. That's where one or more lanes could be changed to go with the flow of heavy traffic, allowing for more cars going in one direction during rush hours.
Arrows and X-marks on overhead lights will tell drivers which lanes are open and which are not.
Brandon Weston of UDOT said, "It was a great opportunity to provide that extra lane of capacity without widening and going through the expense of buying property and displacing people."
This project, along with Mountain View Corridor and 11400 South, are projects UDOT wants to do to make east-west transportation easier and faster.
CFIs in the planning stage
• 3100 South and Bangerter
• 4100 South and Bangerter
• 7000 South and Bangerter
• 6200 South and Bangerter

"We've done some modeling and we show during the peak hours, we can save commuters almost half their travel time," Weston said.
That's something everyone who commutes would love.
Those projects are just getting started. If all goes as expected, the flex lanes and continuous flow interchanges should be done by this coming fall.
E-mail: acabrero@ksl.com
×
Related links
Related stories
Most recent Utah stories