Estimated read time: 3-4 minutes
This archived news story is available only for your personal, non-commercial use. Information in the story may be outdated or superseded by additional information. Reading or replaying the story in its archived form does not constitute a republication of the story.
SALT LAKE CITY -- If your children are anxious to ride in the front seat with mom or dad, new car and booster seat recommendations say wait a little longer.
The new guidelines, updated from 2002, come from the American Academy of Pediatrics. The experts say the significant changes, based on height and weight, will save lives.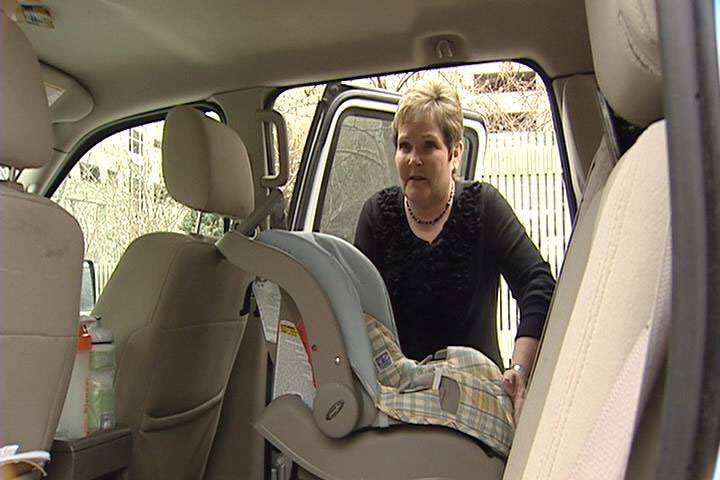 Doctors now advise parents to keep their toddlers in rear-facing car seats until age 2 and 35 pounds. The 2002 policy advised rear-facing only until age 1.
"It's something we've been educating about for the last 18 months. It's now in writing, it's now official. When families visit their pediatrician he should be telling them now that your child [who] is a year old and 20 pounds, we still need to remain rear facing for another year," said Janet Brooks, child advocacy manager at Primary Children's Medical Center.
"It's very practical," said Kevin Condra, Intraprevention program manager for the Salt Lake Valley Health Department. "It means for a family, despite the little one who might be crying and fussing, keep them rear facing a little bit longer because we know from research now this is a safer position for them."
A 2007 study in the journal Injury Prevention says children under age 2 are 75 percent less likely to die or be severely injured in a crash if they are riding rear-facing.
---
For child safety seat installation inspection, call 801-662-CARS.
---
AAP also recommends that most children will need a booster seat until they are at least 80 pounds, have reached 4 feet 9 inches tall, and are between the ages of 8 and 12 years old.
"Anytime recommendations come out, we want to make sure that the medical community, as well as us - who [are] helping them install the seats - are on the same page; and this is a good thing," Condra said.
"Think about what would happen if you were driving home and something happened to your child, or a neighbor's child, and you did not have them in what could have been that extra measure of protection, a booster seat," Brooks said.
Related:
The experts say parents are the key to success. If they wear seat belts, so will their children. When it comes to safety, even if you are traveling a few blocks, buckle your children in.
"When we think about the safety of our children, it's not always convenient," Books said. "It's simply communicating with our kids. When we have parents come in and talk to us about car seats, placing kids in booster seats, we don't want to just talk to the parents, we want to talk to the children - because sometimes they comprehend things in a greater magnitude than we do."
If you are concerned about whether your child safety seats are installed correctly, call one of the 25 child seat inspection stations around the state and make an appointment, it's free.
There is also a community check point scheduled for Friday, March 25 in West Valley City. It will be held at 3130 S. Redwood Road from 10 a.m. to 2 p.m.
Email: cmikita@ksl.com
×
Related links
Related stories